Crispy Pork Loin Burgers with Hot Honey Sauce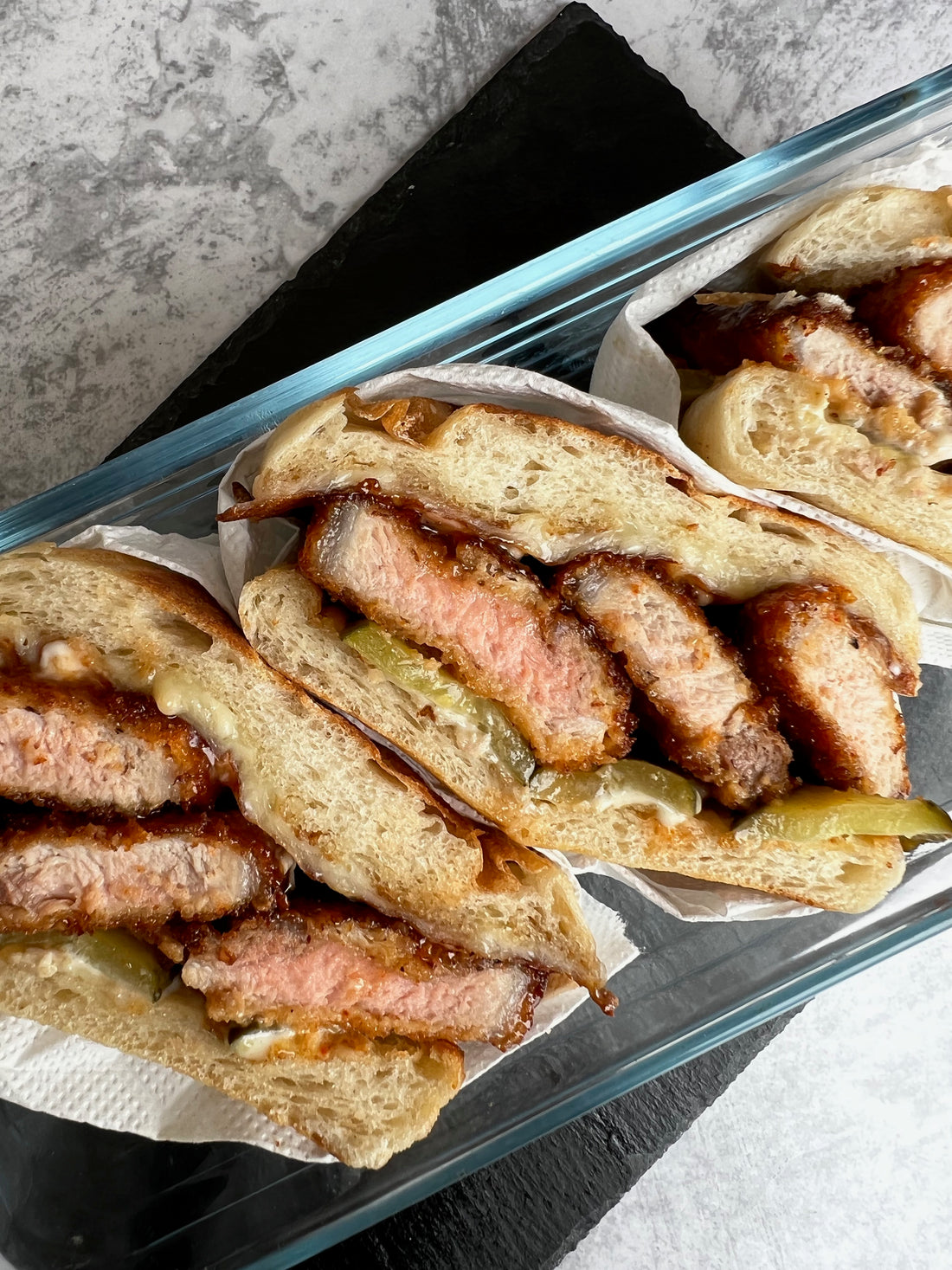 Frying pork loin with Panko breadcrumbs in the Japanese katsu-style, is a surefire way to get super crispy cutlets that hold up to all the sauces and extras. For flavor profiles, sweet, spicy, and acidic is the name of the game here. Your red rub of choice, hot honey, and a spicy Mambo butter add saucy, zingy sweetness, and pickles pack a tart punch. Cheese and mayo will balance out all the bold flavors (and add more fatty deliciousness), making for the most addicting Ibérico Pork Loin burger around.
Feel free to play around with your favorite melty cheeses, or make your own mayo or pickles for even fresher flavors. And in terms of buns, we always love a soft, buttery brioche. But whatever bun or bread you have on hand will do the trick. 
Recipe for Crispy Pork Loin Burgers with Hot Honey Sauce 
Serves: 3
Course: Main
Time: 1 hr.
Ingredients for Crispy Pork Loin Burgers with Hot Honey Sauce 
1 15-22 oz. Campo Grande Ibérico Loin Roast

4 oz. Panko breadcrumbs 

½ cup flour 

2 eggs, whisked 

2 Tablespoons of your favorite red meat rub 

Extra-virgin olive oil 

4 Tablespoons Capital City Mambo Sauce 

2 Tablespoons Mike's Hot Honey Sauce 

1 Tablespoon butter 

3 hamburger buns 

2 slices of sharp cheddar cheese 

1 Tablespoon mayonnaise 

Pickles of choice 
Preparation for Crispy Pork Loin Burgers with Hot Honey Sauce 
Cut the Loin Roast into 6 filets for 3 burgers. 

Place panko, flour, and eggs in three separate medium-sized bowls. Whisk the rub into the flour mixture. 

Going in rounds, take one filet and first coat with flour, then egg, then panko. Repeat with the remaining filets.

Heat a few glugs of olive oil in a large sauté pan over medium heat. Fry filets about 2 minutes on each side until golden brown and cooked through. 

To make the sauce, heat Mambo sauce, butter, and hot honey in a small saucepan on low heat. Cook until combined and warmed. Dip breaded filets into the sauce to coat.

Toast hamburger buns in a sauté pan and place cheese on the inside cut of one side of the buns until melted. 

To build the burgers, spread mayonnaise on the non-cheesy half of the bun and add pickles and pork loin. Top with the other half of the bun and enjoy.