Ibérico Presa with Coal-Fired Potatoes & Herby Yogurt Sauce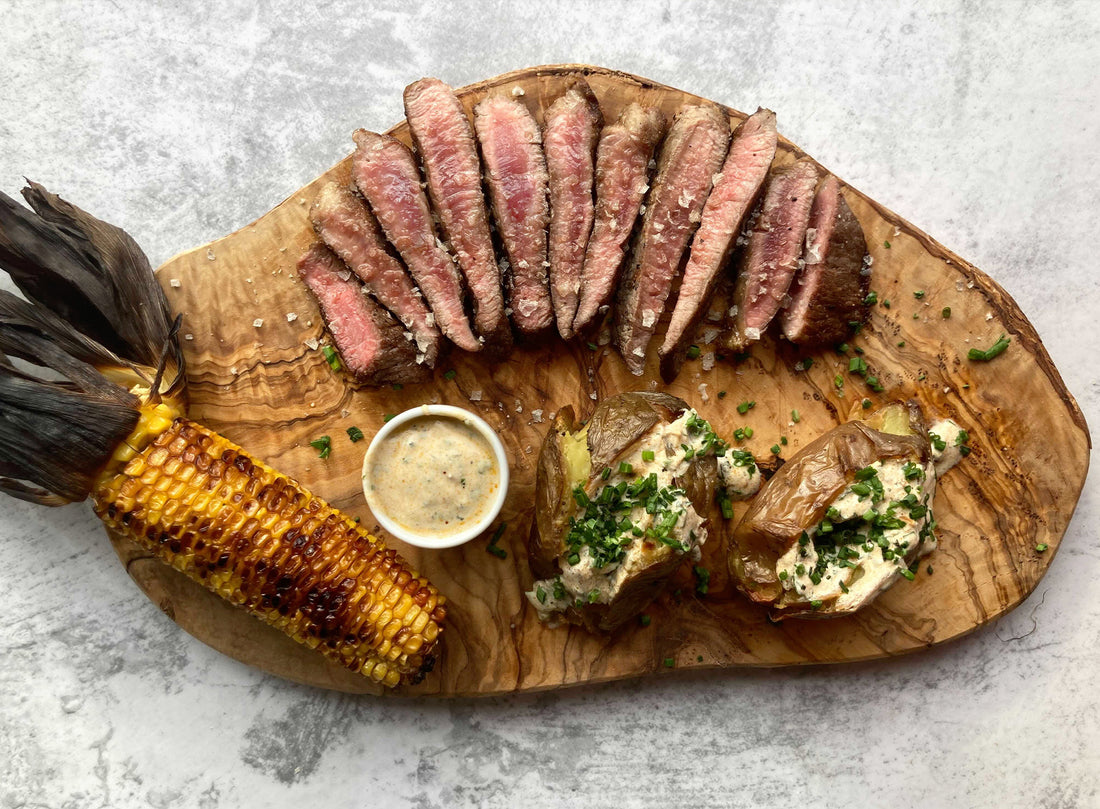 Take advantage of every part of the grill (it's charcoal or bust here) and bake whole potatoes in the coals of the fire. A quick yogurt sauce with fresh mint and parsley is a tangy addition to the smoky potatoes and also adds brightness to the Presa, which cooks up in minutes. If you like a little spice, stir a spoonful of chili crisp into the yogurt sauce. 
We definitely recommend grilling the Presa and potatoes in this recipe, but you can always sear the Presa on the stove and bake (or boil) the potatoes to get equally as tasty results. 
Ibérico Presa with Coal-Fired Potatoes & Herby Yogurt Sauce Recipe 
Serves: 4
Ingredients
1 21-28 oz. Campo Grande Presa Ibérica
4 large potatoes 
Extra-virgin olive oil 
Flaky salt
Pepper
2 individual containers of plan, full-fat yogurt 
1 bunch parsley, finely chopped
10 mint leaves, finely chopped 
1 small bunch chives, finely chopped 
Fly by Jing Sichuan Chili Crisp sauce (optional)
Preparation
Fire up the grill. Charcoal works best in this situation.  
Rub each potato with olive oil, salt, and black pepper and wrap individually in aluminum foil. Place the potatoes in the coals of the grill. 
While the potatoes cook, place yogurt in a small bowl and add parsley and mint. If you are using the chili crisp, add a spoonful for a spicier addition. 
Once the potatoes are nice and tender, cut the Presa into filets about 1-2 fingers thick (the thicker the better, to avoid overcooking and drying out). 
Cook presa filets on the grill about 2-3 minutes on each side, until it reaches medium-rare, or an internal temperature of 145ºF.
Season Presa with flaky salt and serve with potatoes, yogurt sauce, and a sprinkling of chives. ¡Buen provecho!