Buttery Presa with Chimichurri Sauce Recipe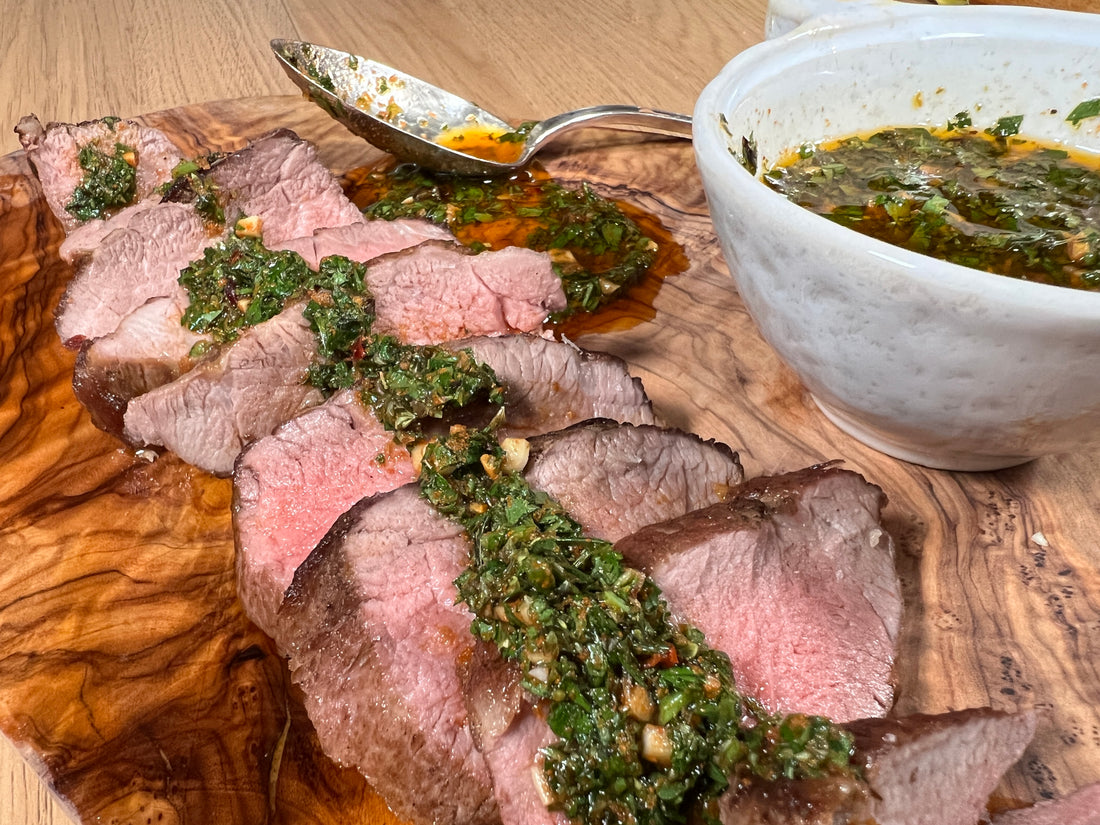 Butter-basting is a simple technique that involves spooning herby butter over meat as it finishes cooking in the pan. The butter gets just a little bit toasty and adds another layer of flavor to the Presa. Here, we're slathering it with Kalejunkie's paprika-infused chimichurri sauce for a smoky kick. 
Buttery Presa with Chimichurri Sauce
Serves: 3
Time: 30 min.  
Ingredients
1 21-28 oz. Campo Grande Presa

½ cup extra-virgin olive oil, plus more for cooking 

2 Tablespoons white wine vinegar

2 cloves garlic, mashed

1 teaspoon sea salt, plus more to taste 

½ teaspoon crushed red pepper flakes

1 teaspoon dried oregano

1 teaspoon smoked paprika.

¾ cup parsley, finely chopped 

1 Tablespoon butter

1 sprig fresh rosemary

1 sprig fresh thyme 
Preparation 
In a medium bowl or jar, mix together olive oil, vinegar, garlic, salt, pepper flakes oregano, paprika, and parsley. Set aside to marinate, ideally for 24 hours. 

Trim the Presa, removing any excess fatty tissue, and season with salt. 

Heat a drizzle of olive oil in a medium pan and cook Presa for 5 minutes on each side.

Add butter, rosemary, and thyme to the pan. Once it melts, tilt the pan towards you and use a medium-sized spoon to spoon butter and herbs over the Presa as it finishes cooking. Cook until it reaches an internal temperature of 145ºF. 

Let the meat rest for a few minutes, slice, and drizzle with reserved chimichurri sauce.

¡Buen provecho!