Quick Coquinas Al Ajillo With White Wine and Garlic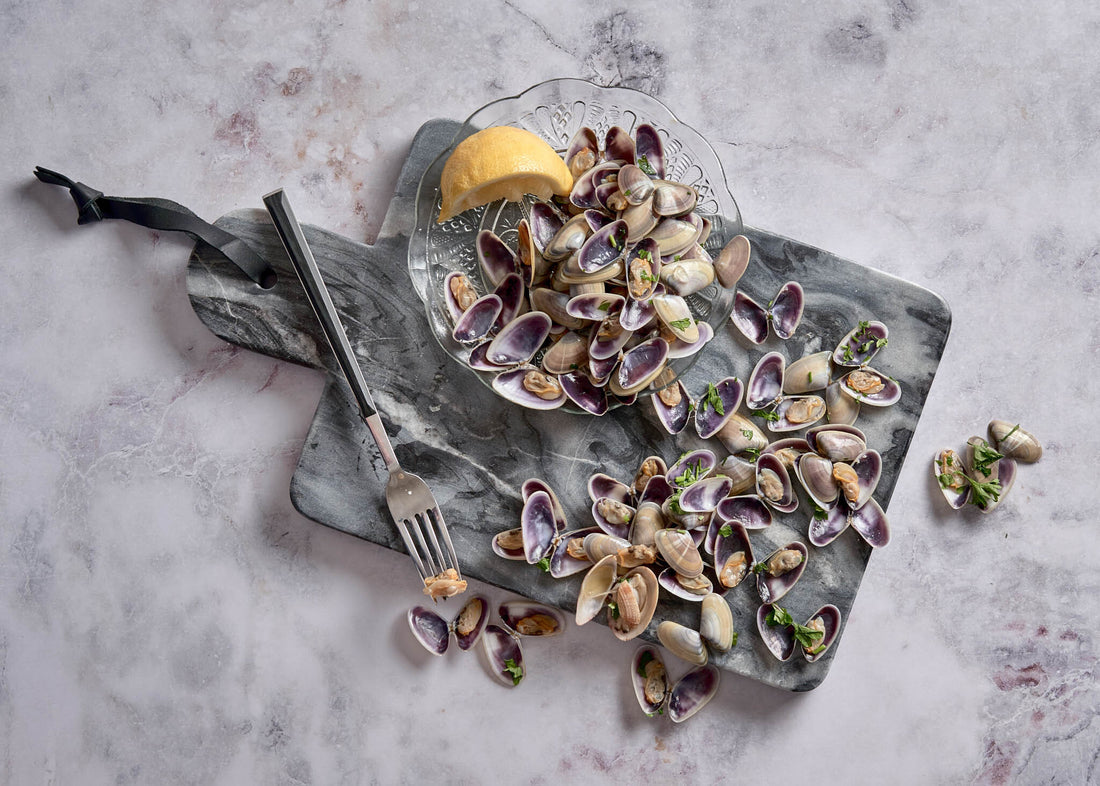 Serves 4 as a starter or 2 as a main
Campo Grande Coquinas are succulent, tender baby clams harvested in the Mediterranean wetlands of Doñana National Park. They're a delicacy in southern Spain, where locals make coquinas al ajillo with white wine and garlic, tossing the ocean-fresh shells in a hot pan with aromatics until they open and release their briny juices.
Ingredients
1 lb. Campo Grande coquinas (baby clams)
4 cloves garlic, minced 
½ cup fish stock or bottled clam juice
2 Tbsp. dry sherry, such as fino or manzanilla
2 Tbsp. butter
1 Tbsp. chopped parsley
Salt and pepper, to taste
Instructions
Remove the netting from the coquinas and place them in a large bowl. Add cold water to cover, and soak for 20 minutes to get rid of any grit. Drain in a colander and set aside.
In a medium pot, simmer the garlic, fish stock, and sherry for 4 minutes to blend the flavors. Increase the heat to high, add the coquinas, and cover. Cook, stirring once every minute, until the coquinas open, 3–5 minutes.
Use a slotted spoon to remove the coquinas to a serving bowl. Discard any unopened shells. Whisk the butter and parsley into the broth and add salt and pepper as needed. Pour the sauce over the coquinas and serve immediately with crusty bread for dipping.
Playing around
Spoon the coquinas al ajillo with their broth over pasta or boiled rice for a light main course. For a Southeast Asian twist, substitute coconut cream for the butter and cilantro for the parsley and garnish with finely sliced chiles and a dash of fish sauce.
Looking for the perfect clams for this recipe? Click here to shop Campo Grande Wild European Seafood.