Roasted Coppa Sandwiches with Garlicky Mayo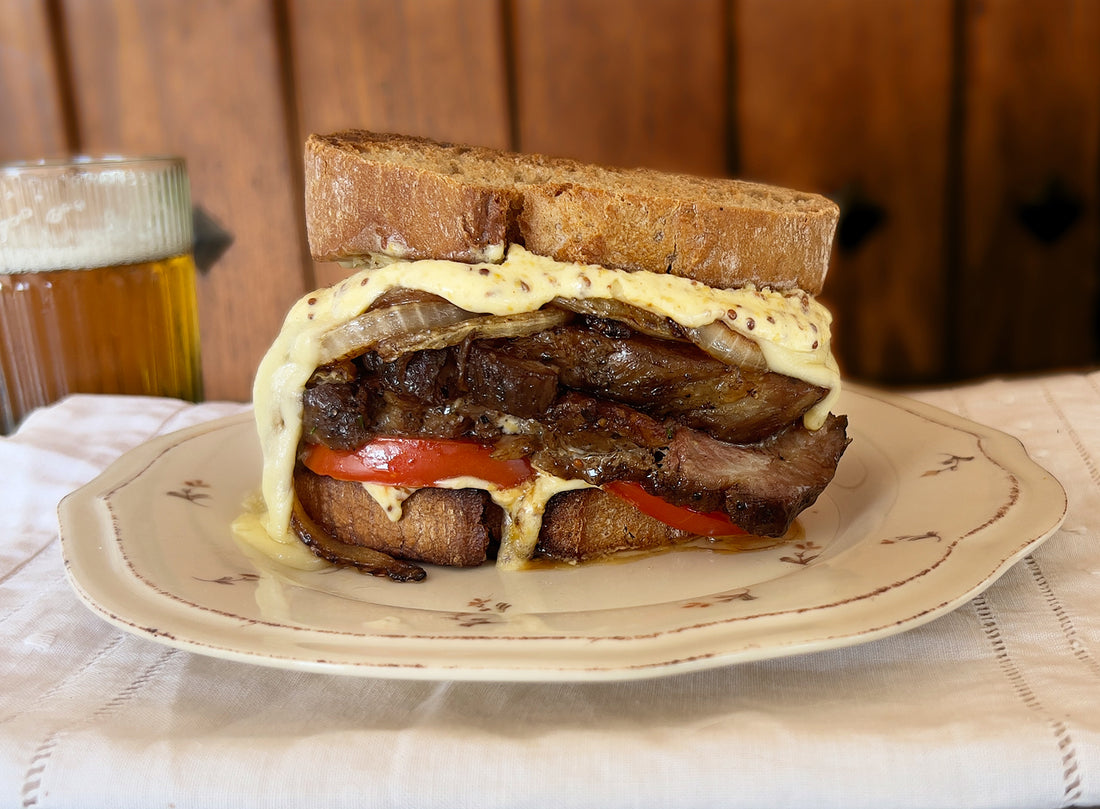 This epic Ibérico sandwich can come together entirely on the grill, from the slow roast coppa to the melty, cheesy toasted bread. 
Serves: 6 
Ingredientes:
1 31-42 oz. Campo Grande Coppa 

Freshly ground pepper 

Flaky salt 

½ cup brandy

1 lemon

1½ cups water, divided 

1 cup mayonnaise 

3 Tablespoons whole grain mustard

2 cloves garlic, minced

2 onions, sliced into rings 

12 slices sandwich bread 

2 large tomatoes 

12 slices cheese of choice

.
Preparation:
Remove any excess fat from the coppa and season with salt and pepper. 

Whether you're using a grill or the oven, first sear the coppa on all sides until golden brown over direct or high heat. 

Place over indirect heat on a covered grill or in the oven at 300ºF and cook until the meat reaches 145ºF, around 1 hour for every 20 oz. of meat. 

Mix brandy, lemon, ½ cup water, and salt in a small bowl. As the coppa cooks, rotate the meat every now and then and use a pastry brush to baste with the brandy mixture. 

Once the meat is cooked through, remove from the oven or grill and let rest 10-15 minutes to absorb the juices. 

While the meat is resting, mix mayonnaise, mustard, and garlic in a small bowl. 

Using the residual heat from the grill or oven, cook the onion rings until soft. 

Toast the bread and build each sandwich with mayo, meat, 2 onion rings, 3 tomato slices, and 2 slices of cheese. Place back on the grill or in the oven until the cheese is nice and melty.

¡Buen provecho!