Ibérico Loin Roast Sandwich with Mushroom Sauce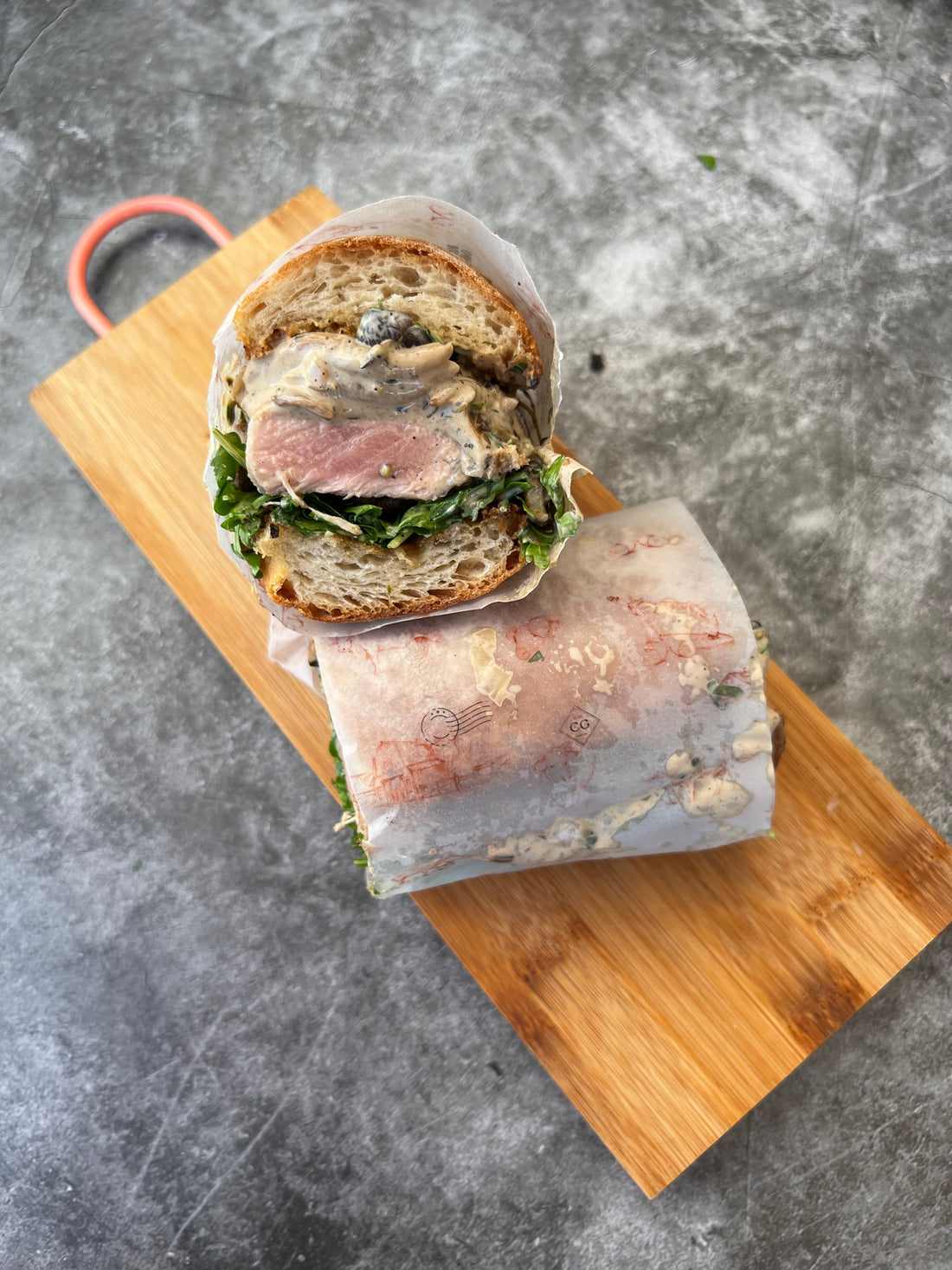 Treat yourself to a lunchtime luxury with an Ibérico Loin Roast sandwich, or a bocadillo as they're called in Spain. The succulent pork loin is quickly seared to keep things tender, and then gets all smothered in a creamy mushroom flambé (hello brandy). Arugula and parsley add a peppery hit of freshness and a crispy baguette holds it all together. 
While brandy is our booze of choice, whiskey or even sherry wine will also do the trick.  
Ibérico Loin Roast Sandwich with Mushroom Sauce Recipe 
Ingredients
1 15-22 oz. Campo Grande Ibérico Loin Roast 

Salt

Black pepper 

1 Tablespoon extra-virgin olive oil 

1 Tablespoon butter 

10 oz mixed variety of mushrooms, coarsely chopped 

2 shallots 

1 sprig thyme

½ cup heavy cream

½ cup pork or chicken broth 

1 ½ cups arugula

3 Tablespoons brandy 

1 baguette, cut in half 

1 Tablespoon fresh parsley, chopped 
Preparation 
Cut loin into 6 filets for 2 sandwiches and season with salt and pepper.

Heat olive oil in a skillet on medium heat and cook filets for two minutes on each side, until they develop a nice crust on the outside but are still slightly pink and tender on the inside. Remove from skillet

Using the same pan, add butter, mushrooms, and shallots and cook on medium heat 2-3 minutes. Add thyme leaves and brandy to pan and flambé. Once the flame has settled, add cream, broth, and whisk until it forms a cream sauce. 

To build the sandwich, cut the bread lengthwise and brush with olive oil. Toast until golden and crispy. First, place the arugula on one side of the bread, then the pork and a spoonful of mushroom sauce over each filet. Top with parsley, the other half of the bread, and enjoy.