Sheet Pan Lubina with Potatoes and Fresh Herbs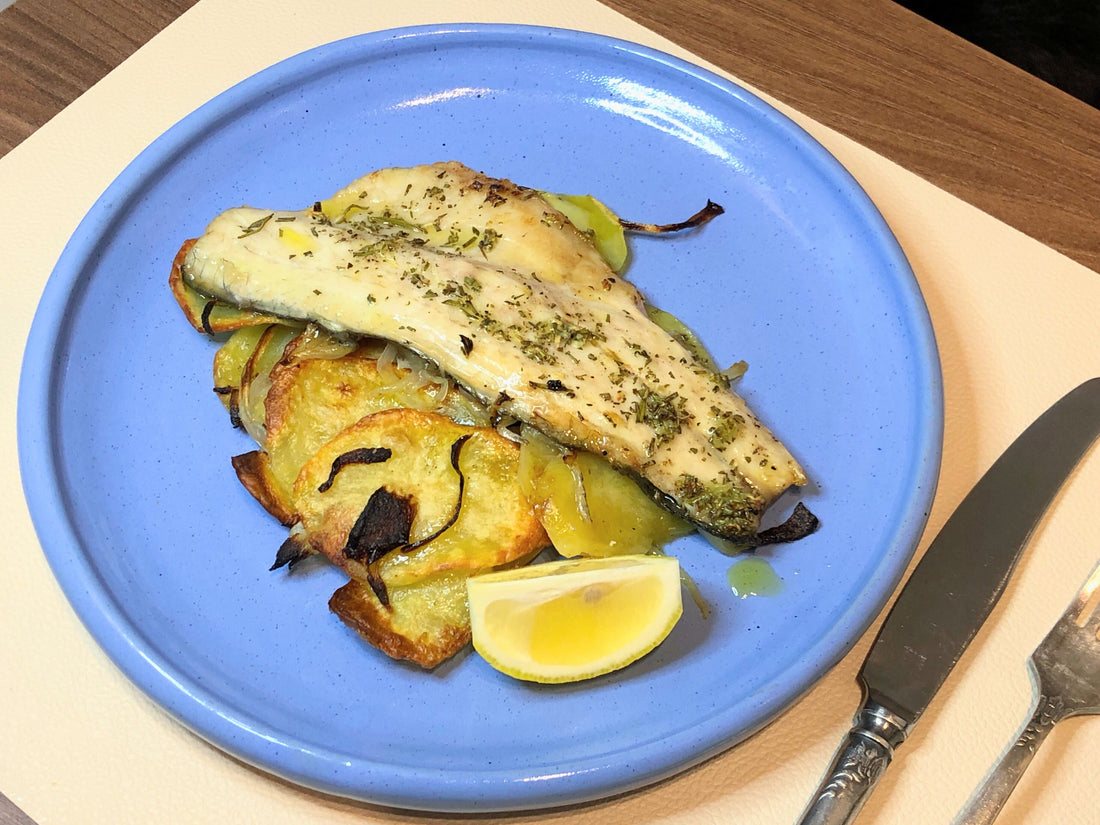 Serves 2
The Catalans were making sheet-pan dinners centuries before they went viral. Across the region, fish and poultry are often roasted on a bed of potatoes, their juices dripping down into the crevices and imbuing the spuds with mouthwatering flavor. This comforting recipe for lubina with potatoes and fresh herbs is a classic that needs no updating, Spanish coastal cooking at its best.
Ingredients
3 medium Yukon Gold potatoes, peeled and sliced ⅛ in. thick
1 small onion, sliced ⅛-in. thick
¼ cup extra-virgin olive oil, divided
Salt and freshly ground black pepper
2 Campo Grande lubina fillets (3–5 oz. each), defrosted
2 garlic cloves, finely chopped
2 Tbsp. finely chopped parsley leaves, plus more for garnish
¾ tsp. finely chopped thyme leaves, or ¼ tsp. dried
¾ tsp. finely chopped rosemary leaves
2 Tbsp. dry white wine
Juice of ½ lemon, plus lemon wedges for garnish
Instructions
Preheat the oven to 400°F. To a bowl, add the potatoes, onions, 2 tablespoons of the olive oil, and salt and black pepper to taste, and toss to combine. Transfer to a parchment-lined rimmed baking sheet, spreading the potatoes out as much as possible, and bake for until soft and beginning to brown, about 20 minutes.
Place the lubina fillets skin side down atop the potatoes, season generously with salt and black pepper, and sprinkle evenly with the garlic, parsley, thyme, rosemary, wine, lemon juice, and 1 tablespoon olive oil. Bake until the fish is just cooked through, 15–20 minutes. Drizzle with the remaining tablespoon of olive oil, sprinkle with additional parsley, and serve with lemon wedges.
Ensure this recipe comes out perfectly by reaching for Campo Grande wild lubina! Shop here.