Spanish Burrito with Presa Ibérica and Mango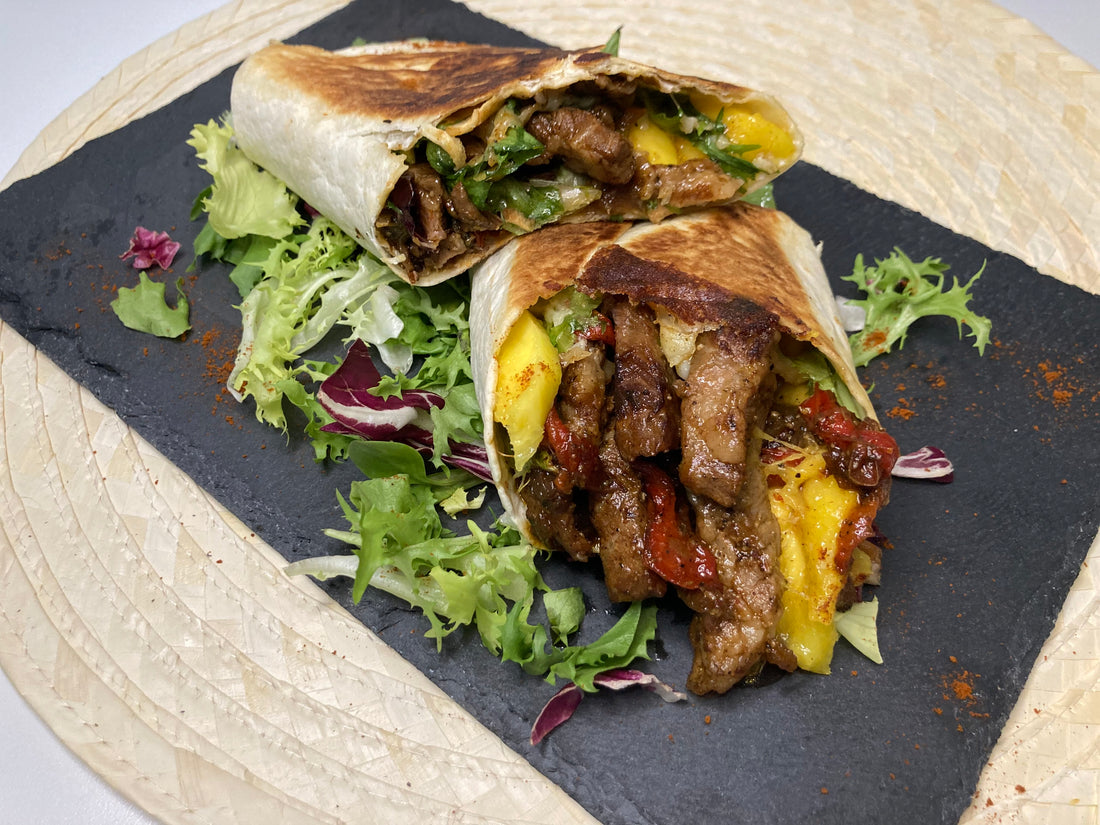 This Presa-centric recipe mixes Spanish and Latin American ingredients and cooking methods, like tortillas and mangoes, taking on a little contemporary fusion with. This makes for quick, crowd-pleasing dinner and can easily be adapted to your tastes. Switch up the cheese, add in different veggies, or kick it up a notch with a spicy salsa. 
Recipe for Spanish Burrito with Presa Ibérica and Mango
Ingredients
4 large flour tortillas
2 green peppers, cut into strips
1 red pepper, cut into strips
1 onion, julienned 
1 mango, cut into strips 
1 teaspoon dried 
4 teaspoon sweet paprika
1 teaspoon ground black pepper
2 teaspoon garlic powder
2 teaspoon hot paprika (optional)
1/2 cup water
Lettuce or greens of choice, chopped  
Grated or sliced ​​gouda cheese
Extra-virgin olive oil  
Preparation 
Heat a drizzle of oil in a frying pan and sauté peppers and onions over medium heat. 
While the vegetables are cooking, cut the Ibérico Presa into strips.
When the peppers and onions are soft, add the Ibérico Presa and sauté. Stir frequently to prevent the meat and veggies from burning.
When the Presa has taken on color and browned, add the spices and half a cup of water. Continue stirring until all the liquid has evaporated.
Preheat a griddle to high heat or heat up a large sauté pan. 
Add the following ingredients to the tortilla in this order: cheese, mango, lettuce, and the Presa veggie mixture. Carefully fold the burrito, tucking in the ends tightly so the ingredients don't escape. Try moistening the parts of the burrito you're closing so they stick together. Be careful not to overfill the burrito or it may break while cooking. 
Place it on the griddle for about 20 seconds on each side to melt the cheese and toast the outside of the tortilla. Serve warm. ¡Buen provecho!