Orange & Pineapple Glazed St. Louis Ribs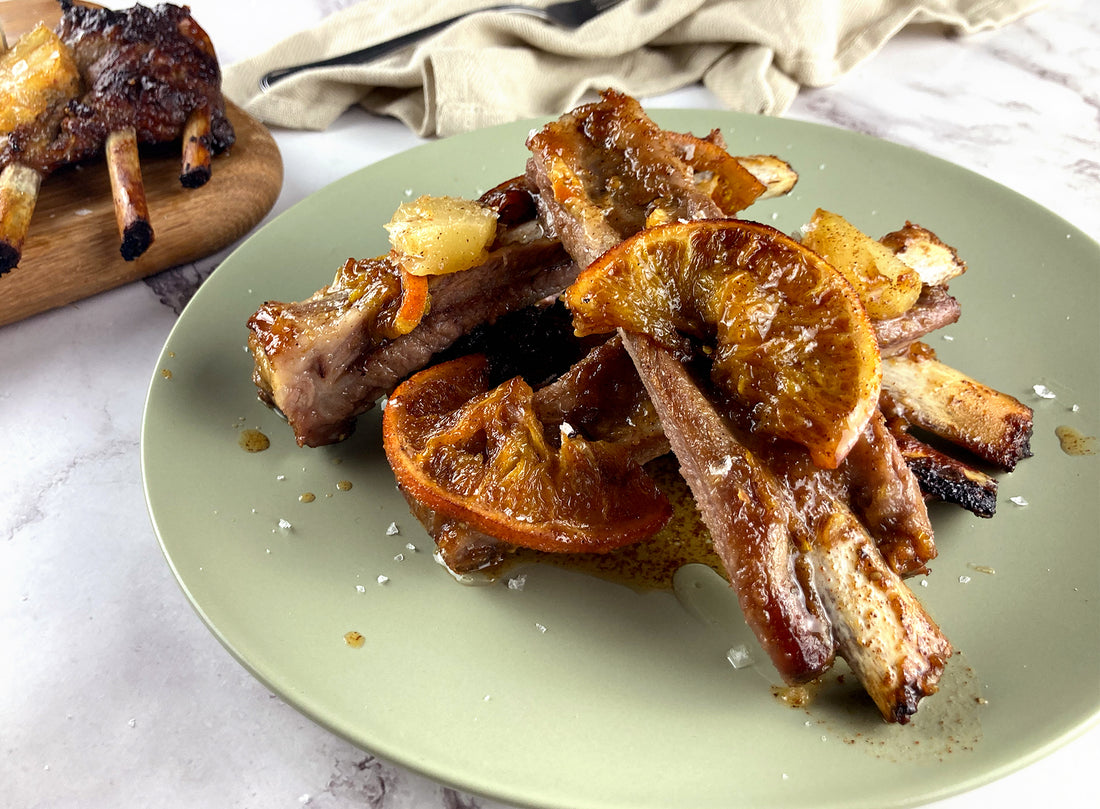 As if slow-cooking Ibérico St. Louis Ribs in the oven for three hours wasn't enough, we're lacquering these fall-apart beauties with a spiced sweet glaze made from cinnamon, oranges, and a can of sweetened pineapple—pineapple syrup included. Brushing the glaze on throughout the cooking process helps create layers of caramelized sugars and fruits that meld and mingle with the natural fats from Ibérico. 
Recipe: Orange & Pineapple Glazed St. Louis Ribs
Serves: 2
Orange & Pineapple Glazed St. Louis Ribs Ingredients
1 28-35 oz. Campo Grande St. Louis Ribs 
Salt
Black pepper 
1 small can of sweetened pineapple (in syrup) 
1 Tablespoon soy sauce 
Juice from 1 orange
3 Tablespoons sugar 
6 slices candied orange, or fresh orange cut into strips 
1 Tablespoon cinnamon 
4 Tablespoons orange marmalade 
1 Tablespoon mustard 
Orange & Pineapple Glazed St. Louis Ribs Preparation   
Preheat oven to 350ºF. Season St. Louis Ribs with salt and pepper on all sides and place on a large baking pan. 
Drain the pineapple and reserve the syrup. In a small saucepan on medium heat, cook 2 Tablespoons of the pineapple syrup, soy sauce, orange juice, sugar, half the orange slices, and cinnamon for 15 minutes. 
Using a pastry brush or spoon, brush ribs with the orange marmalade and mustard. 
Chop 2-3 pineapple slices and scatter them over the ribs, along with the remaining orange slices.
Cook ribs for 1,5 hours, drizzling with the savory syrup sauce every now and then to intensify the flavor. 
Once cooked, remove from the oven and let the ribs rest for a few minutes. Reheat the savory syrup sauce, cut into individual ribs, and drizzle with more sauce. ¡Buen provecho!