Stuffed Baked Potatoes with Coppa Carnitas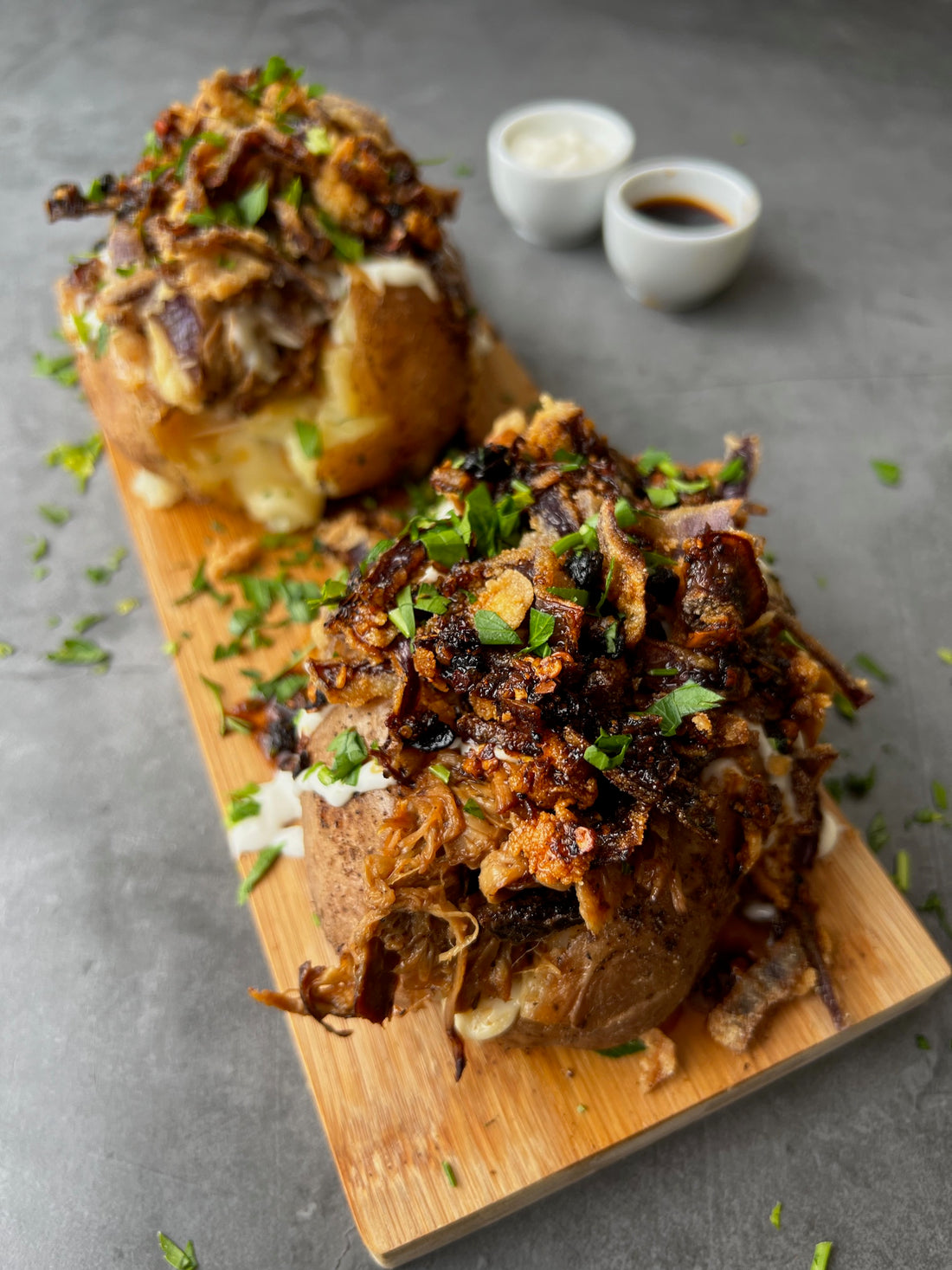 If you've ever been to a southern barbecue joint, you've had the pleasure of digging into a loaded barbecue baked potato. In the Carolinas it's pulled pork, and in Texas it's chopped brisket, always smothered with a combination of cheeses, sauces, spices, and even some crunch. 
We're going Ibérico with our loaded spuds and filling them to the brim with slow-roasted Coppa Carnitas for the most decadent stuffed backed potato on the planet. We love the cheddar, ranch dressing, fried onions, and chili crisp combination, but you have full freedom to load your tater with whatever you fancy. 
Recipe: Stuffed Baked Potatoes with Coppa Carnitas
Serves: 8-10
Stuffed Baked Potato & Coppa Carnitas Ingredients 
1 31-42 oz. Campo Grande Ibérico Coppa 

4 cups orange juice 

3 cloves garlic 

2 Tablespoons of your favorite red meat rub

1 white onion, cut into fourths  

8-10 large white potatoes, depending on the size of the Coppa 

Freshly ground black pepper 

Salt 

4 red onions, julienned 

½ cup extra-virgin olive oil, divided 

4 teaspoons cornstarch 

½ cup barbecue sauce

1 lb. grated cheddar cheese 

Ranch dressing

Fly By Jing Chili Crisp

½ cup chopped cilantro
Stuffed Baked Potato & Coppa Carnitas Preparation 
Heat grill to 250ºF. Cook Coppa for 3 hours (covered), basting it with orange juice every hour and flipping to help cook evenly.

After 3 hours, place the Coppa in a deep metal baking pan with remaining orange juice, white onion, garlic, and red rub. Cover the pan with foil and cook for another 3 hours (covered), until the meat falls apart and you can easily shred it with your hands. 

Once you remove the meat off the grill, rub potatoes with olive oil, season with salt and pepper, and wrap them in foil. Cook on the grill until soft and cooked through. 

While the potatoes are cooking, heat remaining olive oil in a large saucepan on medium heat. In a large bowl, toss onions in cornstarch and add to the pan. Cook until brown and crispy and remove from the pan, placing on a paper towel to cool.  

Shred the carnitas and mix with barbecue sauce. 

To build the stuffed potatoes, make a slit in each potato without cutting all the way through, like you would a stuffed baked potato. Fill with cheese, coppa carnitas, another layer of cheese, and top with the fried onions. Then add ranch and chili crisp, and sprinkle with cilantro.

¡Buen provecho!