The Ultimate Guide to the 4-Rib Rack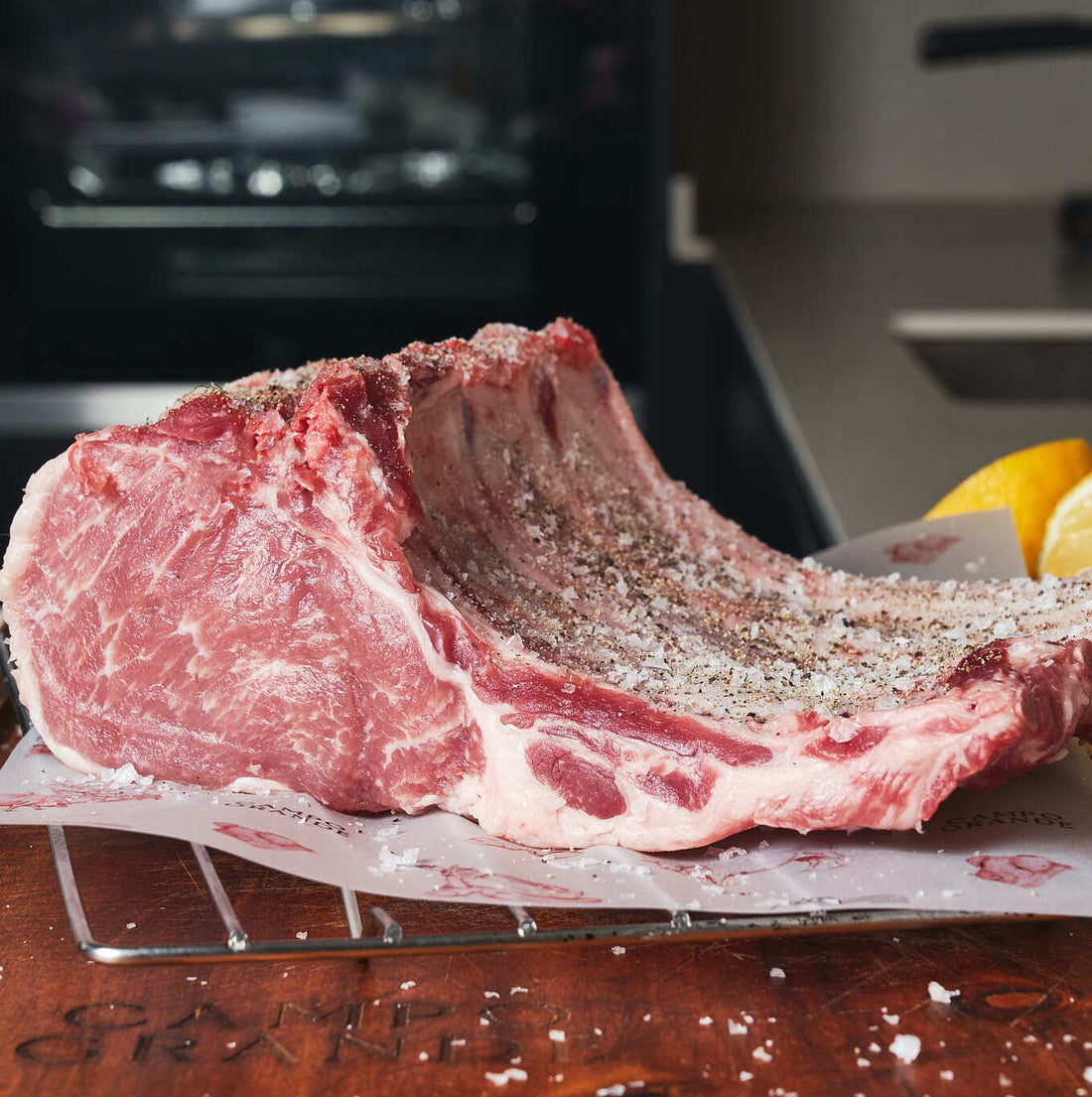 In Campo Grande Ultimate Guides, we take a focused look at Ibérico cuts, offer tips on the best ways to prepare them, and help you master Ibéricos from nose to tail. 

What's an Ibérico 4-Rib Rack? 
Similar to prime rib, but with richer flavor and fat, the Ibérico 4-Rib Rack is located on the upper ribs of the pig with the loin. It's essentially the pork loin with the bones intact. 
The 4-Rib Rack is super versatile. Roast it whole or in half, grill up individual ribs, or batter and fry it to crispy perfection. There's nothing it can't do. 
Tips for Seasoning 4-Rib Rack 
Salt and pepper is all this cut of Ibérico needs to shine. But if you're looking to get a little more creative in the kitchen, these tips will take your 4-Rib Rack to new heights.  
Marinades 
The 4-Rib Rack doesn't have the same connective tissue as something like an Ibérico Flank Steak, so it doesn't necessarily need a marinade to achieve those buttery textures. With this cut, marinades are more about adding extra layers of flavor and less about breaking down tough fibers. Check out the white wine, garlic, and herb marinade in this Grilled 4-Rib Rack with Aioli & Asparagus for a little inspiration. 
Rubs & Glazes 
Dry rubs and glazes are easy ways to add flavor to the cut before cooking. Use your favorite meat rub or whip up your own with spices like paprika, garlic powder, and cumin. For glazes, we love a combo of mayo, mustard, brown sugar, and herbs, like in this Roasted Rack of Ibérico with Dijon-Rosemary Glaze. 
Basting 
Basting is all about brushing on sauces throughout the cooking process to infuse the meat with more flavor. This Grilled Rib Rack with Red Wine Sauce and Apples gets a spicy red wine baste and a little pre-grill marinade. 
How to Cook an Ibérico 4-Rib Rack 
With its crown of frenched bones, this cut makes a dramatic dinner-party centerpiece, whether lacquered in glaze or carved into double-thick bone-in chops. Or you can dress it down—salt, pepper, oven—for a no-fuss weeknight roast. Again, versatility. 
But no matter what method you're using, always cook the Ibérico 4-Rib Rack to medium-rare, or an internal temperature of 145ºF. This is the ultimate rule of thumb for almost all Ibérico cuts. 
With this temp in mind, we're getting into the ins and outs of cooking 4-Rib Rack using a few different methods. Then it's up to you to choose your own own rib rack adventure. 
4-Rib Rack on the Grill
A few different grilling methods:
Barbecue & Hanging: 
Set your grill or cooking area to a temperature between 300ºF and 350ºF. Place the entire rib rack (intact) on the grill and cook for about 30 minutes to 1 hour, until the internal temperature of the meat reaches 145ºF.
No thermometer? Try this: Set temps to 350ºF and cook 30 minutes for every 1 pound of meat.
Quick Sear:
Heat up your grill to high heat and cut the rack into individual ribs. Cook the ribs for about 4 minutes on each side, until the internal temperature of the meat reaches 145ºF.
No thermometer? Cook for 1.5 minutes on each side for every 1/2-inch thickness of meat. 
4-Rib Rack in the Oven 
Set your oven to 350ºF and cook the whole piece (intact) for about 1 hour, until you hit an internal temperature of 145ºF.  No thermometer? Follow the same form noted above: 30 minutes for every 1 pound of meat. 
4-Rib Rack on the Stove 
There are 2 methods for cooking a 4-Rib Rack on the stove. 
Seared: Cut it into 4 individual chops and cook for 4 minutes on each side on high heat. You can even add a little butter, garlic, and herbs here and baste the mixture over the ribs as they cook. 
Fried: Cut it into 4 individual chops. Then batter and fry them into crispy, juicy filets. 
Stove to Oven
With this method, sear the rack in a cast iron skillet to get a nice browned crust (you can baste it with butter, garlic, and herbs as we noted before), then throw it in a 400ºF oven to finish, until a thermometer inserted into the meat reads 145ºF. 
Whole rack: Sear for about 10 minutes and bake for 20 minutes. 
2-rib pieces: Cut the rack in half so you have two thick pieces. Sear for 5 minutes and bake for 10 minutes. 
4-Rib Rack Sous Vide
To sous vide this cut, we highly recommend wrapping the exposed bone areas in paper towels. Bones can puncture through the tight vacuum-sealed bags if not protected, ruining your whole delicious set up. 
Once the bones are wrapped, set the temperature to 140ºF, add seasonings, alliums, or herbs to your sous vide bag for extra flavor.
For the whole 4-Rib Rack, set the cook time for 4 hours. For individual ribs, cook set it for 2 hours. 
Remove the meat from the bag and sear it in a hot skillet or on the grill for a few minutes on each side to get nice caramelization. 
Top Ibérico 4-Rib Rack Recipes  
Sweet and savory get their day in the spotlight with this warming dish for grilled Ibérico ribs and spiced apples. This recipe works in any season. Utilize juicy cold-weather fruits or fire up the grill come summertime.
Slow-cooking ribs over a fire using the hanging method is the ultimate campfire experience. The indirect heat softly cooks the ribs and releases the rosemary and garlic into every crevice, giving you all the time you need to crack open a few beers and enjoy the fire with your camping crew. 
Use leftover roasted 4-Rib Rack meat to make smoky, romesco-sauced sammies.
Buttery Ibérico ribs love a punchy acid, so give it the Greek treatment with creamy yogurt, pickled onions, and fresh mint. 
Marinate Ibérico ribs overnight in a garlicky herb sauce for ultimate tenderness, or bathe 'em in marinade and cook right away if you're pressed for time. Grill up some fresh asparagus on the side and slather it all with a thyme-flecked aioli. 
Grill or bake this showstopper 4-Rib Rack and pile it over the creamiest of hummus. Sweet potatoes and a bright punch of chimichurri make for a complete, nutritious dinner. 
This low-effort roast makes a grand dinner party centerpiece with its shimmering Dijon-rosemary glaze and dramatic, crisp bones. After carving the chops, fan them over a bed of mashed potatoes or root vegetables, and serve them with a peppery Spanish red wine such as garnacha or Ribera del Duero.