Shepherd's Pie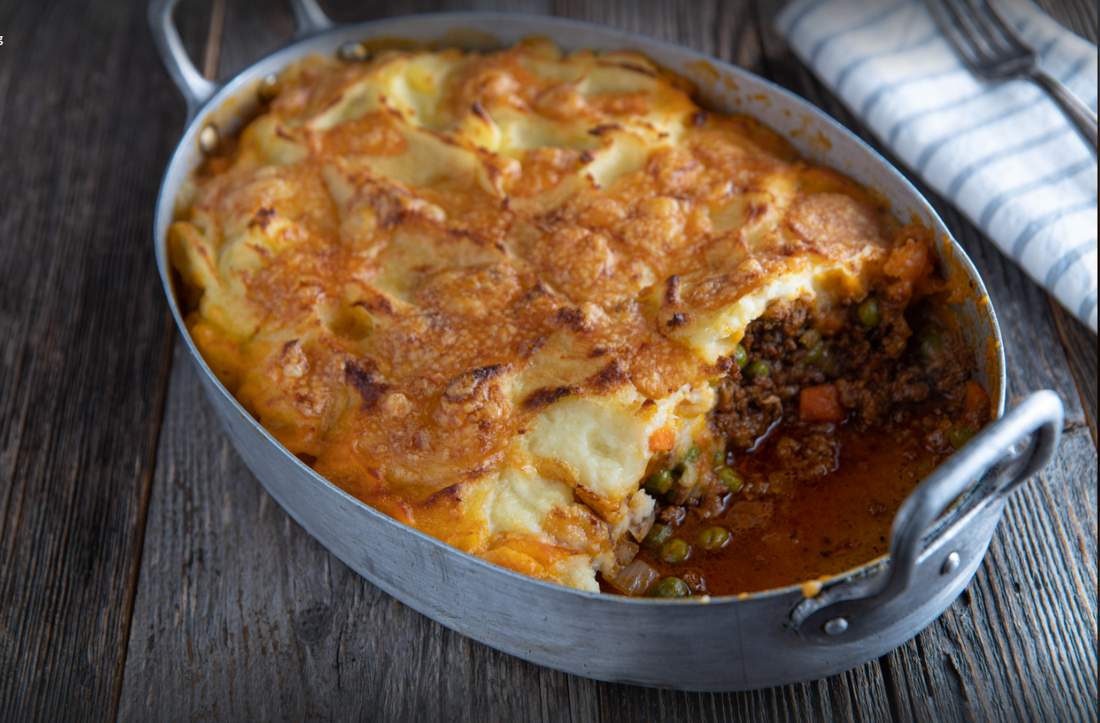 Shepherd's pie is the ultimate comfort food. Creamy mashed potatoes, savory ground beef, and a little veg to hold it all together and keep things healthy, it's one of those wintertime baked meals that warms your bones. 
Also called cottage pie, the dish finds its origins in England, where its traditionally made with ground lamb. The Americanized version is made with ground beef, but you can use any sort of ground meat you fancy in this recipe. One of the best things about shepherd's pie is that it really requires no sides. With all the veggie, starch, and protein you need in one big wedge, you'll be set for dinner. It also makes lovely leftovers. 
How to Prepare Shepherd's Pie 
While shepherd's pie is a relatively neutral dish, there are ways to jazz it up. Add a few different spices into the ground beef, sprinkle an aged or melty cheese on top before baking, or throw in whatever veggies you have around in the fridge like peas or chopped asparagus. While the American-style recipe usually calls for beef, you can use pork or a mixture of beef, pork, and lamb. Or go wild and add juicy pulled pork. 
In this recipe, we've switched things up by adding cumin and soy sauce to the ground beef and mixing in sun-dried tomatoes and zucchini. And we topped it with a little cheese and some pine nuts for an added umami nuttiness.
Shepherd's Pie Recipe
Ingredients
1 lb. ground beef

1 teaspoon cumin 

1 Tablespoon soy sauce

5 potatoes

5 sun-dried tomatoes, chopped 

2 medium onions, julienned 

2 carrots, peeled 

1 zucchini

2 garlic cloves, chopped 

4 oz. grated cheese of choice

1 Tablespoon butter, melted 

1 cup whole milk

2 oz. pine nuts 

Extra-virgin olive oil

Coarse salt

Freshly ground black pepper

A few sprigs of fresh parsley 
Preparation
Preheat oven to 400ºF.
Boil the potatoes, carrots, and zucchini in a large pot with salted water. Cook for about 30 minutes until soft. You will likely need to remove the zucchini and carrots beforehand, as they will cook faster. 

While the veggies are cooking, place the ground meat in a large bowl and add cumin, soy sauce, salt, and black pepper. Mix with your hands just until combined. 

Once vegetables are cooked, remove them from the water. 
Peel the potatoes and place in a food processor, stand up mixer, or mash by hand until you get smooth mashed potatoes. 
Place mashed potatoes in a large bowl and mix in the melted butter, milk, and salt and pepper to taste. The potatoes should be creamy but thick. You don't want them be soupy or runny so they can stand on their own as a layer on top of the ground meat. Set the potatoes aside. 
Drizzle oil in a large sauté pan and cook onions and garlic until soft and translucent.
Add the ground beef and cook until it starts to change color but doesn't completely cook. Set aside. 
Chop the cooked carrots and zucchini into small cubes. 
In an oven-proof dish, spread half of the mashed potatoes over the bottom. Top with meat mixture and then the onion and garlic. 
Scatter tomatoes over the top, along with the carrots and zucchini. 
Top with the remaining mashed potatoes. 
Sprinkle with pine nuts and grated cheese. 
Place dish in the oven and bake for 10 minutes. 
Remove from the oven and sprinkle with fresh parsley. Let sit for a few minutes and serve hot. ¡Buen provecho!