Beef and Mushroom Stew with Tomatoes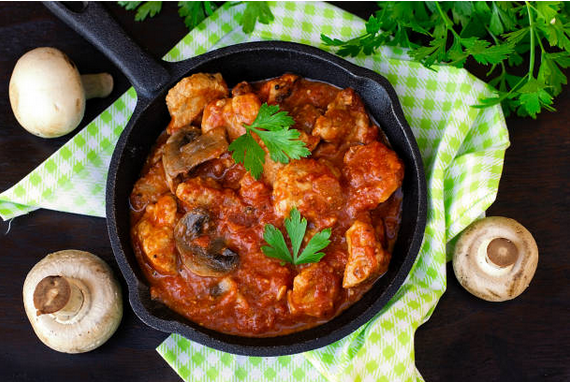 Beef and mushroom stew with tomatoes is a satiating and hearty dish, perfect for those cold winter days. It's loaded with seared mushrooms, a sweet "sofrito" (like a Spanish mirepoix), and a bold red wine sauce that's perfect for Spanish wine pairings. Here's how to make it:
How to Prepare Beef and Mushroom Stew with Tomatoes
Buying quality beef is key for this recipe. Ask your butcher which cut will work best. You can even ask them to cut it for you instead of cutting it yourself at home. Just make sure the pieces are relatively uniform. 
Ingredients
14 oz. beef stew meat 

2 carrots, diced 

1 medium onion, diced

1 leek, chopped 

1 clove garlic, thinly sliced 

1 cup red wine

4 oz. crushed tomato, canned or fresh 

1 cup beef or chicken broth 

7 oz. mushrooms, sliced 

Aromatic herbs like bay leaf or rosemary 

4 oz. flour

Coarse salt

Freshly ground black pepper

Extra-virgin olive oil
Preparation 
Remove the meat from the refrigerator and let it come to room temperature. 

Trim any excess fat and tendons from the meat, rinse with cold water and pat dry with paper towels.

Cut the beef into small pieces even pieces, about 1 oz. each. 

Season the meat with salt and pepper and coat the meat in flour. 

Blend tomatoes in a food processor and set aside. 
Pour a splash of olive oil into a large pot or dutch oven. 
When the oil is hot, add the meat. Once it begins to take on color, remove from the pot and set aside. 
Add onion, carrot, and garlic to the pot and cook until onion is transparent and carrots soften. 
Add the meat back into the pot.
Pour in the blended tomatoes and stir to combine. 
Add the wine and stock, along with the aromatic herbs. 
Stir and bring the heat down to low. Cover the pot and cook for 90 minutes. 
Stir the stew every 10 minutes to keep the ingredients from sticking to the bottom. While you're stirring, check to ensure there is enough liquid in the pot. If you see that it's drying out, add more stock or water. 
While the stew is cooking, heat a drizzle of oil in a sauté pan and sauté the mushrooms lightly. 
Once the stew has cooked for one hour, add in the mushrooms and continue cooking. 
Once the meat is tender, remove the stew from heat and serve. ¡Buen provecho! 
Tips for Making Beef Stew 
Do your best to cut the meat into equally-sized pieces so they all cook evenly. 
The cook time depends on the type of meat you have purchased. Keep in mind that some cuts take longer to cook than others, so you may need more than 90 minutes or even less. To check meat doneness, use a toothpick to prick it. 
If the stew is too runny, thicken the mixture by dissolving a little cornstarch or flour into a glass of cold water and adding it to the stew. Stir to combine and the sauce will thicken. 
This beef stew will taste even better the next day. Just let it cool, store it in the fridge overnight, and heat it on the stove the next day. 
Serve the beef and mushroom stew all by itself or with a side of fluffy white rice or crusty bread for sopping up all the juices.