Biscayan Cod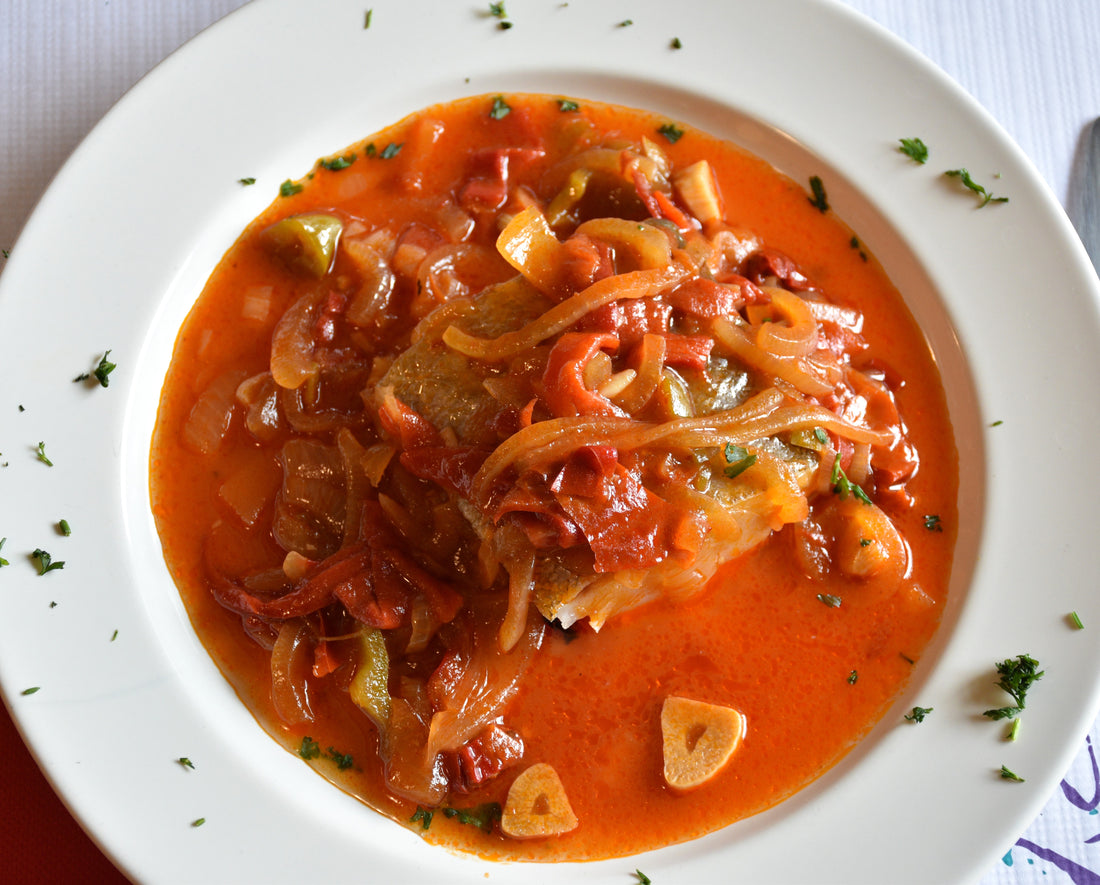 Do you want to taste a typical dish of Basque cuisine, full of flavor and very nutritious? Then you can't miss this recipe for bacalao a la vizcaína, a delicious dish made with desalted fish, tomato sauce, and chorizo peppers. 
According to some versions, this dish arrived in Mexico in the 16th century along with the Catholic religion and the customs of Lent and Easter. Other sources attribute the dish's origin to a Biscayan merchant who mistakenly received a large quantity of cod in 1835 and had to salt it to preserve it. For this reason, its use was destined for various recipes that evolved into its more recent versions, including the bacalao a la vizcaína. 
This very simple recipe will surprise you with its texture and aroma, and cod is also a very healthy food that provides protein, omega-3, vitamins, and minerals. Below, we explain how to prepare this culinary option and its benefits to your health.
Ingredients
For a preparation intended for 4 people, the following quantities should be added:
4 loins of desalted codfish

4 chorizo peppers

1 onion

2 cloves garlic

400 ml tomato sauce

Pure olive oil

Salt and pepper

Chopped parsley
Preparation
The preparation of this dish is very simple and consists of concrete steps, which we will follow below:
The first thing to do is to soak the chorizo peppers. To do this, we put them in a bowl with hot water and leave them submerged for a few hours until they are soft.

Next, drain the peppers and remove the seeds and stems. Use a spoon to scrape out the pulp and then put them in a bowl.

Heat a little olive oil in a large frying pan and sauté the chopped onion and garlic until soft and translucent.

Add the tomato sauce and the flesh of the chorizo peppers. Add salt and pepper to taste and cook for about 15 minutes, stirring occasionally.

Meanwhile, we use kitchen paper to dry the cod fillets and sauté them in a frying pan with oil on both sides until golden brown.

Place the cod fillets in the casserole with the sauce and cover them well. Let everything cook for about 10 minutes, over low heat and without stirring, so the fish does not crumble.

Sprinkle with chopped parsley and serve the bacalao a la vizcaína hot.
Some of the most popular garnishes this dish usually accompanies are fried or baked potatoes, piquillo peppers, wild asparagus, portobello mushrooms, white rice, or green salad.
Benefits
This gastronomic option is a complete and balanced dish that combines the properties of fish with those of vegetables. Cod is an excellent source of proteins of high biological value, which contributes to the maintenance and development of muscle mass. It also contains omega-3 fatty acids, which help prevent cardiovascular diseases, reduce bad cholesterol, and have anti-inflammatory effects.
Among other properties of cod, it is also rich in vitamin B, especially B12, which favors the activity of the nervous system and the formation of red blood cells. It also provides vitamin A, which improves vision and skin health, and vitamin D, which facilitates the absorption of calcium and phosphorus. On the other hand, this fish is a good source of minerals such as iron, phosphorus, potassium, magnesium, and iodine.
Vegetables served with cod also have many health benefits. Chorizo peppers are rich in vitamin C, which helps strengthen the immune system and has antioxidant effects. They also contain vitamins A, E, and carotenoids, which help protect cells from oxidative damage and prevent premature aging.
On the other hand, onion and garlic are foods that have antibiotic, antifungal, and antiseptic properties, which help fight infections and improve blood circulation. Tomato sauce is a source of lycopene, a red pigment that fights cancer and protects prostate, heart, and skin health.
To sum up, cod a la vizcaína is a very nutritious and delicious dish you can easily include. Remember that cod must be desalted well before cooking to avoid excess sodium. You can also buy fresh or frozen cod, which must not be soaked beforehand. We hope you like this recipe and enjoy it with your family and friends.