How to Make Arroz Negro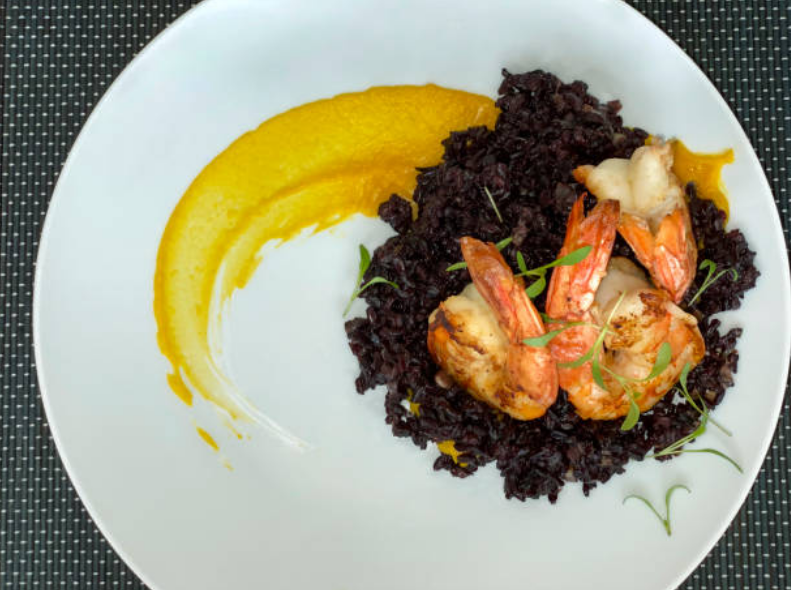 Arroz negro (or "black rice") is one of Spain's most traditional rice dishes. Made in a paella pan, it's a dry rice (as opposed to some of the brothy styles) that's made with black squid ink and loads of fresh seafood. In Spain, rices are a very communal meal made for a crowd and are usually served for big celebrations or Sunday gatherings. Black Rice is salty, savory, and has a rich ocean flavor. Here's how we make our Arroz Negro: 
Recipe for Arroz Negro
Arroz Negro Ingredients
11 oz. bomba rice

One cuttlefish, cut into small pieces 

9 oz. shrimp, peeled

4 oz. onion, finely chopped

2 tomatoes, finely chopped

2 cloves garlic, finely chopped

2 oz. green bell pepper, finely chopped 

Fish or seafood broth

1/2 cup white wine

Extra-virgin olive oil

Three sachets of cuttlefish or squid ink
Arroz Negro Preparation 
Heat a drizzle of olive oil in a paella pan.
Once the oil is hot, but not smoking, add the cuttlefish. Sauté for about 5 minutes. 
Add the onion and bell pepper to the pan and stir. Cook for 5 minutes.
Add the shrimp and garlic to the paella pan and sauté for a couple of minutes. Then add in the tomato. 
Season with salt and cook for another 5 minutes. Then remove the shrimp from the pan and set aside. 
Place squid ink in a glass cup and dissolve with 2 tablespoons of hot water. Then pour the water into the paella pan, stirring to combine. 
Add in the rice and let it toast up a bit in the pan, stirring constantly. 
Add the wine and cook until it evaporates. 
Cover the rice with half of the fish stock and let it boil for 10 minutes on high heat. 
After 10 minutes, pour in the remaining fish stock and lower the heat. Cook for 7 minutes undisturbed, or until the rice reaches your desired texture (cook time will depend on the brand of rice).
Add the shrimp back to the pan and cook for 2 more minutes. The rice should be soft and the broth should have completely evaporated. 
Remove from heat and let the rice rest 5 minutes before serving. ¡Buen provecho!
Tips for a Perfect Spanish Black Rice
Be careful when adding salt. Taste the seafood broth before adding in so you have an idea of how salty everything will taste. 
Switch out the shrimp and cuttlefish for baby squid, prawns, or whatever season seafood you fancy. 
Serve Arroz Negro with a homemade aioli sauce to add extra creaminess and a fresh raw garlicky flavor. 
Pair with a dry white wine
Make sure you serve with extra napkins, as the squid ink can stain easily.