Brothy Rice & Chicken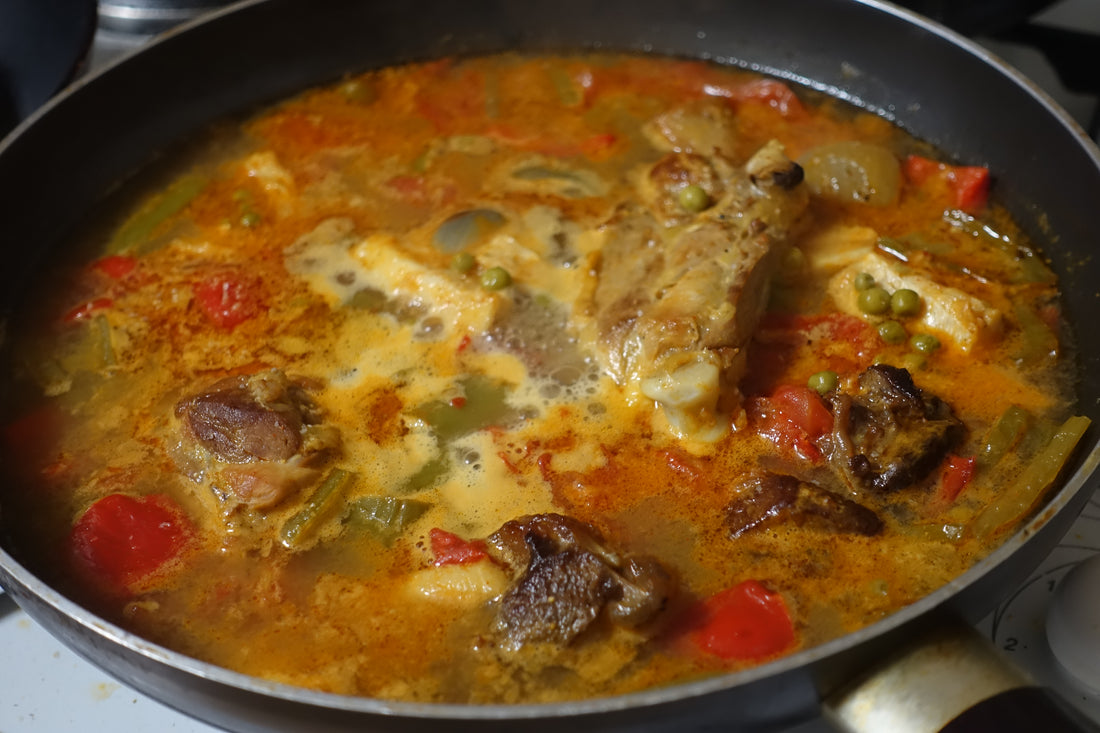 Paella may be Spain's most emblematic dish. But unless you're in the region of Valencia, it's dishes like arroz caldoso, or brothy rice, that you're more likely to find on kitchen tables throughout the country. 
Brothy rice is the ultimate Spanish comfort food, especially in the winter. And like all the many rice dishes, it's commonly eaten on Sundays or for special celebrations in Spanish culture. The rice is similar to paella and is often made in a paella pan. But it's called brothy rice for a reason. More akin to a hearty rice stew or soup, it's laden with lots of delicious broth, a savory sofrito, vegetables, meat or seafood, and spices like saffron or paprika, depending on whose cooking. You'll find arroz caldoso with proteins like chicken, clams, fish, or even Ibérico pork. It all depends on the region and what's locally available.
Types of Spanish Rice Dishes 
Arroz caldoso is just one of a handful of rice dishes cooked around the country. The nutritious grain is grown in several regions across Spain, like Valencia and Andalusia, and is a cornerstone of the Spanish diet. Spain also has unique rice varieties that absorb even more liquid than the basic box of white rice you find in the grocery store. And that means it absorbs more flavor. Head to Spain and keep your eyes peeled for these rice dishes. You won't have to look too hard:
Paella: dry Spanish rice laced with saffron and usually made with rabbit or chicken, and sometimes snails 
Arroz Caldoso: brothy rice, almost like a stew or soup
Arroz Negro: black rice with squid ink and seafood
Risotto: though Italian in origin, Spaniards have adopted their own local versions using similar methods
Arroz Meloso: rice with a texture in-between paella and arroz caldoso
Arroz Campero: called "farmer rice," it's a dry rice usually involving a mixture of meat like pork, chicken, rabbit, or duck 
Arroz Montañés: called "mountain rice," it's a dry rice with a combination of pork products and sometimes mushrooms 
Recipe: Brothy Rice & Chicken 
When folks in Spain prepare most chicken-based rice dishes, paella included, they ask the butcher to cut the chicken into 2-3-inch pieces, bones included. This helps the chicken cook faster, distributes light and dark meat pieces throughout, also ensures there's enough chicken to go around for everyone. 
Serves: 10
Brothy Rice & Chicken Ingredients
Half a chicken, skin removed and cut into small pieces (bone in tact)

2 cups bomba rice 

6 green beans, snapped and cut into thirds 

8 cups homemade chicken stock

1/2 teaspoon saffron threads

1/2 red bell pepper, diced 

1 green bell pepper, diced 

1 small onion, diced 

2 cloves garlic, minced

3 Tablespoons crushed tomato

1 teaspoon sweet paprika

Extra-virgin olive oil

Salt

Freshly ground black pepper
Brothy Rice & Chicken Preparation
Remove the chicken from the fridge a couple hours before cooking and let it come to room temperature. 
Place a medium paella pan or medium skillet over medium heat and add a drizzle of olive oil. 
Add the chicken to the pan with a pinch of salt and brown until it gets a nice golden color.
Once the chicken has browned on all sides, remove it from the pan and set it aside, leaving any chicken grease behind in the pan. 
Add the peppers, onions, and garlic to the same pan and add another pinch of salt and pepper. Cook on low heat until onion begins to brown. 
While cooking, heat the chicken stock in a separate saucepan. 
Add the green beans to the paella pan and cook for about 3 minutes. 
Add the crushed tomato and paprika to the paella pan, stir, and cook for another 3 minutes. 
Add the chicken back into the pan, along with the rice. Stir and cook for another 3 minutes so the rice can fry a bit in the oils. 
At this point, add the saffron into the warmed chicken stock and allow the threads to steep into the broth until it turns a vibrant golden yellow. 
Increase the heat on the paella pan to medium-high and pour the saffron stock into the pan. Stir to mix the ingredients and evenly distribute them throughout the rice. 
When the broth begins to boil, reduce the temperature to low heat and cook for about 15 minutes, depending on the rice variety and the package instructions. 
As it cooks, try your best not to stir the rice, but simply jostle the pan carefully by the handles to readjust the ingredients. If it looks like the stock is evaporating too quickly, you can always add more while the paella is bubbling. 
Once the rice is almost completely cooked and you're satisfied with the consistency (this is based on your personal preference of how brothy you like your rice), remove the pan from the heat and cover. Let stand for 5 minutes to allow the stock to evaporate a little bit more and for the rice to finish cooking.
Serve in shallow bowls, distributing the chicken pieces evenly between bowls. ¡Buen provecho!