Broad beans with ham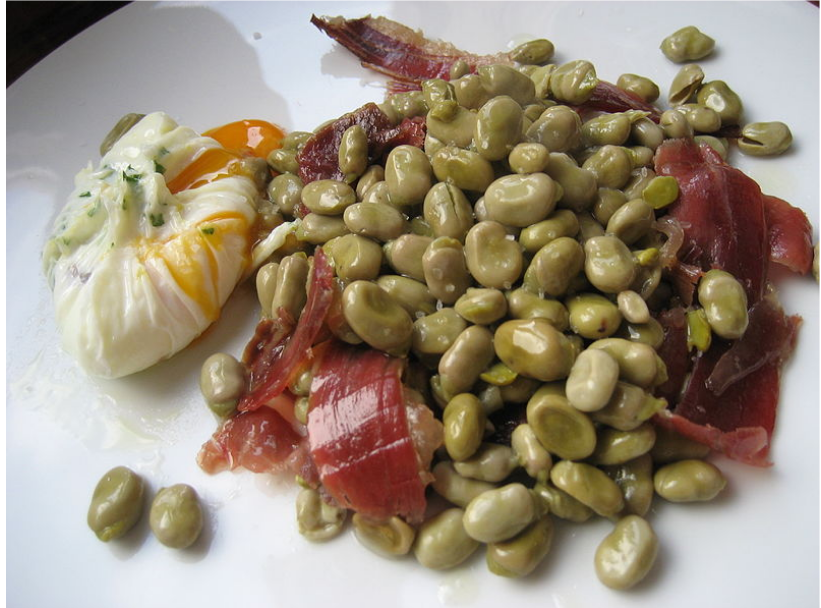 Broad beans with ham are a traditional stew of the gastronomy of Granada. You will love to discover it! Broad beans with ham are ideal to be served hot. They are also effortless to make and can be served as a first course or accompanied by more things to make them a second course.
Try the beans with ham!
One of the attractions of Granada, besides the Alhambra and the custom of tapas, is its gastronomy. One of the symbolic dishes of the people of Granada is the famous habitas con jamón, also called habas. One or two eggs per person usually accompany these beans.
Broad beans with ham are small, fresh green beans prepared with extra virgin olive oil and accompanied by strips of ham. In addition, the broad beans are seasoned with tomato, cumin, and pepper. Broad beans are served hot, so they are ideal for the coldest months of the year.
On the other hand, as we have already mentioned, in some places, the broad beans with ham are accompanied by one or two eggs for each diner. The egg can be scrambled or in an omelet; it is also essential to eat the egg immediately to prevent the beans from becoming too oily.
The broad beans with ham recipe are super easy to make, and the recipe will be exceptionally delicious if fresh and quality products are used.
How to prepare broad beans with ham?
The way to prepare the delicious broad beans with ham is the same, only the accompaniment changes. In some Andalusian homes, they are accompanied by the traditional fried egg, while in others, they are even accompanied by bacon.
Ingredients
One kilo of fresh broad beans.

One onion.

A clove of garlic.

25 grams of Serrano ham.

15 milliliters of white wine.

25 grams of bacon.

15 milliliters of extra virgin olive oil.

Coarse salt.
Elaboration
The first thing you have to do is to shell the broad beans. This is very easy to do, as you only need to put the bean pods in boiling salted water and cook them for one minute; after this time, it is time to strain and let the beans cool down so you can handle them.

Once you have shelled them, heat extra virgin olive oil in a saucepan.

Add the onion, previously finely chopped, and when it starts to poach, add a clove of sliced or chopped garlic.

When the onion and garlic change color, add the serrano ham and diced bacon.

You will only need a couple of minutes for this process.

Stir well so that the ingredients take on the flavor.

Add a splash of white wine and turn up the heat, so the alcohol evaporates.

After a few minutes, add the beans to the saucepan and cover with water if the pot is too dry.

Lower the heat and let the beans cook until they are tender.

It is essential to keep an eye on the beans at all times because if they are fresh, they will cook much faster.

While the beans are ready, fry an egg in a frying pan; you can also prepare scrambled eggs or even a French omelet. Broad beans with ham and egg are delicious!

Once the beans are ready, serve and garnish with the fried egg on top and a slice of fried Serrano ham.
Tips for delicious fava beans with ham
The most important thing is to choose quality products and, in this case, fresh broad beans, which will be delicious and have a unique texture! Fresh broad beans are perfect because not only do they provide quality, but they are also much faster to prepare. As you have already seen, it is necessary to shell them before cooking them; this process is swift, and you only have to do it if you buy the beans in the pod.
On the other hand, be very careful with the salt in this recipe. Keep in mind that Serrano ham is already quite salty, and it tends to lose more salt with cooking and oil. In these cases, it is best to do just what is necessary with this seasoning, especially if you add bacon. As for the ham, consider using low-salt ham and do not use diced ham, as the flavor and texture will be quite different.
Broad beans with ham will delight your guests, and you can serve them as a first course, but they are also ideal to accompany second courses such as grilled or barbecued meat.