Callos a la Madrileña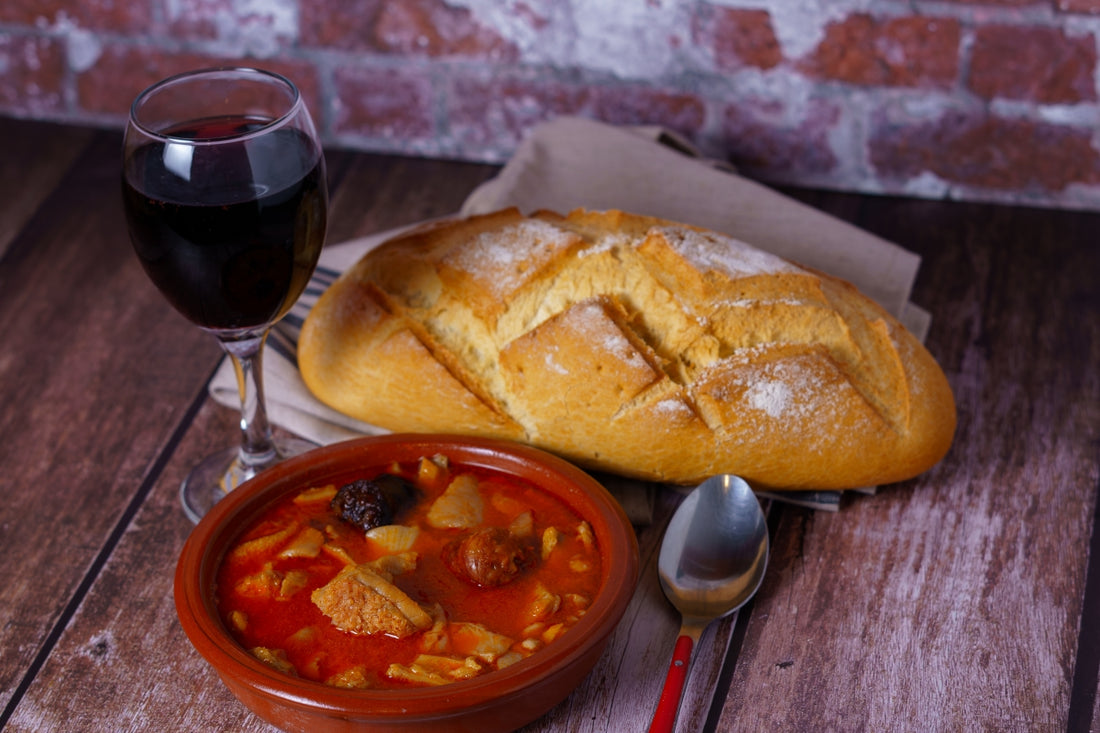 Callos a la madrileña, or Madrid-style tripe, is a typical dish in Spanish gastronomy that can actually be divisive. In other words, not everyone's palate has adapted to the intense flavors and textures of this rich stew made primarily of smoky chorizo and a plethora of pig and beef parts like tripe and trotters. 
It's not known when the dish was first created, but there are records of the recipe that date back to the late 1500s. While it developed primarily as inexpensive dish made by folks in small villages, the recipe has managed to find its way into the menus of some of the most prestigious restaurants in Madrid. And in a country known for taking advantage of every edible scrap in the kitchen--from nose to tail--it has become a symbol of Spanish gastronomy. 
Callos a la Madrileña: Love it or Hate it 
This recipe is an exquisite delicacy for some, and a not-so-enticing dish for others. Not everyone is going to be down with texture and intense flavor of tripe. Additionally, this style of stew requires a lot of preparation to clean the various pork and beef parts. We, of course, think it's definitely worth it. 
Each family has their own recipe for callos a la madrileña. Some like it with a lot of meat, while others prefer more broth and vegetables. And others prefer with a touch of spice and heat. Regardless, preparing callos is an incredibly authentic experience. So if you really want to cook like a true Spaniard, try your hand at callos a la madrileña.  
How to Prepare Callos a la Madrileña
When it comes to finding the right ingredients, look to your local butcher. They should be able to source tripe, trotter, knuckle, and snout. For morcilla, look at speciality stores. Any combination of tripe and gelatinous pig and beef cuts will work well in this dish. 
Ingredients
1/2 lb. cleaned tripe

1 leg of veal

1 chuck of jamón Ibérico 

1 morcilla sausage (black pudding)

1 pig trotter

1 pork knuckle 

2 links chorizo

1 lb. veal snout

6 cloves of garlic, chopped

5 ripe tomatoes, peeled and crushed 

1½ onions, chopped 

1 Tablespoon sweet or hot paprika

Salt

Pepper

Bay leaf

Cumin

Extra-virgin olive oil

Juice from 1 lemon 
Vinegar 
Preparation
One day before you're ready to cook, soak the tripe, knuckle, trotter, and snout in water with lemon and vinegar. This will make trimming and cleaning the meat easier. 

The next day, wash the tripe and veal leg very well and cut the tripe into small pieces. 

Heat the tripe in cold water in a large pot. Add garlic, bay leaf, pepper, ham, trotter, and knuckle. Cook for 10 minutes. 

Drain the meat and transfer it to another large pot. Fill with water and cook for another 2 hours, checking the water constantly to add more water if needed. 
Drizzle oil in a sauté pan and add onions and garlic. Cook until soft and golden brown, then add the tomatoes and cook for 3 minutes over medium heat, stirring constantly. 
Add paprika and a pinch of cumin and mix well. Taste for salt and remove from heat. Set aside.  
Once the meat has cooked for 2 hours, remove from heat and add cold water to stop the meat from cooking even further. 
Add the sofrito (onion mixture) and chorizo to the meat. Stir and taste for salt and spices. 
Cook over medium heat for 3 hours total, checking constantly to ensure the meat is cooking properly and becomes tender. 
After 2 hours of cooking, add the morcilla. 
After 2.5 hours of cooking, add the chorizos. 
After 3 hours, remove the pot from the heat and let rest for up to 1 hour before serving. You can also refrigerate overnight and heat it up the next day. ¡Buen provecho!