Flamenco style eggs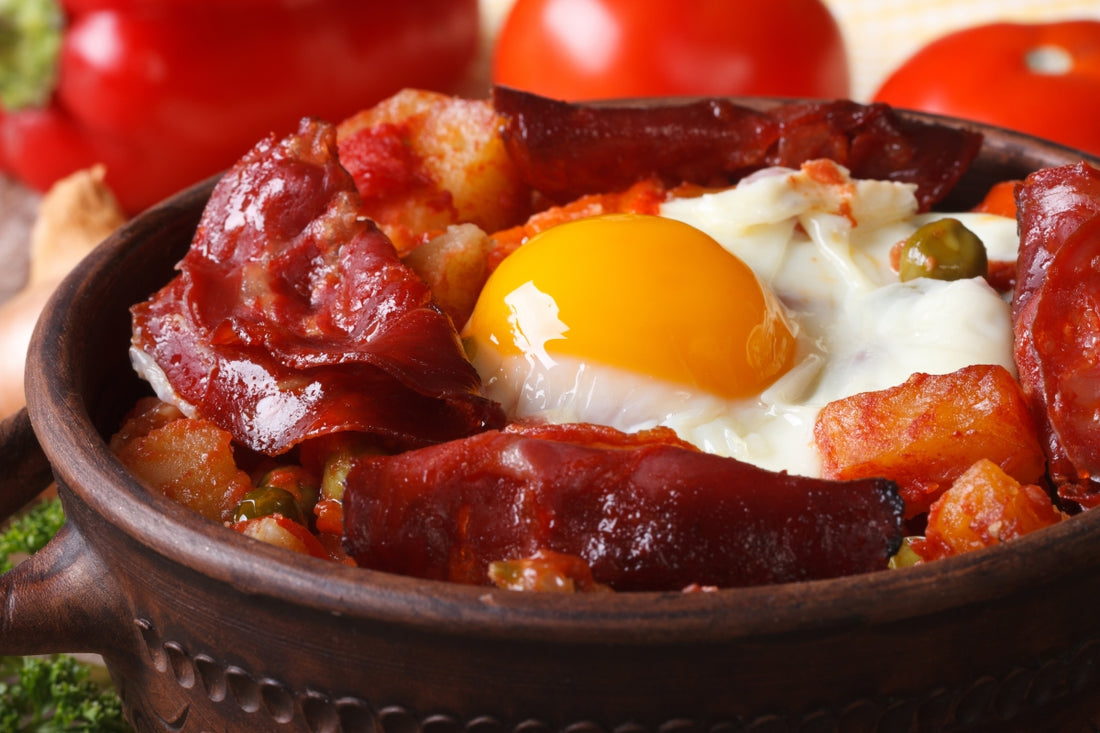 There are only so many foods as practical and versatile as eggs. Eggs, besides being eaten at any time of the day, have a high protein value, which is why most people incorporate them into their regular diet. Scrambled eggs, fried eggs, boiled eggs, poached eggs; no matter how you prepare them, you will have a tasty, cheap, easy to prepare, and very healthy meal waiting for you.
The capital of Andalusia, Seville, has among its gastronomy a delicious and hearty egg recipe that many people love: huevos a la Flamenca. This preparation stands out for its great taste and is designed to be made with whatever you have in the cupboard. It is almost impossible for you to eat two eggs a la flamenca the same since the way it is cooked varies significantly from person to person.
Officially, there are no single steps for making this recipe, nor are there any specific ingredients. If you have eggs, oil, and some vegetables, you can make this dish in just a few minutes. So it's a matter of being able to vary your morning egg preparation.
Pair this recipe with a delicious slice of bread for dipping, and you have a complete and nutritious dish. Ready to surprise everyone? Get ready to learn how to make this classic Spanish dish.
How to prepare flamenco style eggs?
It is possible to cook eggs in the oven, but you will notice that in most preparations, it is preferred to use a frying pan. Keeping the egg yolks liquid with the frying pan is more accessible, but it is all a matter of taste.
Ingredients: (For approximately 4 people)
8 tomatoes

4 eggs

2 large potatoes

2 cloves of garlic

1 fresh chorizo sausage

1 large onion

100 grams of Serrano ham

100 grams of canned peas

Red wine vinegar

Sweet paprika

Salt

Oil
Preparation:
It is very important to clean the vegetables; therefore, as a first step, you must wash the tomatoes. When they are clean, make a cross cut in each one.

Take a saucepan and heat plenty of water over high heat. When it boils, immerse the tomatoes in it. Blanch for 30 seconds, remove the tomatoes, and engage them in cold water to stop cooking instantly.

Peel the tomatoes gently, as the skin should come off quite easily. Chop into small pieces. Also, peel and chop the onion and garlic cloves.

Heat a little extra virgin olive oil in a frying pan. Cook the onion and garlic over medium heat for about 6 minutes until soft. If the onion is already transparent, add the peeled and chopped tomato.

Add the spices of your choice and cook over medium heat for about 8 to 10 minutes. The evaporation of the liquid can guide you because when everything is almost evaporated, it is time to add the spoonful of sweet paprika and vinegar.

Raise the heat to high and bring to a boil one last time. This will make the flavors complement each other better. Turn off and remove the sauce to reserve.

In another pan, sauté the previously chopped chorizo sausage for a few minutes. Remove and set aside. Do not throw away the oil because you will have to fry the eggs and potatoes here.

Peel the potatoes and cut them into cubes. Fry them in the oil, over medium heat, until they are soft. At this point, turn up the heat to high and fry until golden brown and crispy.

Remove the potatoes and, if necessary, add more olive oil. Proceed to fry the eggs. Remember to leave the yolk liquid.

Serve in a casserole dish, starting with the fried potatoes spread on the base. Continue with the tomato sauce, pouring it over the potatoes.

On top of the sauce, spread the peas, the chorizo, and the Serrano ham. Finally, on top of all the ingredients should rest the fried eggs.

This dish should be eaten immediately and, with so much sauce, it is always recommended to eat it with bread. Ready and delicious!
Tips:
If you want a perfect yolk, you can separate it from the white, as many do. Collect the yolk with a spoon and pour the white over the pan. After this, carefully deposit the yolk, and that's it.
Fresh tomato sauce is not replaceable by any other canned sauce. Do not try it, as you could damage the recipe since it will not complement the rest of the ingredients very well.
If you wish to prepare in the oven, you only have to top the dishes with the eggs and cook them in the oven for a few minutes at 180°C (350°F). This makes it a little healthier since you will not need so much oil.