Garlic Chicken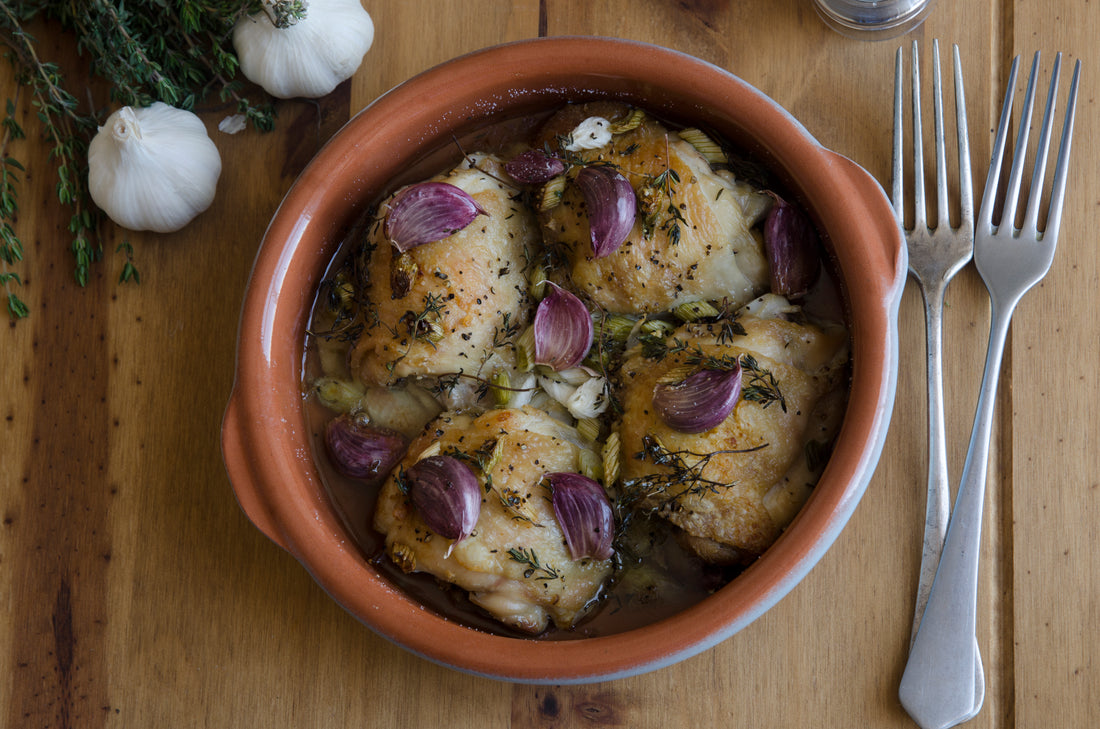 One of Spain's most traditional and delicious recipes is chicken with garlic. Garlic chicken, or ajo con pollo, is a juicy dish with a garlic jam that makes for mild and crowd pleasing flavors. Learn how to make this classic Spanish dish at home. 
How to make garlic chicken?
To prepare garlic chicken, you can use a whole chicken or even just the wings, a favorite of even the most demanding palates: children. Chicken with garlic is a traditional recipe often made my grandmothers that has been passed down from generation to generation. However, the way it is prepared may vary from family to family. The best part is you only need a few ingredients to make it. 
When preparing this recipe, keep in mind that you want the outside of the chickento be very well-browned, while maintaining a juicy interior. It's essential to respect the cooking time to keep the meat tender and prevent it from drying out. As for the garlic, it should not camouflage the flavor of the chicken, but it should be notable. 
Ingredients
1 whole chicken (about 3 lbs.) cleaned, skinned (except for wings) and broken down into individual cuts 

Coarse salt

Freshly ground black pepper

3 Tablespoons extra-virgin olive oil

1 head of garlic.

3/4 cup white wine

1 Tablespoon flour

 1 1/2 cups chicken broth

Chopped fresh parsley
Preparation 
Remove chicken from the refrigerator and bring to room temperature.

Season chicken with salt and pepper on all sides

Heat three tablespoons of extra virgin olive oil in a large frying pan. Cut three garlic cloves in half, leaving them whole and with the skin on.

Fry garlic over low heat until golden brown, making sure it doesn't burn. 

Carefully remove the garlic from the pan.

Place the chicken into the pan and fry until all parts of the chicken are browned. Add more olive oil if necessary. 

Peel and slice the remaining garlic cloves (remember you are using a full head).

When the chicken has browned, add the remaining sliced garlic to the pan.

Cook the garlic with the chicken until it takes on a bit of color. 

Pour in the white wine to deglaze the pan and let the alcohol evaporate.

Sprinkle a spoonful of flour in the pan so that it is spread all over the pan. Let the flour cook.

When the flour has cooked, which will take a few minutes, add the chicken broth. Keep in mind  if you don't have chicken broth, you can use vegetable broth. Also, if you don't have liquid broth, you can dissolve a cube or a spoon in 1 1/2 cups of water.

Cover the saucepan or frying pan, and allow everything to cook for 15 to 20 minutes over medium heat. This will bind the sauce and give flavor to the chicken, while also keeping it tender. 

After 15-20 minutes, remove the chicken and serve drizzled with the garlic sauce. Garnish with some fresh chopped parsley. ¡Buen provecho!
Tips for preparing garlic chicken
This garlic chicken recipe is pretty straightforward. The secret to creating rich flavor in the meat and not let the garlic totally overwhelm the dish is to brown the cloves. It is also crucial to brown them with skin and remove them before placing the chicken on the heat. In addition, adding the rest of the sliced garlic is also an excellent way to confit and flavor the chicken.
Though you can prepare this recipe with the skin on, it's likely the dish will be too greasy once you remove it from the heat. While can help cut through the fat, or you can also use vinegar or lemon if you don't have wine on hand.
Finally, adding flour to the mixture helps bind the fats and acids and makes a rich sauce for basting the chicken, or sopping up with crusty bread. In addition, chicken or vegetable broth keeps the meat from drying out, especially those leaner parts like the chicken breast.
Garlic chicken can be served with a number of sides, but the most traditional is rice or boiled potatoes