Gastronomic Routes through Spain: Discover the Culinary Treasures of each Region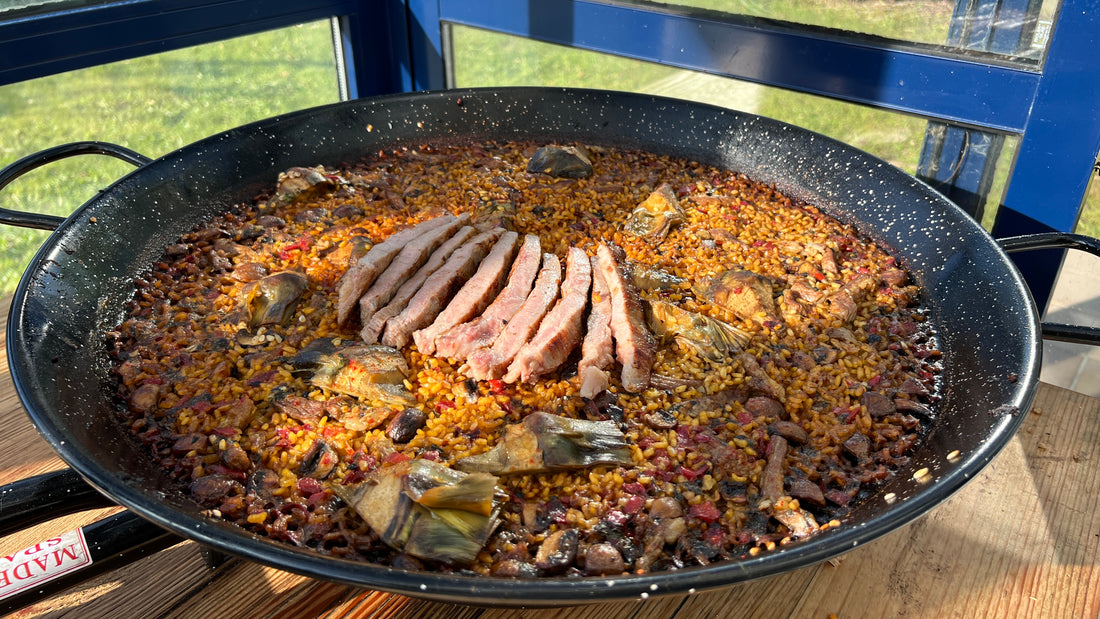 Visiting Spain and not discovering its culinary treasures is almost like never having visited the country. The fact is that Spain, in addition to having paradisiacal locations, has many culinary destinations with diverse traditional dishes that will impress anyone.
The best thing is that the gastronomy is so varied that moving from region to region means living a different experience. You will be able to taste the most succulent seafood near the coast, while other places will offer you the best quality meat and vegetables. So, which regions to visit and which foods to taste? Let's start the tour.
Valencia
The most emblematic dish of Spain on the international scene is paella. For that reason, if you want to start to know the Spanish gastronomy it is necessary to start the tour in Valencia to taste an authentic Valencian paella.
In fact, in the city's Central Market you will be able to prepare your own paella with professional chefs. So, in addition to eating, you can enjoy the cooking process.
If you are not a fan of rice but you are a fan of paella, then a Valencian fideuá is your best option. This way you can enjoy the best meats or seafood but with noodles.
Finally, do not leave without visiting Alboraia, municipality of Valencia, where you can find several tiger nut fields. This is the plant that serves as the base for horchata, so it will be easy to find several horchaterias to taste this delicious summer drink.
Andalucía
Andalusia is one of the most emblematic regions of Spain, not only for its incredible and distinctive architecture, but also for its renowned gastronomy. One of the most influenced by the Andalusian cuisine. Thanks to this and for being part of the Mediterranean diet, Andalusia has a gastronomic offer that is based on fish, meat, nuts, honey and olive oil; for that reason, you can expect a characteristic explosion of flavors that you can only find in the region. So what to eat on your next visit?
If you want some tapas or a charcuterie board to share, you can't miss the Iberian ham from Andalusia. The Iberian pig from Jabugo can only be found here and its breeding process is very particular, so the taste, aroma and texture is like no other. In addition, visiting the northern mountains of Huelva where they are raised is also a wonderful experience.
If you want a tasty lunch, then it's time to try oxtail. This stew has a lot of history and needs about 5 hours of preparation; however, the result is so delicious that it is worth every minute of waiting.
Finally, end the day with a delicious dessert such as polvorones. This typical sweet from Andalusia is made with sugar, cinnamon, butter and flour, and has a texture that turns into powder in your mouth. Delicious!
Asturias
Asturias is synonymous with good food, so it is a destination that can not miss in any gastronomic route. The first thing that can be highlighted are its cheeses, since the region has 42 denominations of artisan cheeses for you to taste.
However, if dairy is not your thing, Asturias has many other dishes to offer. If you visit in winter, you will surely be able to get a fabada asturiana anywhere. This dish is based on beans and is a delicious recipe that has marked Spanish gastronomy for years. 
If you are more of a meat eater, then a suckling lamb in the oven can be a great alternative. Few meats are as tender and juicy as this one and, in addition, few retain that rich crispy exterior.
Catalonia
To finish the gastronomic route, mark Catalonia on the map as your next destination. One of the great peculiarities of Catalan cuisine is the combination of mountain and sea elements. Its Mar i Muntanya dishes will give you the opportunity to taste this mixture, such as sea and mountain rice or chicken with lobster.
However, for those who prefer beef stews only, a tasty fricandó may be waiting for you. These thin veal steaks with mushrooms will delight you and, best of all, can be left for the next day to continue enjoying.
End your day with some snails "a la llauna" to enjoy a spicy touch and you will have already got to know a great part of Spain through its gastronomy.
Although these regions are mentioned, there are many other places in the country to enjoy very good food such as Madrid, Galicia and the Basque Country. So prepare your stomach and palate for an unforgettable experience.