Grilled Pork Secreto Recipes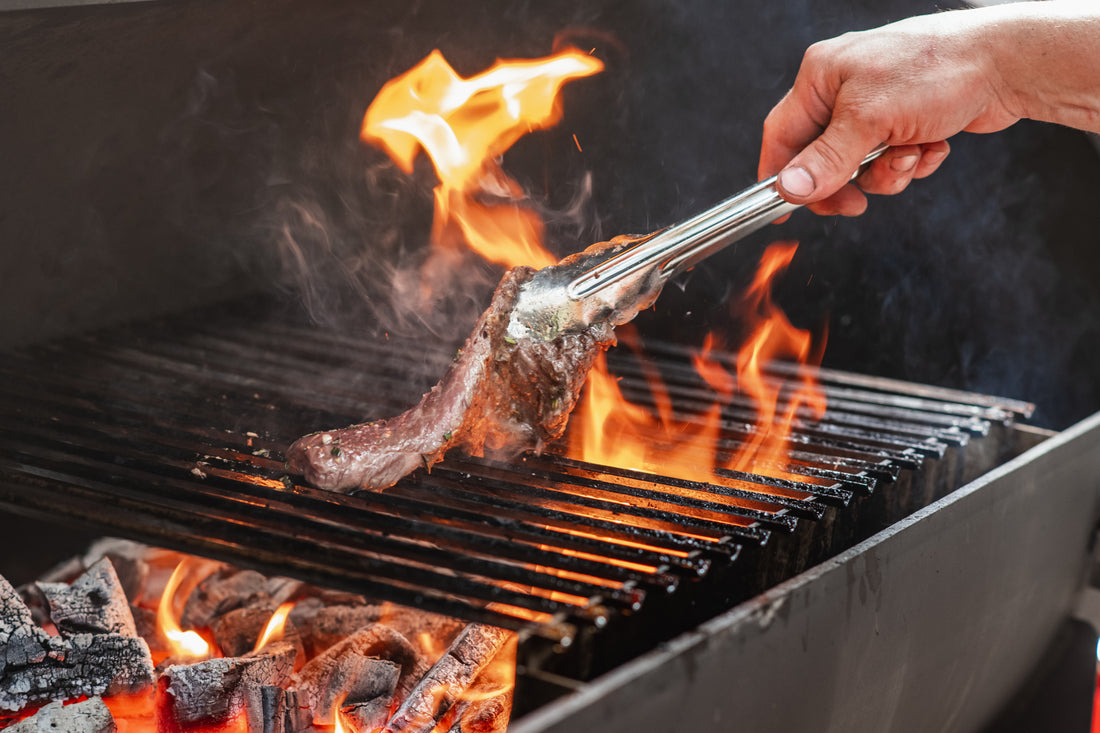 Pork Secreto is a deliciously marbled lean cut of pork from the outside of the shoulder. This gives it the consistency and a similar texture to the ribeye cap with the look of a skirt steak.
Since it's in an active area, it has tons of marbling and is super lean, but it doesn't do as much work as the shoulder so it's even more tender and juicy. 
Simple Grilled Pork Secreto
Nothing beats simplicity. You can grill this marbled cut of pork on any type of grill and serve with any choice of side - like potato or garden salad.
Pat the Secreto dry with a paper towel

Sprinkle the pork with salt, pepper, additional seasonings - and a generous dusting of paprika

Place the pork directly on the grill

Sear for 2 minutes on each side - avoid overcooking

Place the cooked pork onto a cutting board or plate and let rest for 2-3 minutes

Cut the pork thinly, diagonally against the grain

Transfer the pork to a platter or individual plates

Drizzle lightly with olive oil and lemon juice

Serve immediately with your choice of sides
Grilled Pork Secreto Sandwiches
Honestly nothing beats a simple grilled pork sandwich. It's versatile and you can add whatever toppings and sauces you like. Though you definitely want to avoid adding too much extra flavor, and let the pork speak for itself. You will need your pork secreto, peppers, a baguette bun, and your choice of vegetable toppings, cheese, and seasonings.
To begin, grill your pork on medium-high until just cooked through - around 12-15 minutes. Move to a cutting board to rest.

If you have peppers, grill them now while the pork is resting. Get them charred in spots, and crisp-tender. 1-2 minutes.

Thinly slice your pork and lay it flat on the baguet bottom. Top with your sauce - for example garlic mayonnaise - and your vegetables and peppers. 

Close the sandwich and season lightly with salt.

Serve immediately with your choice of side, or alone.
Grilled Pork Secreto and Thai Mango Salad
You'll need to let your pork reach room temperature before you grill it, and be sure to pat it as dry as possible. 
While the pork is warming on the counter, you can prepare your herb sauce and mango salad.
The Herb Sauce
Chop up your garlic, ginger, and chilli. Add in crushed peppercorns, salt, and other herbs.

Add your mixture to a mortar and gently grind the herb spice mixture while slowly adding olive oil and lemon juice.

Once the mixture has reached a creamy texture, add salt to taste and set it aside.
Thai Mango Salad
Peel some carrots, cucumber, and mango - then slice them thin

Crush some garlic and peppercorns in a mortar - add the sliced carrots and keep pounding until tender 

Add brown sugar, fish sauce, and lime juice - mix together

Finally add the mango and cucumber slices - mix together 

Keep pressure light to preserve the crunchiness
The Pork
Preheat your grill on high for 3 minutes

Place the pork directly on the grill

Heat for 1-2 minutes on each side - take care and pay attention, this is a thin cut of meat and is easily burnt

Once cooked, remove from grill to let it rest

Place your pork steak on a plate, with a serving of Thai mango salad and herb sauce drizzled over the steak
Pork Secreto with Romesco Sauce
What you'll need
Pork Secreto

Salt

Black pepper

Lemon Wedge

Dried ancho/pasilla chile

Seeded red bell pepper half

Ripe tomatoes

Peeled garlic cloves, speared on toothpicks

White bread

Toasted blanched almonds

Extra virgin olive oil

Sherry wine
The recipe
For the sauce you'll need to begin by soaking the dried ancho in water for 60 minutes. Once done, keep the water and tear the pieces up while removing the stem and seeds.

Start your grill and preheat to medium-high

Brush the grate with oil and place the bell pepper half, tomatoes and garlic on the grill. Cook until dark brown. 4-8 minutes per side

Grill the bread until browned, 1-2 minutes per side. Break the bread up into crumbles

Add the nuts and bread to a food processor. Once they're in a fine powder, add the chile and vegetables. Once it's formed a paste, add some oil, vinegar, salt and pepper and process until it becomes a smooth sauce




For the pork, you'll need to pat it dry and season well with salt, pepper, and paprika.

Place on the hot grate directly and grill for 2 minutes per side - be careful not to overcook.

Let it rest for 2 minutes and slice diagonally, thinly

Serve with the Romesco sauce and lemon wedge
Final Thoughts
While it may seem intimidating to work with such a delicacy, cooking Grilled Pork Secreto couldn't be easier.