How to cook coquinas to open the shell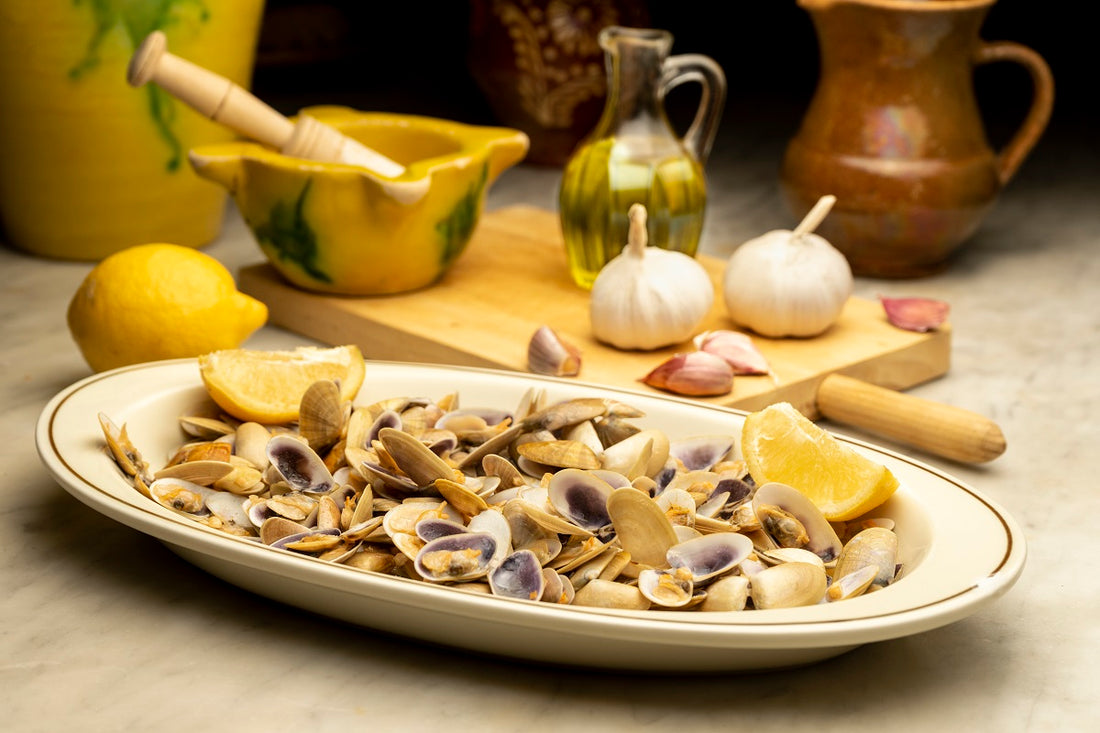 Coquinas, also known as "tellinas", are molluscs that remain buried in the shallows of the coast. They are very characteristic of the Mediterranean coast and are mainly served in Cádiz and Huelva. How can you prepare them so that their shells open?
What are coquinas?
Coquinas are usually served during the summer, mainly in Cádiz and Huelva. Coquinas, also known as tellinas, are a type of very tasty mollusc that is harvested directly from the sand. These molluscs remain buried some 15-20 meters off the coasts of the Mediterranean.
They can be prepared in an infinite number of recipes, but even with just salt and lemon they taste exquisite. Steamed, with garlic, in a marinara style, or grilled, coquinas are so versatile that diners won't be able to stop eating them once they try them. The problem with these molluscs is that they can be difficult to open. To do so, they need to be cooked first.
Cleaning coquinas
Coquinas are a delicacy for all palates, but for these molluscs to be delicious, they need to be cleaned properly, and this avoids serious stomach problems for the diners.
As the coquinas are extracted directly from the sand, it is normal for them to be collected with many grains of sand and it is quite annoying to find traces of sand when eating. To clean them, you should soak them in sparkling water with salt for at least one hour; this will make the coquina release all the dirt. Vinegar can be substituted for the sparkling water. After an hour, the dirty water can be replaced with clean water. Let them soak for a while longer.
Cleaning tips
When you buy coquinas, you should check them yourself to see if they are clean. Remove from the group those that are open, as well as those with broken shells, as they may be dead or diseased.
The salt you use should be coarse salt, and the water should be very cold. How much water and how much salt? Use a container that is wide and deep enough, and put 35 grams of salt per liter of water. If you live in a warm place, or it is the summer season, it is best to put the container with the coquinas in the fridge.
Once they are clean, carefully remove them by hand. If this is not done, the sand may mix with the food and the food may become dirty again. To finish cleaning, use a colander and place the coquinas directly under cold running water.
How to get the coquinas to open?
Once the coquinas are completely free of sand, it is time to open them. To do this, it is important to use a wide, deep frying pan and place a considerable amount of oil in it. When the oil is hot, but not burnt, it is time to add the coquinas and cover them. After a few minutes, the coquinas will begin to open.
A trick to help the coquinas open is to stir them every so often with a ladle. This causes them to hit each other and open up. The best thing to do is to remove the open coquinas from the heat and let the rest of them finish opening.
What happens if not all the coquinas open? It may happen that not all the coquinas that you cook will open, this is because they may be dead, or in a bad state. In this case, it is best to discard them.
Tellinas, like all molluscs, are very sensitive and delicate shellfish. Any alteration in the supply chain can affect the product: toxins, mishandling, etc.. That is why it is best to discard them if they do not open after a while.
How to prepare coquinas?
Coquinas are very versatile and you can prepare them in different ways to serve them to your guests. A very simple way, if you don't have time to prepare them, is to remove them directly from the heat, once opened, drain them and place them directly in a dish with salt and lemon. This way of eating them brings out the true flavor of the seafood.
Another alternative is to prepare the tellinas with garlic, which is, in fact, one of the most popular styles in Cádiz. All you need to do is use white wine or manzanilla, olive oil and garlic; mix everything together in a frying pan so that the wine evaporates and, once the mixture is ready, pour it over the coquinas in a special dish. Don't forget the bread! The resulting sauce will delight the palate of your guests.
Did you know that coquinas also go well with spaghetti? For this you need to cook the coquinas with oil, sliced garlic and 100 milliliters of vermouth. The coquinas are added to the boiled spaghetti with water and salt and sprinkled with chopped parsley. For a richer taste, in addition to coquinas, you can add prawns. The prawns should also be prepared using garlic, onion and vermouth.