How to Cook Iberico Pork Presa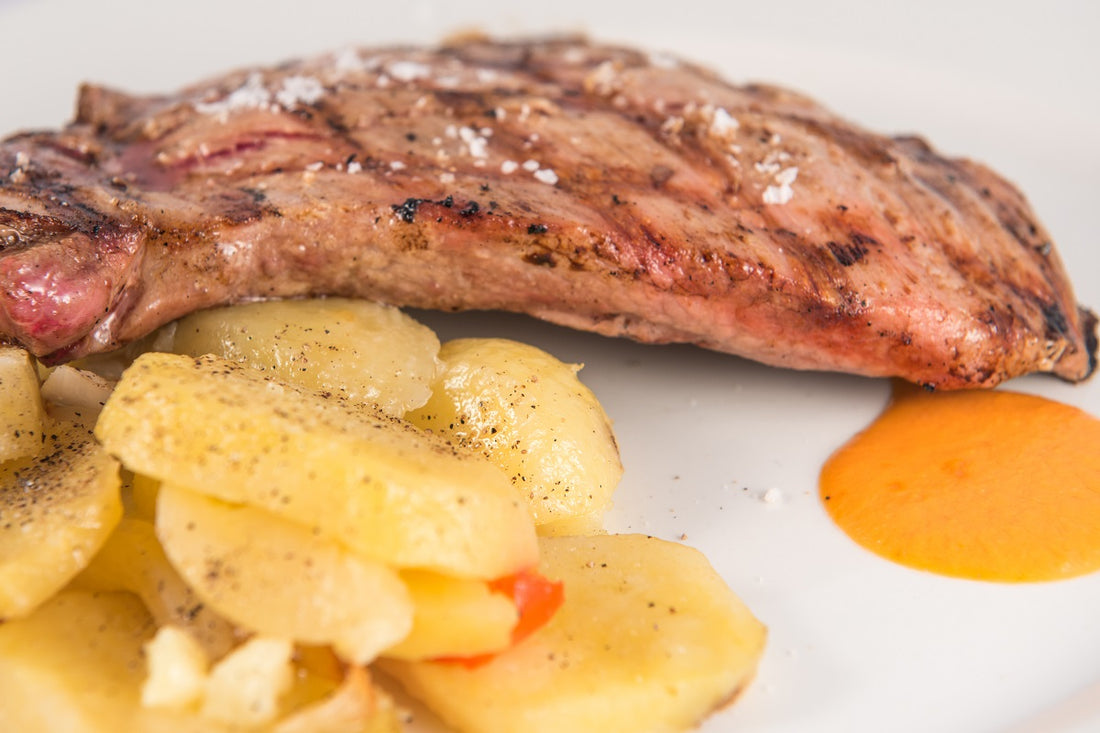 Because of the pigs' natural and healthy diet, Iberico pork Presa is known to be the greatest and yummiest cut from the Iberico pig. It is sliced from the shoulder and is full of incomparable flavor. It features soft, delicious meat with rich flavors that require little seasoning. 
Iberian Pork Presa comes from the Iberian Peninsula and is part of the Iberian pig line, which includes a variety of delectable cuts that are widely desired all over the world. Cooking Iberico pork Presa differs from other pig recipes because it is often prepared medium-rare rather than well done, and the taste it provides is different - and better - than most other pork.
Want more info on presa? Check out our Ultimate Guide: How to Cook Presa Ibérica.
Where Does Iberico Pork Presa Come From?
Pork from the Iberian Peninsula, a hilly region that encompasses central and southern Spain and Portugal, is known as Iberico. The pigs can only be found in this location. The Iberian pig is a very ancient species that predates the domestication of most other animals. In fact, their origins may be traced back to roughly 12,000 years ago.
Iberian pigs can be found in the mountains, generally in a natural setting, or in the forest, near to their preferred diet of acorns, oak, and nuts. The skin color of Iberian pigs is unique and generally ranges from red to grey, and they have very little or no hair.
How to Cook Iberico Pork Presa
You must first preheat your oven to the proper temperature before you can enjoy cooking your Iberico Pork Presa. Preheat the oven to 355°F and trim the pork Presa of any significant lumps of fat or sinew.
After seasoning the meat with salt and pepper, heat some olive oil in a frying pan. The Presa should next be fried for about five minutes on each side to obtain a golden-brown crust. 
After that, simply put the meat into the oven and roast to your desired doneness, turning after five minutes. Remember that Iberico Presa is usually cooked medium-rare, which takes roughly 10 minutes.
Remove the dish from the oven, wrap it in tinfoil, and set it aside to rest for 15 minutes.
What Makes Iberico Pork Presa So Special?
This cut has significantly more taste and juiciness than the secreto or pluma cuts. Because of its scarcity, it's one of the most sought-after and desired cuts. Every piece originates from the end of the pig loin which was formerly considered as a by-product.
Chefs quickly discovered that its extremely lean profile was ideal for a pig tartare or as a pork substitute for a beef fillet. The pluma would've been cured with lime juice, cilantro and bell pepper, or any other ingredients that people decided to use in their tartare. Everything had to be diced, even the pluma, and the result was a melt-in-your-mouth spoon of deliciousness.
The fat content of Iberico pig flesh is one of the features that makes it so unique and one of a kind. Iberian pigs can absorb a lot of fat into their muscles due to their special diet and genetics, leading to a more delicious meat. In addition to being high in fat, a major portion of it is unsaturated oleic fat, which is the same fat found in olive oil and is a key component of the Mediterranean diet.
The marbling of fat in Iberico pig makes it extremely savory and delectable. The meat has a richer, more juicy, and unique flavor than regular pork.
How Should Iberica Pork Presa be Served?
While Iberico Pork Presa is great on its own, there is no doubt that it can be paired with other types of food and wine to create an all-around delicious meal.
Many people pair the meat with buttered potatoes or fries, along with roasted vegetables. Others serve green beans or okra with the pork. 
When it comes to wine, Pinot Noir is a great addition to a meal of Iberica Pork Presa. Other sommeliers recommend that you match Barolo, Riesling, Sauvignon Blanc or Spanish albarinos for the wine pairing. Iberico is also known to go well with Fino Sherry because of its rich aroma with nutty, bright flavoring and freshness. 
Conclusion
With such a rich, savory flavoring and unique taste, you would think that preparing Iberica Pork Presa would be a very difficult task. However, in reality it's not that hard at all and doesn't take that much time. Plus, the number of items that can be paired with the meat only makes it more valuable - and leads to an even better meal.