Grilled Iberian Secreto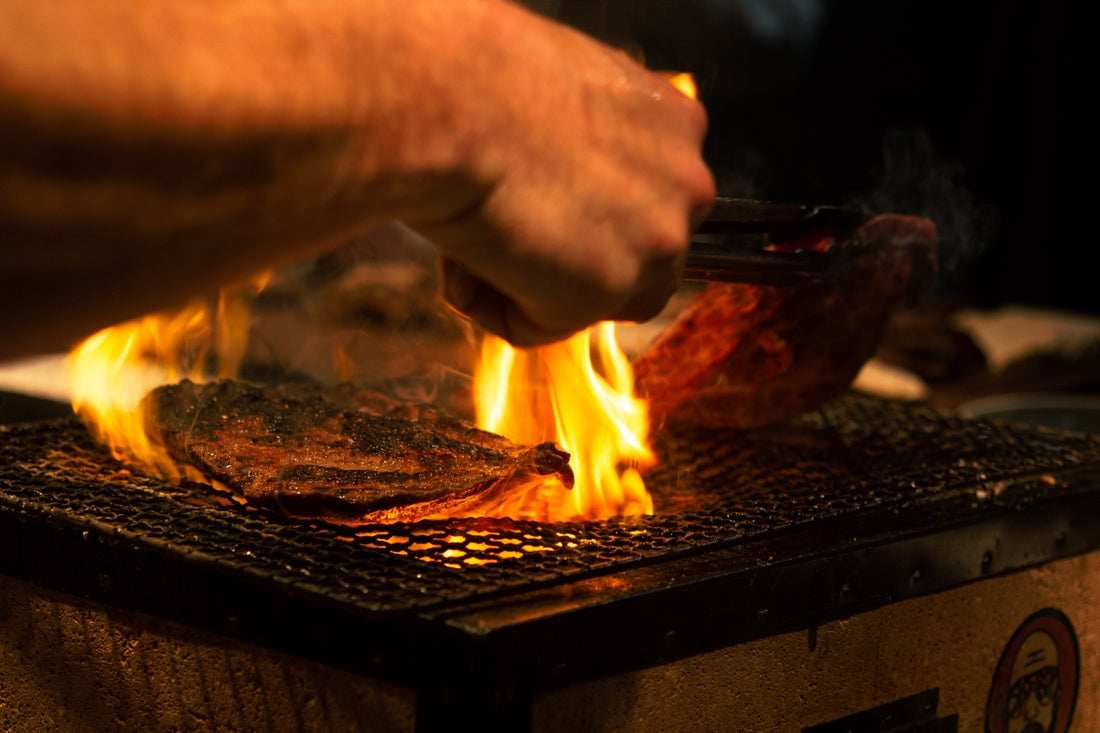 Secreto Ibérico or Iberian Secret, isn't some strange covert recipe from the Iberian peninsula. It is a specific part of the Iberian pig that, when grilled, results in one of the tastiest and juiciest meats around. 
Why is it called "secreto" and what is it?
The pork secreto is a cut located in the armpit of the animal, specifically between the shoulder and the belly. In one animal, only pieces weighing about 150 to 200 grams (5-7 oz.) can be extracted, so this type of cut is highly coveted. 
The secreto is a relatively hidden cut, as it can only be seen if the muscle is cut horizontally. Legend has that these delicious pieces were kept by butchers for their personal consumption, due to their extraordinary qualities. Hence the name, Iberian secret. 
Can the recipe be made with regular pork?
Yes, it is possible to make the recipe with regular pork you find at the grocery store. However, you must take into account that the flavor will be different. Iberian pork is a much higher quality meat due to how the animals are fed and raised. While industrial pigs are raised to maximize production, Iberian pigs are raised with quality in mind. 
Ibérico pigs have a higher fat infiltration in their muscles, giving their meat a juicy and intense flavor. When cooked properly, cuts like secreto practically melt in your mouth. 
In addition, the fat in Ibérico is said to help stabilize cholesterol levels, much like the fat in extra-virgin olive oil. Not only will you get to eat something delicious when choose Ibérico, you'll also choose something better for your body. 
How to Prepare Grilled Iberian Secret
This recipe is insanely simple and requires nothing more than pork, salt, and pepper. 
Ingredients
Preparation
With a very sharp knife, proceed to cut each piece of secret. The meat should be at room temperature and should be cut obliquely.

Prepare the embers of the barbecue, with the grill about 15 centimeters from the coals. Ensure the flame is almost gone, and the heat is evenly distributed throughout the grill.

Place the pieces of the secret when the grill is already hot. Each side will require about 10 minutes to sear properly. When one side is done, turn the piece over to finish cooking.

Season with salt and pepper to taste and serve.
How to Prepare Iberian Secret in Beer Sauce
Secreto needs nothing more than a little salt and pepper. But sometimes it's fun to get creative and try out new flavors, like a savory lager beer sauce with crispy fries. 
Ingredients
4 Campo Grande Ibérico Secreto filets 

4 cloves garlic, diced 

4 potatoes, peeled and cut into thin sticks 

1 leek, chopped 

3/4 dark or lager beer

Extra-virgin olive oil

Salt

Pepper
Preparation
Heat olive oil over medium-low heat and add in the garlic.

Add the leak and stir to combine.

Once the leek and garlic begin to brown, add the beer and let simmer for a bit. Season with salt and pepper and set aside. 

Heat up the grill and place the secreto filets on the grill. Cook TKTKTK??Remove the secreto and season with salt and pepper and set aside. 

While the meat is cooking, fry the potatoes until crispy and season with salt. 

Serve secreto and fries on a plate and spoon the beer sauce on top. ¡Buen provecho!
Tips for an Excellent Iberian Secreto 
Here we like salt the secreto after grilling instead of before. Adding salt too early on in the cooking process can cause the meat to release too many of its juices and ultimately dry it out. Instead, finish with salt and lock in the juice.