Iberian pork pluma recipe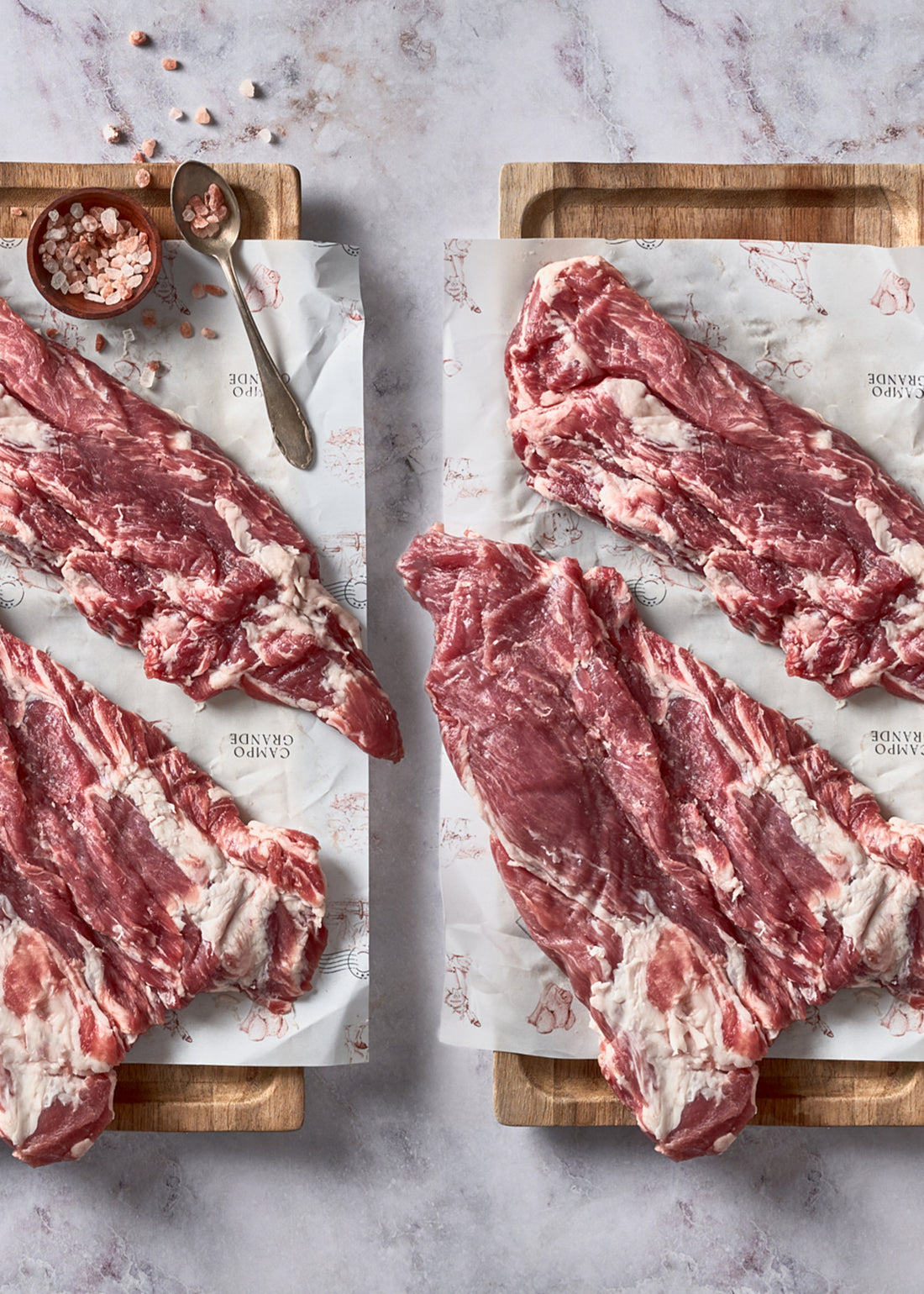 Iberian pork pluma, or simply Iberian pluma, is one of the most coveted parts of the Ibérico pig. It's a high-quality product, it's super juicy, and it's incredibly easy to prepare.
What is Iberian Pluma?
Iberian pork comes in a wide variety of cuts and products that can be consumed fresh, cooked, cured, and even raw. 
The Iberian Pluma is one of the most unknown parts of the pig, but it is also one of the finest. This cut, which is triangular in shape, is obtained from the back of the loin. It is found next to the Iberian Presa, another spectacular cut. But don't confuse the Ibérico Presa with the Pluma, as the Pluma barely weighs 100 grams, and the Presa is larger. 
This cut of Iberian pork is characterized for being very delicate and delicious, with a tender and soft texture, and an unbelievable taste. The soft and tender qualities are due to the fact that the Pluma has a perfect balance between fatty areas and lean meat. 
Iberian pork Pluma's marbled fat also has great levels of monounsaturated fatty acids that help  raise the good cholesterol in the blood. This fat in the cut also provides significant levels of oleic acid.
Iberian Pork Pluma Recipe
One of the greatest things about Ibérico Plus is you do not need to be an expert cook to prepare it. Iberian Pluma is so versatile and can be cooked in so many different ways. Grilling is the most common, easiest, and quickest. It can also be pan-fried, and even baked. 
To season Ibérico Pluma you will really only need a little coarse salt, which you should sprinkle on both sides before cooking. However, Pluma goes very well many with other seasonings, spices, sauces, and sides. 
Grilled Pluma with Rice and Vegetables
Ingredients for the Pluma
Ingredients for the Rice
1 cup rice
2 cups hot water
1/2 onion, finely chopped 
1 clove garlic, finely chopped
Freshly ground black pepper
A ladle of chicken broth
Extra-virgin olive oil
Ingredients for the Vegetables
4 mushrooms, sliced 
1 Red bell pepper, julienned 
1 head broccoli, steamed and cut into florets 
Extra-virgin olive oil
Salt
Preparation
Two hours before you're ready to start cooking, remove the Pluma from the refrigerator.
 To prepare the rice, heat olive oil in a medium saucepan and cook the onion and garlic for a few minutes, until soft and translucent. 
Add the rice to pan and more oil if necessary to ensure the rice is soaked oil.
Pour the hot water into the pan, along with the chicken broth. You can also add more water at the end if it dries out or if you prefer your rice a bit more brothy. Season with pepper and stir to combine. 
While the rice is cooking, heat a sauté pan and cook the mushrooms, broccoli, and peppers. Season with salt and remove from heat when tender. 
While the vegetables cook, check the rice to ensure there is enough water and stir to prevent it from sticking. If cooked and there is just a little liquid remaining, remove from heat and cover to finish cooking. 
Season the Pluma with salt and pepper on both sides. 
Heat a frying pan over medium heat with a drizzle of olive oil and cook for 2 minutes on each side. Remove from heat and let rest for a few minutes 
Serve Pluma with the rice and sautéed vegetables. ¡Buen provecho!