Ibérico and health: nutritional benefits of ham and other products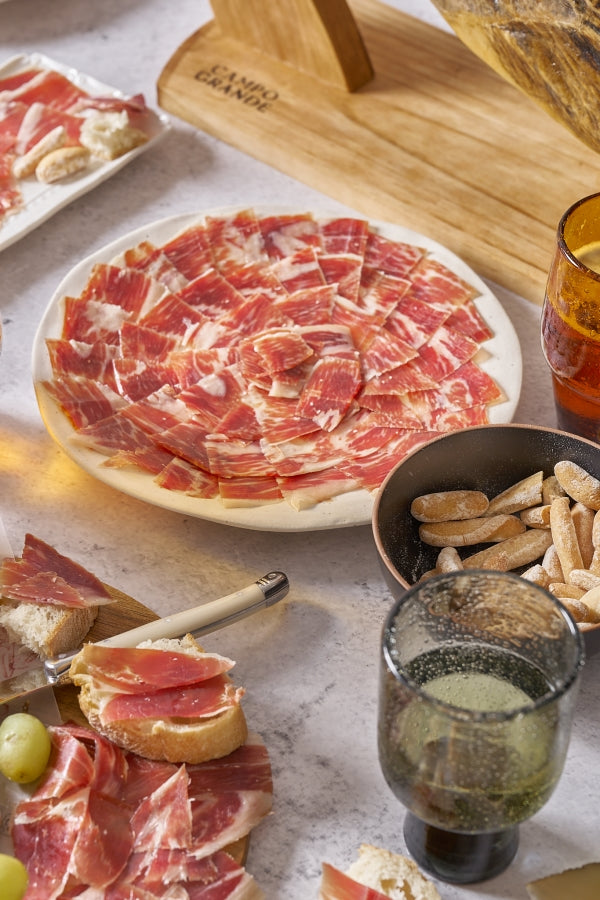 Iberian ham is a Spanish culinary treasure appreciated both within and outside our borders, being one of the most outstanding gourmet products. Although it is known for its uniqueness in appearance and flavor, Iberian ham offers nutritional benefits that distinguish it from conventional pigs.
Nutritional properties of acorn-fed Iberian ham and other products
In addition to being a gastronomic delight, Iberian acorn-fed ham is a highly nutritious and versatile food that adapts to any type of diet. Contrary to common belief, moderate consumption of Iberian ham does not contribute to weight gain. The same is true of other products derived from the Iberian pig.
The following are its main nutritional benefits:
Cardiovascular Protection and disease prevention
The abundance of oleic acid and natural acorn-derived tocopherols in Iberian ham play a fundamental role in preventing cardiovascular diseases. These components help reduce LDL ("bad" cholesterol) levels and improve HDL ("good" cholesterol) levels.
Reduced fatigue and increased muscle mass
Acorn-fed Iberian ham, consumed in moderate amounts, is an excellent source of protein with a balanced lipid profile and moderate caloric content. With 34 grams of protein per 100 grams, it promotes muscle growth and replaces other less healthy red meats. In addition, its energy content is perfect for athletes to feel refreshed when eating it.
Combat anemia naturally
Thanks to its high iron content, Iberian ham supplies this essential vitamin for our organism, helping to prevent anemia.
Emotional well-being: anxiety and stress reduction
The significant levels of tryptophan present in Iberian ham, a precursor of serotonin, act as a natural antidepressant. Its regular consumption can help combat stress and reduce anxiety, thus improving our mood.
Balanced fats and salt
Iberian ham is often mistakenly believed to be high in fat and salt, so it is erroneously thought that its moderate consumption could harm health. However, its fat content is mainly monounsaturated fats, which increase good cholesterol levels and reduce bad cholesterol, thus disproving this belief.
In addition, its caloric intake is moderate, with only 250 kilocalories per 100 grams. As for salt, although it is used in the salting process, its amount does not differ significantly from other foods. On the contrary, studies have shown that it can even contribute to lowering blood pressure and blood clotting problems.
However, moderate consumption of no more than 100 grams per day is recommended since excessive consumption could be counterproductive as with any other food.
How to incorporate Iberian ham and other products into our diet?
There are many ways to incorporate Iberian ham and other products derived from the Iberian pig into our diet, taking advantage of its exquisite flavor and nutritional benefits. Here are some ideas for enjoying it in different ways:
Healthy appetizer: Iberian ham is perfect to be enjoyed as an appetizer. You can serve thin slices of ham and a selection of dried fruits, such as almonds, walnuts, and olives. This combination is an excellent source of healthy fats, protein, and antioxidants.

Nutritious salads: Add slices of Iberian ham to your salads to give them a gourmet touch. You can combine it with fresh greens, such as spinach or arugula, and add other ingredients, such as cherry tomatoes, feta cheese, or avocado. Iberian ham will add flavor and texture to your salads, turning them into complete and nutritious dishes.

Pasta and rice dishes: Iberian ham can be a star ingredient in pasta and rice dishes. Add it to whole wheat pasta with sautéed vegetables and olive oil or accompany a mushroom risotto. Its intense flavor will enhance the taste of these dishes, providing protein and other essential nutrients.

Healthy sandwiches: Prepare delicious sandwiches with whole wheat bread, Iberian ham, tomato, and olive oil. This option is ideal for a light lunch or a nutritious snack. You can combine ham with avocado or fresh cheese to vary the flavors and textures.

Tapas and skewers: Iberian ham is a classic Spanish tapas and pinches element. You can prepare montaditos or skewers with toasted bread, Iberian ham, Manchego cheese, and olives. These small portions are perfect for sharing and enjoying at gatherings or as a starter at a meal.
We hope you find this helpful information and that it will allow you to appreciate even more the nutritional and gastronomic value of Iberian ham and other products derived from the Iberian pig.