Italian Bacalao Recipe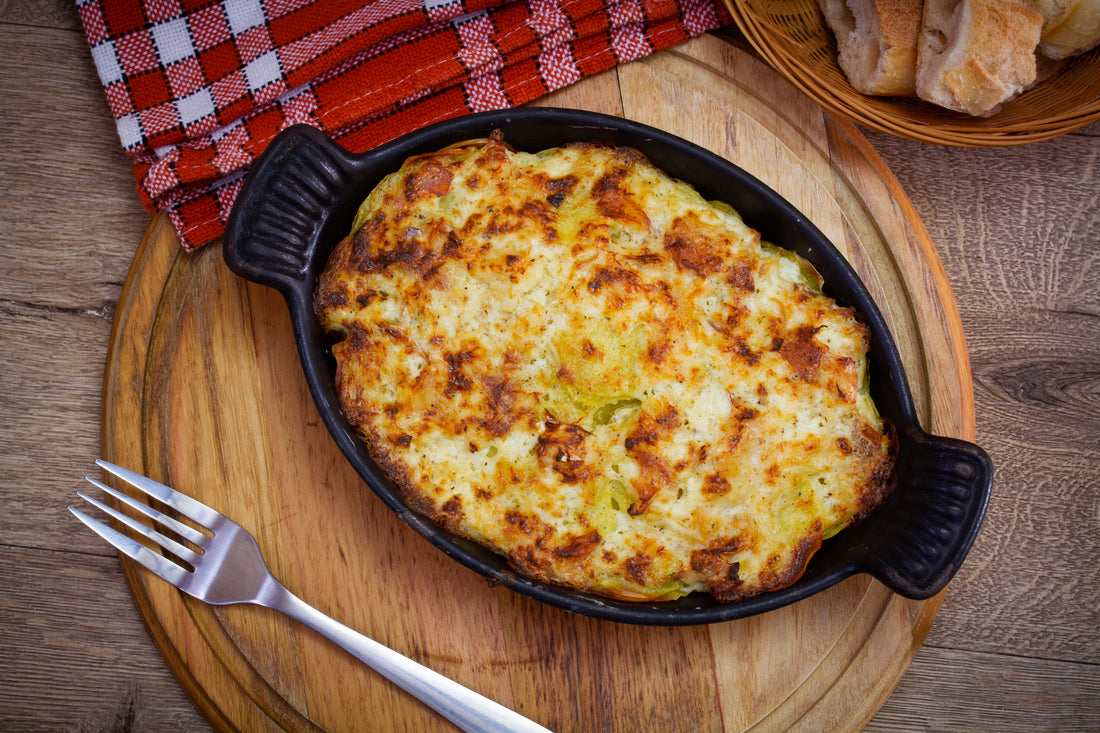 Bacalao can be prepared in many different ways. It is a very versatile and tasty fish because of its tender and juicy meat, as well as its leanness. Every region of Italy has different ways of preparing this fish. Daring to try an Italian bacalao recipe will be a great success and your guests will be delighted.
Bacalao au Gratin - Italian Style
Ingredients
400 grams of bacalao fillets
A clove of garlic
Three tablespoons of breadcrumbs
Ten cherry tomatoes
One tablespoon of capers
Two sprigs of fresh parsley
One tablespoon of pine nuts
Oregano (can be dried)
Black olives
Extra virgin olive oil
White wine
Salt and freshly ground black pepper
Preparation
The first thing to do is to clean the bacalao. You can ask the fishmonger to do this or do it at home, but you can also buy frozen bacalao loins.
At the fishmonger's, ask them to cut the bacalao into fillets, or to remove the head, spine and tail. If they sell you the loin, you will need to use a knife to make a medium cut and remove the fillets.
Place a clove of garlic (crushed or finely chopped) and salt into a bowl.
Add breadcrumbs, oregano, freshly ground black pepper, half a tablespoon of capers, two cherry tomatoes (cut into small pieces), chopped parsley and a tablespoon of extra virgin olive oil.
Mix together. Use your hand to stir the mixture, but be careful not to break the capers.
In an ovenproof dish, pour a drizzle of oil.
Pat the bacalao loins dry with kitchen paper.
Drizzle a little oil over the surface of the fillets and dredge them in the seasoned breadcrumbs. Only coat the fish on one side.
Place the fish in the pan, but with the skin always in contact with the surface of the pan.
Pour the remaining breadcrumbs over the bacalao loins.
Add half a tablespoon of capers, black olives and the remaining chopped cherry tomatoes to the baking tray. You can cut the tomatoes into halves, quarters or half-moons.
Drizzle with white wine.
Add a drizzle more of oil, but only over the bacalao fillets.
While you are doing all this, preheat the oven to 200ºC.
Place the tray in the oven at 200ºC for ten minutes, heat up and down. After this time, check the state of the bacalao.
Use the oven's grill function for a further three minutes.
Remove and serve with a side of white rice or salad.
Recipe for fried bacalao Italian style
If in Spain the undisputed queens are croquettes, in Italy it's fried bacalao morsels. Each region of Italy has its own recipe for fried bacalao, a dish that is quite simple to prepare, but has a trick to it. For many years, Italian-style fried bacalao has been made by soaking sliced bacalao for at least four days, which softens the flesh and makes it ideal for frying.
Looking for a recipe to serve as a starter for your guests? Italian fried bacalao balls are the way to go. They are crispy, yet tender and meaty. In Italy they are a delicacy and you can find them on the street served in paper or cardboard cones.
Ingredients
Four slices of bacalao
One hundred grams of flour
One tablespoon of extra virgin olive oil
Salt
Sunflower oil for frying
A glass of cold water
Preparation
The first thing is to prepare the batter for the fried bacalao balls. To do this, sieve the flour into a bowl and add very cold water, the teaspoon of extra virgin olive oil and salt.
Mix until all the ingredients are incorporated, so that the batter is uniform and lump-free.
Leave this mixture to rest in the fridge for an hour.
Cut the bacalao into cubes. Each cube should be approximately five centimeters. Pat the cubes dry with kitchen paper and dip them in the batter so that they are completely covered.
While you are battering the bacalao, put the frying oil into a frying pan. Remember to add enough oil.
Place the bacalao cubes in the hot oil. Be careful, as the oil should be hot enough, but not burnt.
You can fry several bacalao cubes at the same time.
You will know the bacalao is ready when the surface is crisp and golden brown.
Remove the bacalao from the heat and place on absorbent paper to remove any excess oil.
Sprinkle with salt and serve.
Tips for fried bacalao
This delicious Italian dish is best prepared by soaking the bacalao for at least four days.
Fried bacalao should be served hot and without any sauce or garnish.
In some parts of Italy, it may be accompanied by lemon juice, but only after it has been served. If diners like sauces, a homemade mayonnaise mixture may be a good alternative.
Although it has no garnish, and works as a starter, it can be served with chips.