Why Secreto is One of the Juiciest Cuts of Pork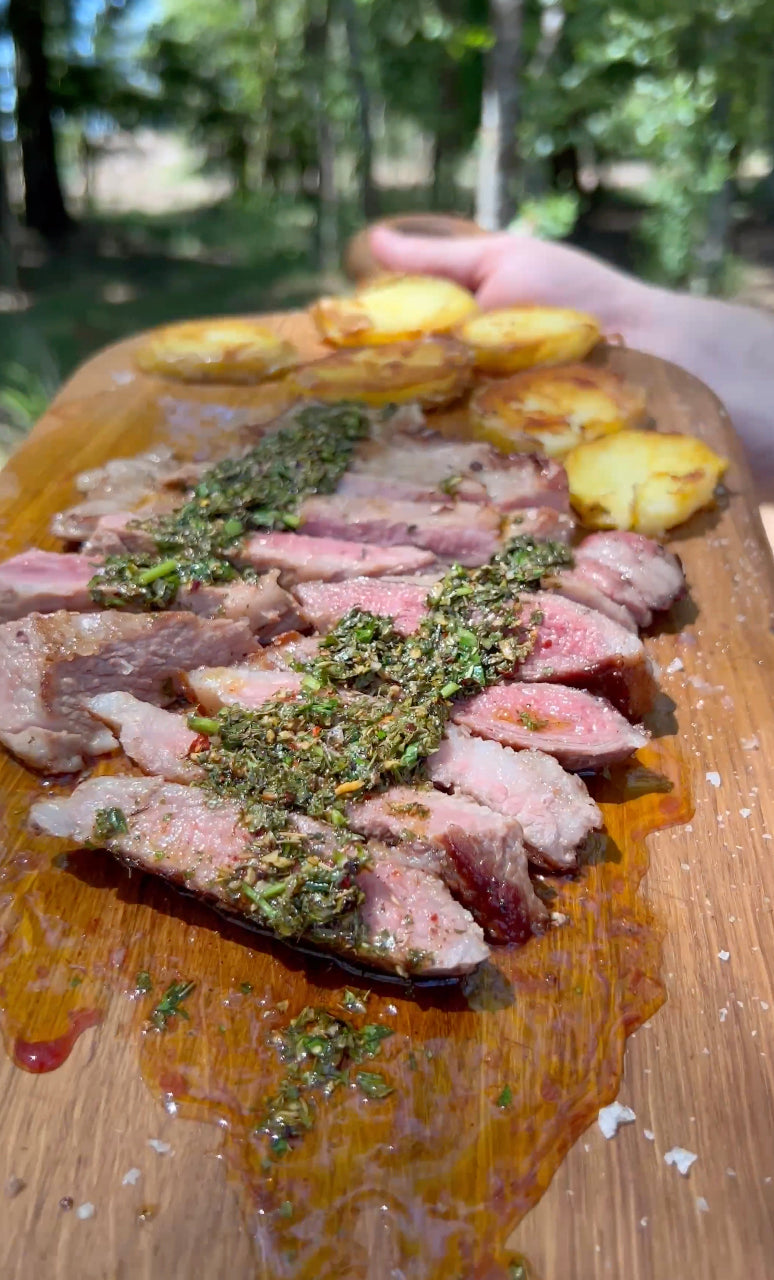 Every cut of quality Ibérico pork is insanely juicy and more flavorful than any other breed of pig out there. The Iberian Secreto, in particular, is one of the juiciest cuts of pork on the Ibérico pig and just so happens to be one of the easiest to prepare. Learn more and the Secreto and why it is one of the juiciest cuts of pork in the world. 
All About Secreto 
There are several theories about the origin of the name of this delicious cut of Iberian pork. Some say that it's called Secreto (secret) because the butchers knew that it was so juicy and delicious that they preferred not to share it with the rest of the world. Others say that this cut is simply difficult to find, as it's hidden in a hard-to-see area of the Iberian pig. 
Whatever the truth is, the Iberian Secreto is one of the juiciest cuts of pork you can find. It's a meat with a texture that resembles butter as it melts in your mouth; its flavor is intense, its juiciness is unique, and it's super easy to prepare.
The Benefits of Eating Ibérico Secreto 
The Secreto, like all Iberian cuts, has excellent health benefits. The Secreto is particularly rich in oleic acid (the same acid in olive oil). It also has a high quantity of unsaturated fatty acids. In moderate consumption, there may even be cardiovascular system benefits, as it can help reduce harmful cholesterol levels.
These unique qualities are due primarily to the breed of pig. Iberian pigs are fed on acorns and grow naturally in large farms and free-range environments. This allows their muscles to develop normally (unlike factory-farmed pigs) and enables them to develop certain muscle fibers and intramuscular fat that makes the meat so juicy.
Another benefit of the Iberian Secreto is that it's such an easy cut to prepare. If you're in a hurry, Secreto is your best friend. It needs nothing more than a pinch of salt and few minutes on the grill or a hot skillet. 
Tips for Cooking One of the Juiciest Cuts of Pork
Unlike other cuts, salt can be added at any time during cooking. This is because the cut does not dehydrate or dry out during or after cooking due to the high amount of intramuscular fat. 
Although Secreto doesn't require anything other than salt, you can also season with black pepper and other aromatic herbs like thyme, rosemary, and parsley.  
Always grill Secreto over direct heat when the grill is very hot. 
Remove Secreto (and all cuts) from the refrigerator an hour or two before cooking so that it can come to room temperature. This helps ensure even cooking. 
Checking the doneness is easy when it comes to Secreto. It's a thin cut that only needs a couple minutes on each side. Just make sure you have a screaming hot pan and don't over cook it. A quick sear is all it needs. 
Iberian Secreto Recipes 
These super-quick Secreto recipes mean you can get big flavor on the table in minutes. 
Secreto with Honey Beer Sauce
Ingredients
Coarse salt

Extra-virgin olive oil

3/4 cup beer

4 oz. honey

1 Tablespoon mustard

1 Tablespoon lemon juice

Freshly ground black pepper
Preparation 
Pour the beer into a saucepan and bring it to a boil. When it starts to boil, add the honey, mustard, lemon, and salt and pepper to taste. Simmer for about 40 minutes, stirring occasionally until sauce is nice and emulsified and has thickened. 

Add a drizzle of extra-virgin olive oil to a frying pan or skillet, and when it is very hot, place the Iberian Secret in the pan. Cook for for 2 minutes on each side. Season with salt. 

Place Secreto on a platter and drizzle with the honey beer sauce.
Secreto with Blue Cheese Sauce
Ingredients
3/4 cup heavy cream 

4 oz. blue cheese, crumbled 

1 oz. unsalted butter

1/2 teaspoon cornstarch

1 clove of garlic, crushed 

Salt

Freshly ground black pepper

Extra-virgin olive oil
Preparation 
Heat the cream in a saucepan. When it starts to boil, add the crushed garlic, butter, and cheese. Stir and cook until all the ingredients are dissolved and incorporated.

Toast the cornstarch with a drizzle of olive oil in a sauté pan. When it has taken on some color, add it to blue cheese and cook over low heat for 10-15 minutes.

Heat a drizzle of oil in a skillet and cook the Secreto over high heat for 2 minutes on each side.

Serve Secreto warm with the blue cheese sauce.