Lamb Meatballs with Pine Nuts and Raisins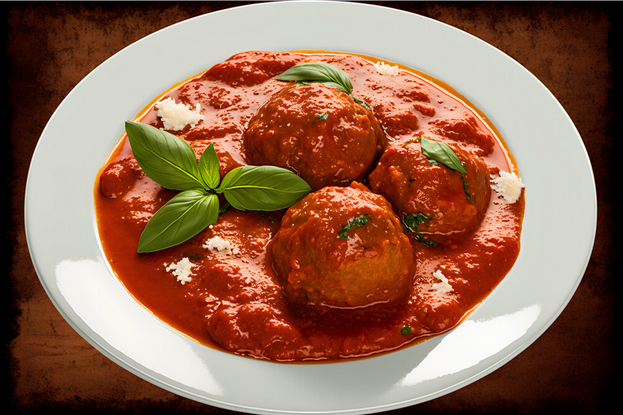 Meatballs are a very traditional dish in Spanish gastronomy. Served with or without sauce, they're usually prepared with pork or beef. However, you may also find them made with chicken or even seafood. Here, we're using ground lamb and a traditional homemade tomato sauce. 
Like all red meat, lamb is a good source of protein, which favors muscular resistance and overall health. It also has a high content of B vitamins, which improve the functioning of the nervous and immune systems. It's rich in minerals such as iron, zinc, selenium, and phosphorus.
Nuts and dried fruits, which we use in this recipe, are also very beneficial to our health. Pine nuts, in particular, contain omega 3 and omega 6 fatty acids that protect the cardiovascular system. Like pine nuts, raisins have antioxidants, which are necessary to combat premature aging. Raisins are also rich in calcium and iron, two minerals essential to prevent anemia and ensure bone health.
How to Prepare Lamb Meatballs with Raisins and Pine Nuts
If you want your lamb meatballs to be soft and juicy, make sure you buy a good quality lamb from a young lamb, one year old at most. Otherwise, the meat will be tough and dry. If you're not sure, just ask the person at your butcher counter. 
You can either buy ground lamb or grind it at home in a food processor. Make sure you don't over grind it or it will be pasty and not as juicy. 
You can also try making the sauce with fresh tomatoes instead of canned. This is an especially good idea in late summer when the tomatoes are extra sweet and juicy. Just be sure to remove the stems, blanch (to remove the skins), and chop them, 
Ingredients for the Meatballs
1 1/2 lbs. ground lamb meat

1 onion, finely chopped

2 cloves of garlic, finely chopped

1 egg, beten

1 Tablespoon raisins

1 Tablespoon pine nuts

1/4 teaspoon rosemary

1/4 teaspoon cinnamon

1/4 teaspoon nutmeg

1 Tablespoon bread crumbs

Flour for breading

Salt and pepper

Olive oil
Ingredients for the Tomato Sauce
1 1/4 lbs. canned tomatoes 

1 onion, chopped

2 cloves of garlic, chopped

3 Tablespoons olive oil

1/4 teaspoon salt

1/4 teaspoon sugar (optional)
Preparation of the Meatballs:
Heat a fry pan with olive oil and sauté the garlic and onions until soft and translucent. 

Add the raisins and pine nuts and stir for a few minutes. Remove from heat, drain out the oil, and set aside. 

Put the minced meat in a large bowl and add the beaten egg, rosemary, and spices. Season to taste with salt and pepper.

Once all the ingredients are well incorporated, add the breadcrumbs and the  reserved onion mixture. 

Mix well and form them into small balls. 

Roll the meatballs in flour and fry them in hot oil until golden brown. As you remove each from the pan, place them on a plate covered with a paper towel to absorb some of the excess oil. 
Preparation of the Tomato Sauce:
Heat oil in a saucepan over medium heat. Add the onions and garlic and sauté for 5 minutes.

Add the tomato and salt. You can also add sugar here depending on how acidic or sweet your tomatoes are. 

Mix well and cook for about 20 minutes over low heat.

Once cooked, use an immersion blender to blend into a smooth sauce. 

Add the meatballs to the sauce and cook over low heat for 10 minutes.

Serve garnished with parsley or any other fresh herb you like.
How to Serve Lamb Meatballs with Raisins and Pine Nuts
These lamb meatballs can be eaten immediately, served steaming hot. But they also make great leftovers, and can even be set out at room temperature for party appetizers. Make them bite-size and serve them in individual bowls with toothpicks.