Beef and Bacon Shish Kabobs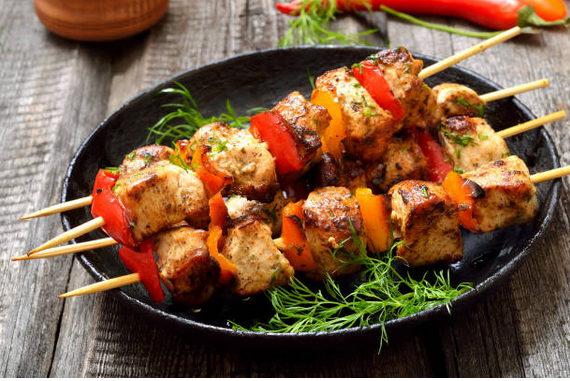 Shish kabobs are easy to make, adaptable, and super delicious. Incorporating bacon onto the skewers makes them extra flavorful, and vegetables add a healthy, vitamin-packed balance. Here, we use a mix of peppers, onions and zucchini, but feel free to use whatever season veggies you have on hand. Just make sure you cut them into equal sizes so they cook evenly. 
Recipe for Beef and Bacon Shish Kabobs
Course: Main
Time: 1 hr. 30 min  
Ingredients for Beef and Bacon Shish Kabobs 
1 lb. beef flank, cut into large cubes

1 Tablespoon cumin

1 Tablespoon dried herbs or your choice of spices 

2 medium onions, cut into large pieces 

1 red bell pepper, cut into large pieces

1 zucchini, cut into large pieces 

1/2 lb. bacon 

1/2 lb. cherry tomatoes

Coarse salt

Freshly ground black pepper

Extra-virgin olive oil

Juice of 1 lemon or lime 

Skewers 
Preparation for Beef and Bacon Shish Kabobs 
Mix the cumin and other herbs/spices and the lime/lemon in a large bowl. 

Add in the beef and mix well to distribute the marinade evenly. 

Place in the refrigerator for 1 hour to marinate. 
After one hour, remove the meat and let it come to room temperature before cooking. 
While the meat is marinating, prepare your vegetables for the kabobs. 
To build the kabobs, place the beef, veggies, and bacon on the skewers, alternating between ingredients so they are colorful and the ingredients are evenly distributed. Reserve a few tomatoes to skewer on the end of each kabob. 
Heat up the grill or a large skillet. If grilling, drizzle the kabobs with oil and place them on the grill. If using a skillet, add the oil to the hot pan. 
Cook kabobs for 6 minutes on each side, using tongs to turn them. 
Once cooked and browned, season with salt and pepper. 
Remove from heat and serve. ¡Buen provecho! 
What to Serve with Shish Kabobs 
Meat skewers can be served as an appetizer or starter for a multi-course meal and a more informal outdoor dinner. But we love to serve them as a main course, along other dishes and great sides. Try serving them with potatoes, a fresh salad, herby rice, or a simple high-quality baguette. Really, anything goes. 
Varieties of Shish Kabobs
This recipe calls for beef, but you can always substitute with chicken, lamb, or pork. Ibérico pork is the definitely the best option here, as it will add extra layers of flavor and unique nuances to the kabobs. 
Like me mentioned before, you can also mix up the veggies. Use eggplant, mushrooms, or even go sweet with fruits. We love the taste of charred pineapple, chunks of mango, or fresh peaches with grilled meats, especially Ibérico. Get creative and make them your own.