Meat Fideuà
Meat fideuà is one of those pasta dishes that adults and children love.
Fideùa is a pasta usually made with fish, but you can also prepare it with meat and surprise your guests. How is it made?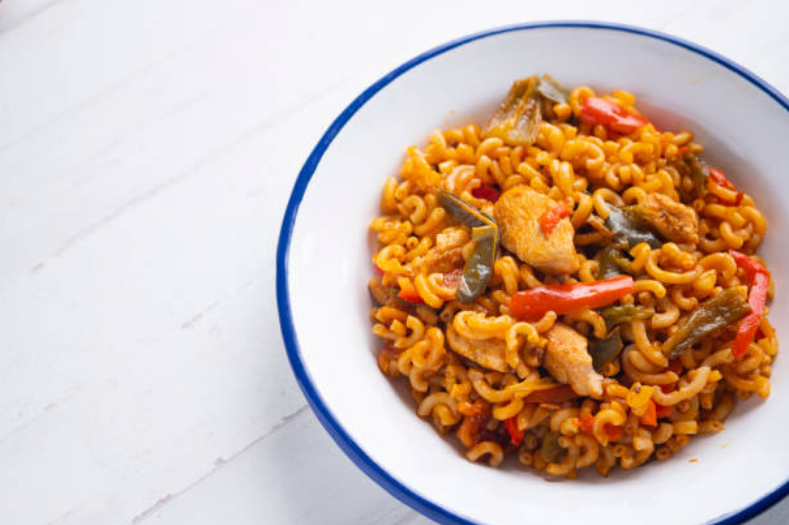 Meat fideuà is one of those pasta dishes that adults and children love.
Fideùa is a pasta usually made with fish, but you can also prepare it with meat and surprise your guests. How is it made?
Prepare meat fideuà
This recipe is straightforward to prepare, and the best thing about it is that you can add your favorite type of meat. It is possible to prepare fideuà with chicken, rabbit, or pork; this type of meat goes great with vegetables and mushrooms. You will have a new and delicious recipe!
Do you want to learn how to prepare it with pork ribs? This type of meat will delight your guests! We advise you to use Iberian pork ribs, which have extraordinary nutritional properties and a unique flavor. If pork ribs are not your thing, you can accompany the fideuà with another type of pork meat such as sirloin and even with Iberian feather; remember that if it is Iberian better, for its outstanding quality and exquisite flavor.
Ingredients
350 grams of fideuà or thick noodles.

250 grams of boneless chicken breast.

250 grams of pork meat (it can be ribs or the meat you like the most).

One green and one red bell pepper.

One large onion.

A liter of meat broth. You can use the one that comes already prepared or dissolve a cube or a ladle in water.

250 grams of crushed tomato (one glass).

Three cloves of garlic.

Laurel, saffron, and fresh parsley.

Coarse salt.
Elaboration
The first thing to do is to take the chicken and pork meat out of the refrigerator and clean it very well. Remember that any cut of the meat must be at room temperature before cooking.

Clean the meat very well, removing any excess fat.

Cut the meat into small pieces and set aside.

Wash the vegetables and cut them into small pieces.

Use a paella pan to prepare the meat fideuà. It will be necessary to cover the bottom of it with extra virgin olive oil.

Take the paella pan to the fire and heat the oil without burning it.

Add the onion and the peppers and let them fry very well.

Add the pork, as well as the chicken, in pieces.

When all the ingredients are very well sautéed, it is time to add the meat stock. If you do not have the liquid broth in a tablet or small cup, dissolve it in water and add it to the paella pan.

Stir the ingredients very well so that the flavors are mixed. Use a wooden spoon.

Add a peeled and sliced clove of garlic, crushed tomato, a bay leaf, and a pinch of salt to the paella pan. Stir and let it cook for about ten minutes.

Add the noodles for the fideuà. Let them cook according to the manufacturer's recommendations. Not all noodles are prepared during the same period; they are usually ready after 10-12 minutes.

When the noodles are soft, it is time to remove the paella pan from the heat and let the ingredients sit for 15 minutes. After these 15 minutes, you can serve the fideuà to the guests.
Tips for preparing a delicious meat fideuà
Before cooking, take the meat out of the refrigerator at room temperature. It is also advisable to clean it very nicely or ask the butcher to do it. The meat must be left to temper so that it is not cold inside after cooking.
You can even prepare the homemade beef broth. If you are going to prepare a recipe in which you need to cook the meat, do not hesitate to dissolve a stock cube in water, but for the fideuà, you can also use the traditional Bovril dissolved in water; this is an excellent alternative because it has a very intense flavor and is perfect for this recipe.
Remember to follow the instructions for the pasta to prepare it correctly.
Follow the manufacturer's instructions for the pasta you choose because here you will find the time for the fideuà to be ready. It is better that it is not too soft and does not break.
What to serve with meat fideuà?
This dish can be served as a starter, but it can also be done as a main course, depending on what you are helping your guests with! In restaurants, for example, fideuà is usually presented as a starter or first course, but it is so consistent and hearty that it serves perfectly well as a main course or second course.
Finally, remember to offer bread to your guests. The fideuà broth is perfect for soaking the bread and delighting the most demanding palates, which will want to repeat this delicious recipe!