Mint Lamb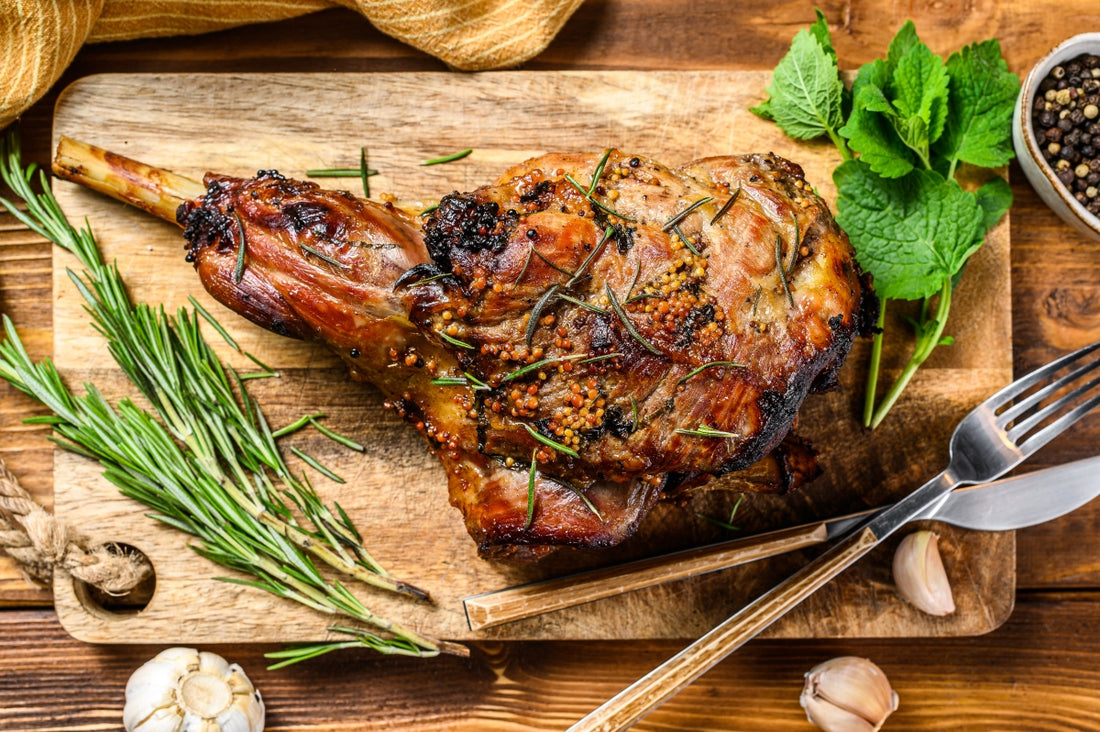 This mint and lamb dish requires only a four ingredients, but delivers on flavor. While we could honestly eat this for dinner once a week, it's especially delicious during the holiday season or for a special occasion. It also makes a stellar dinner party presentation that pairs well with all sorts of sides. If you can't get a suckling lamb, a leg of lamb is a good alternative. Just adjust your cook times accordingly. 
What makes minted lamb such a delicious dish?
Less is more here. Each element has its own unique flavor that stands on its own. No ingredient fights to be the protagonist, but rather they all complement each other in a beautiful dance. 
Suckling lamb is one of the most tender and juicy meats, especially if you can get your hands on suckling lambs from Castilla y León, which have a denomination of origin (Spanish government regulated quality control) for their excellent quality. The meat on these animals is milder than traditional lamb but just as flavorful.
While lamb and mint is a classic combination in the U.S., it's not as common in Spain. Folks usually opt for rosemary, bay leaf, or dried thyme. However, we're taking from American cuisine (as well as Irish and British cuisine) and using mint to enhance the lamb's natural flavors.  
How to Prepare the Best Lamb with Mint
Ingredients
1 Suckling lamb

1 bunch mint leaves

Olive oil

Salt

Black pepper 
Preparation:
Finely chop most of the mint leaves and mix with a bit of olive oil.
Cover the lamb with the mixture and let sit for at least 4 hours. This marinade will soften the meat a little and allow the flavors to integrate and intensify.
Preheat the oven to 350ºF. 
Place the lamb in a large roasting pan, with the meatiest part on the bottom, along with the remaining marinade. Add a splash of water, and sprinkle with salt, pepper, and a few more mint leaves, reserving a few for the final garnish.
Crank up the temperature to 400ºF and roast the lamb for 30 minutes.
Then flip the lamb onto the other side in the pan. Lower the temperature to 375ºF and cook for another 45 minutes, keeping an eye on it to make sure it doesn't burn or dry out. 
Remove the lamb from the oven and let rest a few minutes. 
Remove the large mint leaves and scatter with fresh mint leaves.
Serve with mashed potatoes, salad, or rice. ¡Buen provecho!
What if I want a mint sauce?
In this case, you will need the following:
Ingredients:
1 oz. mint, finely chopped 

4 Tablespoons white wine vinegar

1 teaspoon brown sugar

Water
Preparation:
Heat sugar, vinegar, and 2 Tablespoons of water in a small saucepan until boiling.

Cook until the sugar is dissolved and add the mint. 
Remove from heat and mix until combined. 
This sauce can be used at different times during the preparation. You can use it:
When marinating the lamb to amp up the mint flavor and sweeten it. 

While you roast the meat, you can baste it with this sauce and the lamb will soak in the juices. 

When it is time to serve, you can add a swipe of this sauce to the plate or serve on the side. 
Tips for Enjoying the Best Lamb with Mint Sauce
Look for the best suckling lamb you can find. It must be a maximum of 45 days old and have been fed only with its mother's milk. If you can find a lamb with the Castilla denomination of origin, all the better. 

You can add brandy, mustard, and lemon if you want a much stronger marinade. Inject the brandy into the lamb, rub the mustard on the surface, and add the lemon to the olive and mint mixture. You won't need much of any of these ingredients, as you want to maintain the natural and delicious flavors of the lamb.