Pickled Mussels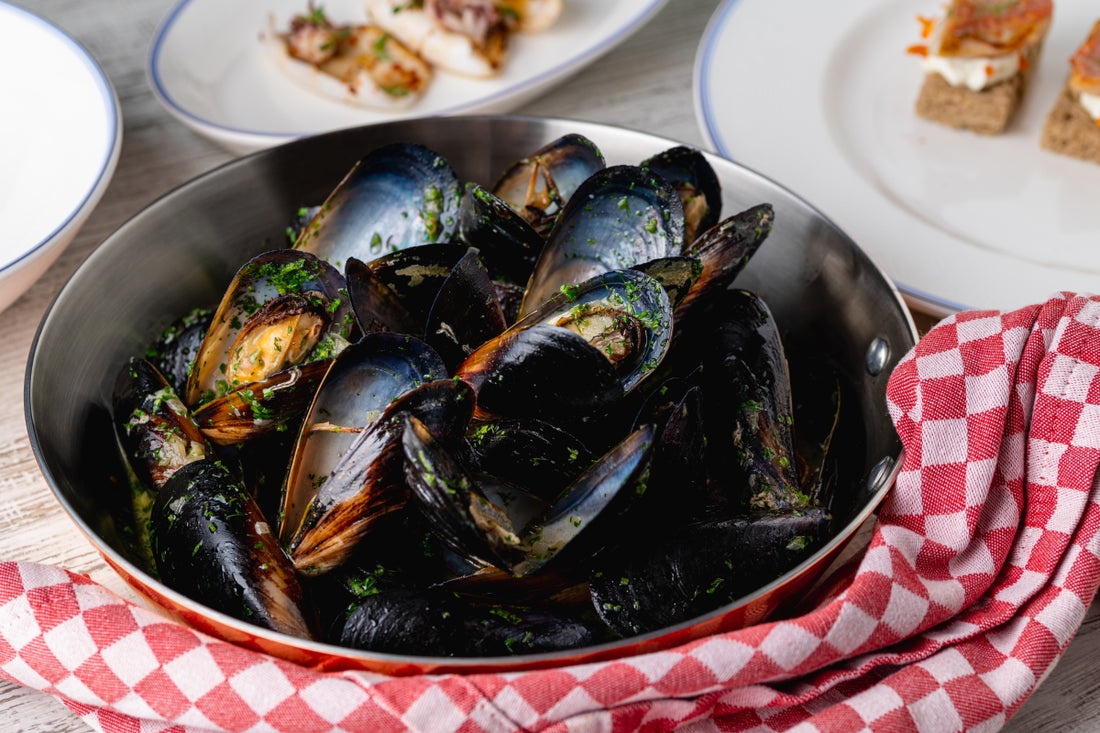 Pickled Mussels, or mussels in escabeche, are a Spanish culinary treasure. If you've ever been to Spain, you've probably seen these little guys served in colorful tin cans. While canned food may be considered a secondary food in the U.S., canned seafood in Spain is considered a delicacy. In fact, some of the highest quality seafood is actually canned. 
Seeing as getting cans of mussels is a bit trickier stateside, we've developed a delicious recipe for making them from scratch. Preparing them at home is an easy alternative and an even fresher fix. 
Recipe for Homemade Mussels in Pickled Sauce
Mussels in escabeche can be made with hard apple cider or apple cider vinegar, which gives it a much milder and less acidic touch than white wine vinegar. However, if that's all you have available, white wine vinegar works well too. The pickled vinegar brine helps keep the mussels fresh in fridge and also adds flavor and a unique texture to the delightful little mollusk. 
Serve mussels as a luxurious appetizer or even part of a main meal. Having a batch in the fridge is a great go-to snack or last-minute dinner time savior. 
Ingredients
2 lbs. fresh mussels

2/3 cup extra-virgin olive oil

2 cloves garlic, peeled

2 bay leaves

1/3 cup apple cider vinegar or dry hard apple cider 

6 black peppercorns

1 teaspoon sweet paprika 

1/2 cup white wine or water

Coarse salt
Preparation 
Clean the mussels well by removing the stringy bears and scrubbing their shells. To do so, use a brush or a scouring pad. Pliers can also help you remove the tougher beards. After cleaning, rinse the mussels with cold water and remove any that have opened. (It's possible that your mussels come pre-cleaned, depending on where you shop.)
Place the water or white wine in a large shallow pot. The liquid should come up about 3 cm high. Bring the liquid to a boil. 
When the liquid starts to boil, add the mussels and cover the pot to steam. 
Cook until the mussels open and remove them from the liquid with a slotted spoon or skimmer. 
Let cook enough so you handle them and separate the mussels from their shells. Place them in a heatproof resealable container or something with a very tightly fitting lid. 
Eat a medium sauce pot over medium heat with olive oil and garlic. 
Once the garlic starts to brown, add the paprika, stir, and remove from heat. 
Add the bay leaves, peppercorns, and vinegar or cider to the pot and combine. 
Pour this hot liquid over the mussels. 
Taste for salt and gently place the lid on top of the mussels, only partially coverings so some of the steam can escape. Let cool and then store in the fridge. 
Let marinate for 24 hours before serving. ¡Buen provecho! 
Tips for Making Good Mussels in Pickled Sauce
Make sure to pour the mixture over the mussels as soon as your remove it from the heat. The hot liquid will help the flavors penetrate the fibers of the mussel so you get flavor throughout. 
Once the liquid is mingling with the mussels, let the container sit for about half an hour with the lid partially covering the container. You want the steam to escape so it can cool properly. Then secure the lid tightly and place it in the refrigerator. 
You may be ready to dive in after prepping your dish, but it's essential to let the mussels marinate and pickle for 24 hours. You want the juices to settle in. Not only will this create the best flavor, but the texture of the mussels changes entirely, giving you a meatier, less rubbery chew. Be patient! 
The great thing is, if you don't finish all the mussels in one sitting, they keep in the fridge for up to the week. Just make sure you keep them chilled with the lid tightly sealed. 
These mussels are actually meant to be served cold or room temperature. While you can definitely warm them up, don't overdo it or you'll mess with the texture. 
What to Serve with Pickled Mussels
There are all sorts of ways to serve mussels in escabeche, whether you're going for appetizers or the main meal. The easiest and most common is a simple crispy toast with a few mussels on each piece. Feel free to stick a toothpick in there to secure them, especially if you're serving for a crowd. Also try serving them over a pig plate of quality Spanish potato chips, drizzling a bit of the oily brine over the top. 
For a main course, stir them into a hake and tomato sauce dish or add them to a fresh salad with tuna. You can even stuff them into a warm baked potato or gently fold them into spaghetti for a quick weeknight meal. The possibilities are endless!