Pork Presa Recipe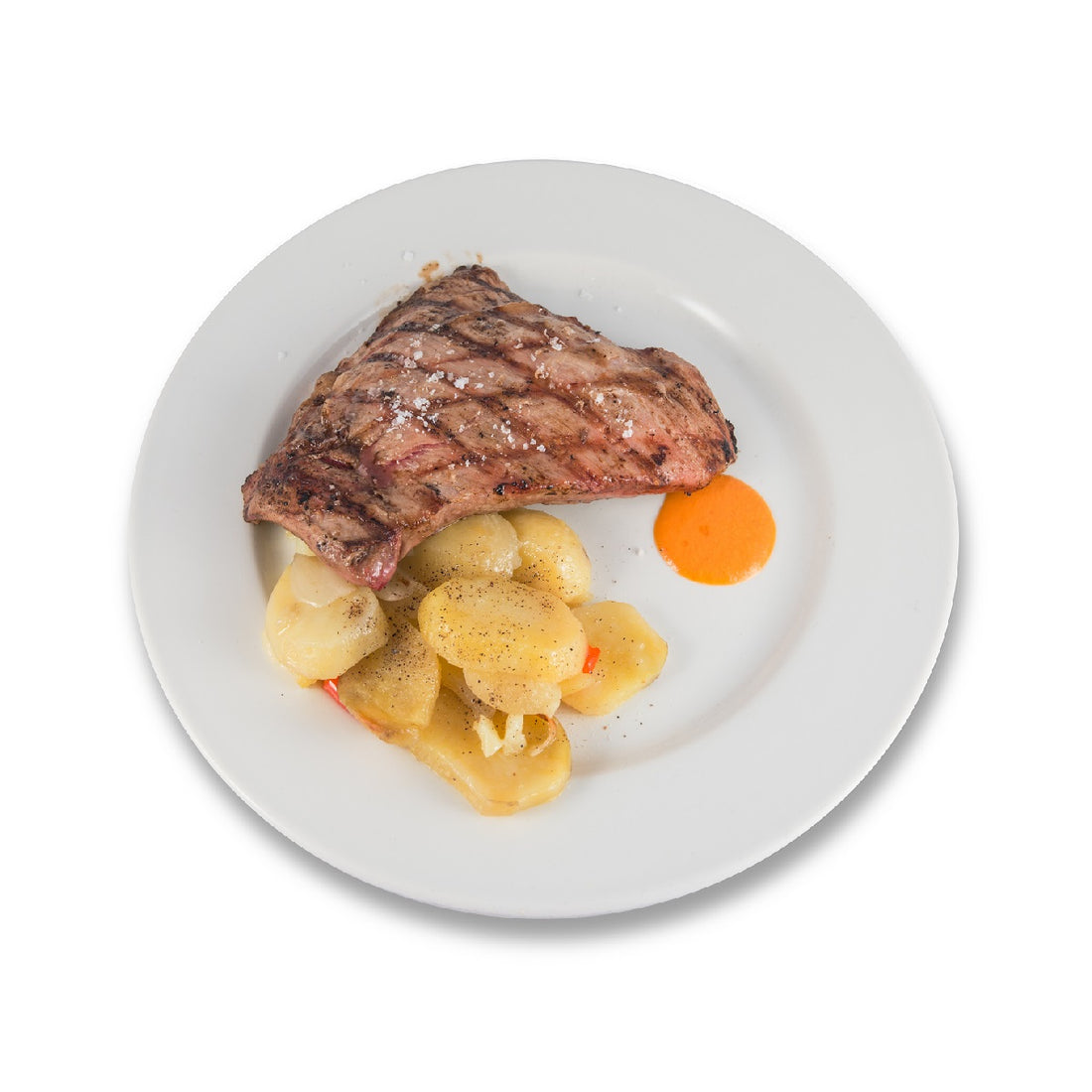 The Iberian pork presa has abundant intramuscular fat, which makes it one of the juiciest and most delicious cuts on the market. All Iberian presa pork cuts have infiltrated fat, due to the lifestyle of these animals, as well as their diet based on acorns. That is why it is one of the favorite meats among diners.
Want more info on presa? Check out our Ultimate Guide: How to Cook Presa Ibérica.
Where is the Iberian pork presa obtained from?
The Iberian pork presa is extracted from the space formed between the head of the loin and the shoulder of the animal and it is quite common to confuse it with the Iberian feather. It is a fibrous, juicy and very nutritious cut, which is usually prepared grilled, barbecued, boiled and even baked. It is a very versatile piece of meat that will delight all palates. In addition, presa pork shoulder has a very intense color and, once cooked, it acquires a unique flavor, full of juiciness.
How to prepare pork presa with potatoes?
Ingredients for two people
A whole Iberian pork presa shoulder.
Two baking potatoes.
Two spring onions.
One fresh garlic.
Two cloves of garlic.
Extra virgin olive oil.
Salt.
Freshly ground black pepper.
Dried oregano.
A sprig of parsley.
Preparation
First of all, peel and chop the garlic cloves into slices. Crush them, and add a pinch of salt.
Pour in a teaspoon of dried oregano and mix.
Clean the meat, previously left to temper for at least a couple of hours before cooking. To clean, just pull the fatty part of the meat and it will come out easily; otherwise, use a knife.
Season the meat with salt and pepper on both sides and spread, with the help of a brush, a little oil and the mixture of garlic and oregano.
Let it rest for fifteen minutes. It is advisable to cover.
Chop the spring onions into julienne strips and the garlic into slices. Add a little oil in a frying pan and when it is hot, add the garlic and the spring onions. Season with salt and pepper.
Cut the potatoes in half and add salt and pepper.
Preheat the oven to 200 degrees, with heat up and down.
When the oven is ready, place the potatoes on a tray. If desired, drizzle a little oil on top.
After 10 minutes, introduce the meat. You can do it in the same tray or in a separate tray. When you place the meat, pour the garlic juice over it.
Lower the oven temperature to 180 degrees.
The potatoes will be ready in about half an hour, so be careful with the cooking time.
The pork presa will be ready in fifteen minutes, but if you want juicy meat, then the best thing is to leave it for at least between 40 and 60 minutes, lowering the temperature of the oven a little more.
When you remove the meat and serve it, pour the spring onion mixture and a little chopped fresh parsley on top.
How nutritious is Iberian pork presa?
Like all meat obtained from Iberian pigs, this cut is rich in oleaginous acid, similar to olive oil. Iberian pork presa has a perfect balance between lean meat and fatty meat, making it a recipe recommended for everyone. In addition, it is very rich in protein, and if garlic macerate is added, it is enriched with antioxidants.
It is important to highlight that the oleaginous acid properties of the Iberian presa pork contribute to increase the levels of good cholesterol in the blood, besides, it is a source of iron and vitamins of the B group, as well as magnesium. If accompanied with potatoes, the protein levels increase.
Secrets of Iberian pork presa
Iberian pork presa is a very versatile cut that can be prepared in many ways and does not need a lot of seasoning to be delicious. If you don't have much time, just sear it in the pan for two to three minutes on each side, adding a little salt and pepper and you will have a delicacy on your plate. However, the best way to squeeze the flavor out of this cut of meat is to prepare it in the oven and, for that, you need time and patience.
Although the presa pork is ready to eat in about fifteen minutes, it is possible that when you make a cut, you will find that it is still red and medium rare; this does not please everyone, so you can cut it and finish it in the pan with a drizzle of oil. The best thing to do is to wait and start with plenty of time to prepare the presa pork.
The ideal cooking time for the presa pork, baked in the oven, is one hour and at low temperature (150 degrees is fine); this allows the meat to release all its juices and acquire a tender and crispy flavor. You can start with a high temperature, 200 degrees, and after a few minutes, lower the temperature and continue cooking.
You can accompany it with multiple sauces, such as barbecue, Pedro Ximénez, mustard and honey, mushrooms and even cheese.