Rabbit Meatballs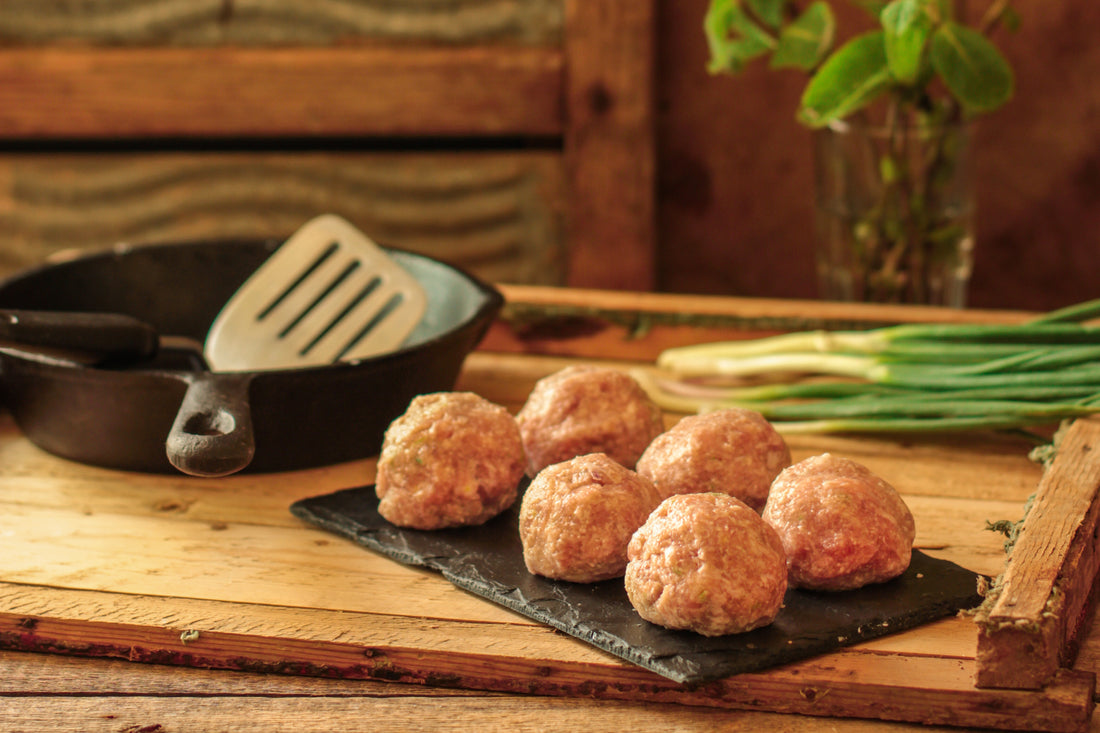 Meatballs are an ultra-comforting, crowd-pleasing dish shared by many cultures around the world. And each region has their own rendition, be it with beef, chicken, pork, or even rabbit. 
It's almost impossible to pinpoint the exact moment when meatballs were created. However, we do know that folks were eating meatballs during the times of Apicius in the first century A.D. As you may already know, some of Spain's most well-known recipes were created out of necessity, by shepherds and ancient peasants. But meatballs were actually born in the highest societies thousands of years ago. Only the wealthy could carefully prepare such meat-rich dishes. 
Over the years, more people gained access to the ingredients in this dish. Upper class folks made them with the highest quality meat around, while the humbler classes made them with the unwanted cuts or bought them at markets, ready to eat. 
Today in Spain there are all sorts of meatball recipes that vary from region to region. Pork, of course, is one of the most common ingredients, but you'll also see meatballs made from beef, chicken, and even seafood. Here, we're showing you how to prepare a slightly less common but equally as delicious meatball: rabbit. 
How to Prepare Rabbit Meatballs
Rabbit meat is tender, low in fat, and super high in protein--it makes for some especially flavorful meatballs. If you don't have a meat grinder at home, you can use your food processor. Otherwise, ask the butcher to grind the meat for you. 
Ingredients
6 rabbit thighs, deboned 

1 slice of bread

1 green bell pepper, chopped

1 cup brandy

1 onion, chopped

1 tomato, crushed 

1 egg

4 cloves garlic

1/2 cup milk

Flour

Pickles

Pepper

Extra-virgin olive oil

Salt
Preparation
Soak the bread in the milk to soften it. 

Place bread, milk, 2 cloves garlic (chopped), egg, and a few pickles in a blender and blend until smooth. Season with salt and set aside. 

Chop the rabbit meat and place it in a large bowl. Season with salt and pepper. 
Grind the rabbit meat and let it rest for about an hour before proceeding. 
After an hour, mix the rabbit with the blended milk mixture and form into meatballs. 
Roll the meatballs in flour and set aside. 
Heat a drizzle of oil in a large pot or dutch oven and brown the meatballs with the remaining 2 whole cloves of garlic, working in batches. Once browned, remove from the pot and set aside. 
Add the bell pepper, onion, and tomato to the pot and cook to soften. 
Once the veggies are cooked down and it's nice and saucy, add the brandy. Let cook for a few minutes so the alcohol can evaporate and reduce. 
Add the meatballs back into the pot to finish cooking. Taste for salt. 
Once cooked, remove from heat and serve the meatballs with a spoonful of sauce. ¡Buen provecho!
How to Enjoy This Rabbit Meatball Dish
These meatballs are perfect on their own, but a fresh salad is also a great accompaniment. Or for a Spanish-style spaghetti and meatballs, serve with your favorite noodles. 

Try combining the rabbit meat with ground pork, beef, lamb, or a combination for a richer, fattier meatball. 

Unlike a lot of meat dishes, these meatballs make great leftovers and the sauce only intensifies overnight. Just refrigerate them after cooking and reheat with a drizzle of olive oil when you're ready to eat. 

Serve rabbit meatballs as a full meal or go tapas-style with other dishes.