Rice with rabbit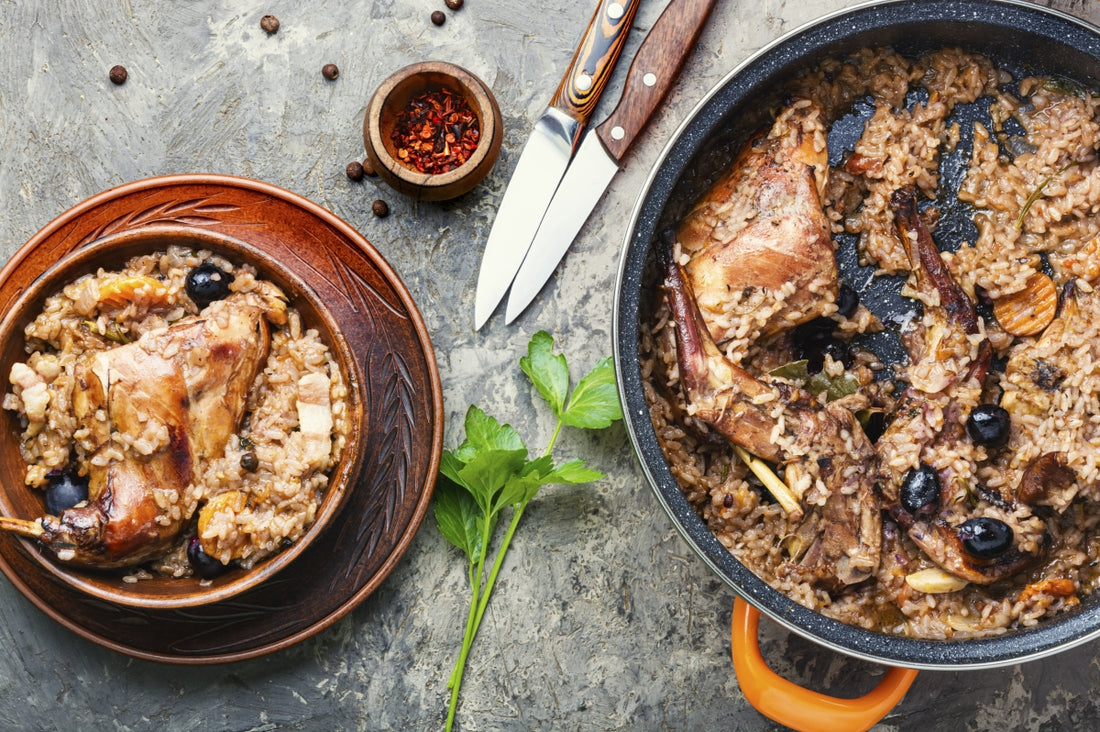 Rice is one of the most consumed foods worldwide due to its easy preparation, rich flavor, and versatility. Although it is a cereal originating from the Asian continent, it quickly expanded around the world and conquered several countries' gastronomy.
The presence of rice in Valencian cuisine dates back to when the Arabs occupied the territory. They brought rice consumption with them, and soon, everyone else also began to eat it. Apart from being practical, rice was also economical, so the humblest families could indulge in its preparation and feed themselves in a healthy and nutritious way.
Since then, rice has maintained its prominence in the food of the community of Valencia. Paella (probably the best-known Spanish recipe in the world) comes from here. But not everything is paella; in the region, you can find many other rice dishes, such as rice with rabbit.
This time we will teach you how to prepare this delicious recipe so that you can surprise all your guests at a particular moment.
How to prepare rice with rabbit?
Because dishes like this have hundreds of years of history, the recipe has several variations depending on each person's tastes. However, here you can learn how to make a classic preparation for about 8 people that will please everyone.
Ingredients:
600 grams of rabbit

700 grams of rice (preferably round or bomba type)

150 grams of white beans/garrofó

150 grams of green beans/bajoca (beans with a bitter taste)

200 grams of tomato

200 grams of artichoke

1 spoonful of sweet paprika

Salt to taste

Rosemary to taste

Water / Meat or chicken broth

Extra virgin olive oil
Preparation
To begin with, look for a paella pan or, failing that, a pan that manages to distribute the heat evenly over its entire surface. This will be decisive in the final result of the dish.

First, cut all the vegetables and the rabbit into pieces to make it easier to cook this recipe.

Add olive oil to the paella pan; when it is hot, add the rabbit, beans, and artichokes.

When the rabbit is well browned, proceed to season to your liking. Remember not to let it burn.

Add the sweet paprika and the previously crushed tomatoes to sauté the sauce very well.

Proceed to add the water or broth. The recommended proportions for this recipe will be three times as much water as rice; however, feel free to adjust this amount depending on how you see the preparation. It is better to be short of water (as you can adjust later) than to overdo it.

Cook this broth for approximately 20 to 30 minutes. It all depends on the heat level you are using for cooking. During this time, add some saffron.

Add the rice in a cross shape as you would with a paella pan, as this will distribute it correctly and be very well seasoned.

Let it cook for a while, and add the rosemary to taste. The aim is for the rice to be soft, loose, and dry. Getting the perfect result depends on your attention to know when the broth is consumed or if you need to add more.

Turn it off and allow it to cool slightly. This will allow the flavors to concentrate even more, and you will not burn your mouth when tasting the dish.

Proceed to serve, and that's it! It's time to enjoy a delicious dish of rice with rabbit.
The secret of socarrat
Have you ever seen that golden layer that remains on the bottom and edges of the paella? Don't think this means the dish is burnt because it is not. That little coating that appears where the paella touches the rice is called socarrat.
"Socarrat" is a Valencian word that means "scorched" and is considered a signature touch of rice dishes in the cuisine of Valencia. What should you do?
Just as the rice finishes cooking, poke small holes with the thin end of a spoon.

Add a little olive oil through the holes.

Turn the heat up to high for only 60 seconds and turn off. This will toast the rice.

Let the rice rest covered with a cotton cloth for about 5 minutes.

Serve.
If you do not wish to make the socarrat, you will have no problem serving the dish. However, if you want to dare to create this unique Valencian step, you will surely notice a particular distinction in its flavor.
Following these recommendations, you will soon enjoy delicious rice with rabbits. This recipe can be used with other types of meat, so you can vary the preparation by following each of the steps.