Seafood Fideuà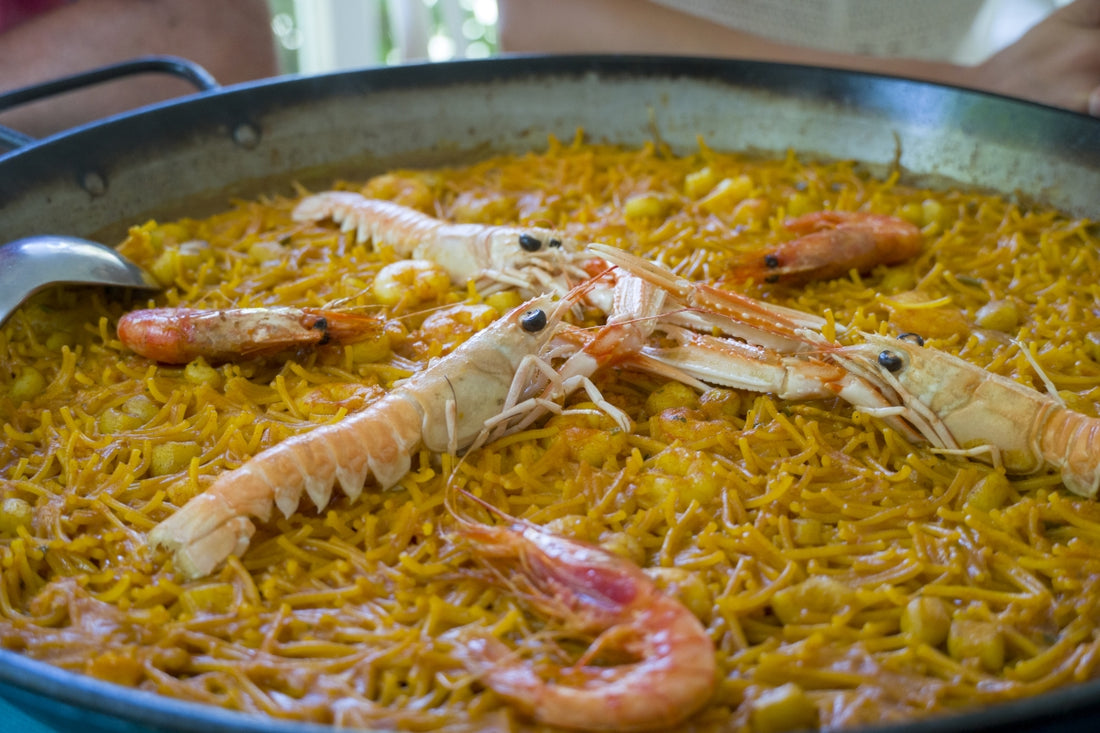 Suppose you like seafood and want to try a typical recipe of Spanish gastronomy. In that case, we will show you how to prepare the popular seafood fideuà, a variation of the famous Valencian paella that substitutes rice for noodles. In addition, we tell you what benefits this dish has for your health and which garnishes go best with it. Keep reading and discover how to surprise your guests with this delicious Mediterranean dish!
Seafood fideuà is a dish from the Valencian coast, made with thick noodles, fish broth, and different types of seafood, such as mussels, clams, prawns, squid, or cuttlefish. This is a simple and quick recipe, cooked in a paella (a metal pan with two handles) over high heat so that the noodles are al dente and a crunchy layer forms on the bottom. The dish is usually served with aioli, garlic, and oil sauce, which adds flavor and creaminess.
Ingredients
To make seafood fideuà for 4 people, you will need the following ingredients:
400 g thick noodles (number 4 or 5)

1 liter of fish stock

500 g of assorted seafood (mussels, clams, shrimps, squid, cuttlefish,...)

1 onion

2 cloves garlic

1 tomato

1 teaspoon sweet paprika

Saffron or food coloring

Olive oil

Salt and pepper
Preparation
The steps for the preparation of this dish are as follows:
The first thing to do is to clean the shellfish. Mussels and clams should be washed under running water and scraped to remove impurities. Shrimps should be peeled and gutted. Squid and cuttlefish should be cleaned and cut into pieces. Once cleaned, place the seafood in a bowl.

The second step is to chop the onion and garlic. Heat a little olive oil in a large paella pan and sauté the onion and garlic over medium-low heat until tender and translucent. Add the grated tomatoes and sweet paprika and stir well. Let it cook for a few minutes until the tomatoes lose their juices.

Then add the noodles and toast them with the sofrito, stirring constantly. Add the hot fish stock, saffron or food coloring, and salt and pepper to taste. Increase the heat and simmer for about 15 minutes or until the noodles are tender but firm.

Then, put the seafood on top of the noodles and spread them evenly. Reduce the heat and cover the paella with a cloth or lid. Cook for about 10 more minutes or until the mussels and clams open and the rest of the seafood is cooked.

Finally, remove the paella from the heat and let it rest for a few minutes before serving. Accompany the fideuà with aioli to taste and enjoy this delicious and nutritious dish.
This is a complete dish, but if you want to serve it with garnishes, you can opt for a green salad, a gazpacho or salmorejo, and a white wine or beer.
Benefits
Seafood fideuà is a complete and balanced dish with carbohydrates, proteins, healthy fats, vitamins, minerals, and antioxidants. Among its health benefits, we can highlight the following:
Noodles are a good source of energy and fiber, which helps regulate intestinal transit and prevent constipation.

Seafood is rich in proteins of high biological value, which contribute to maintaining and repairing body tissues. In addition, they also contain omega-3 fatty acids, which promote heart and brain health and help prevent inflammation. 

Seafood also provides minerals such as iron, iodine, zinc, selenium, and phosphorus necessary for the body's normal functioning. Iron prevents anemia; iodine regulates thyroid activity; zinc strengthens the immune system; selenium protects cells from oxidative stress, and phosphorus forms bones and teeth.

Marine proteins are a source of B vitamins such as B12, B6, and niacin, which are involved in nutrient metabolism and energy production. Vitamin B12 is essential for forming red blood cells and the functioning of the nervous system.

Tomatoes are rich in vitamin C, a powerful antioxidant that strengthens your defenses and helps prevent colds and infections. They also contain lycopene, the red pigment that gives them color and has anticarcinogenic properties.

Garlic is a food with many health benefits. It has antibiotic, antiviral, antifungal, and anti-inflammatory effects. In addition, it also helps reduce cholesterol and blood pressure, improve blood circulation, and prevent the formation of blood clots.

Olive oil is a monounsaturated fat that helps improve lipid composition and reduce the risk of cardiovascular disease. It also has antioxidant and anti-inflammatory effects while protecting skin and hair health.
This is an easy recipe that can be enjoyed any time of the year, besides being very delicious and nutritious. Seafood fideuà is a great option to surprise guests or enjoy a traditional and exquisite dish with your family.