Sobrasada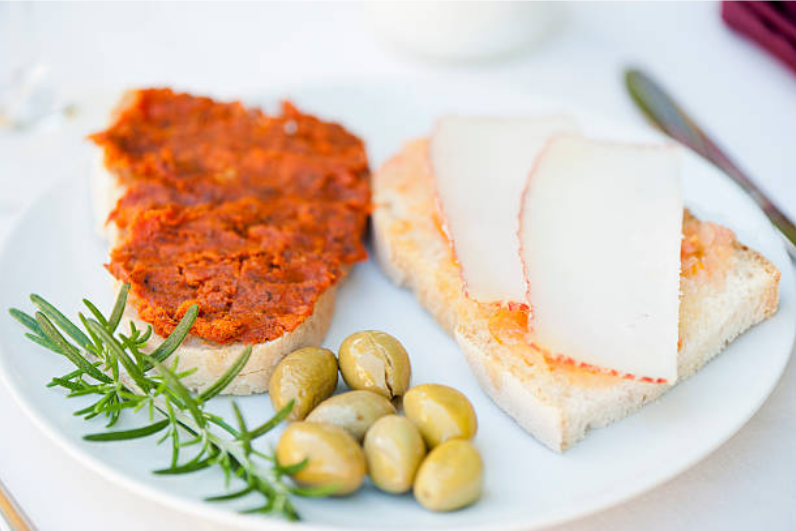 Sobrasada is made from pork meat accompanied by salt, black pepper, and paprika. It is a type of raw and cured sausage that requires a reasonably slow maturation process. Sobrasada is typical of the Balearic Islands and is even protected by a geographical indication seal.
How to eat sobrasada?
If you are thinking of entertaining your guests with a delicious but very varied banquet, do not hesitate to include sobrasada as one of the many dishes you can offer. In winter, for example, sobrasada is served toasted or spread on bread, perfect to serve as an appetizer! In summer, for instance, sobrasada is eaten raw.
But it is also a perfect sausage to include in many typical recipes of Mallorcan gastronomy. Sobrasada is consumed here with the traditional arròs brut or cooked with honey. It is a delight for the palate!
Brioche spirals with
sobrasada
Ingredients
150 milliliters of whole milk.

50 grams of butter.

Three egg yolks.

20 grams of fresh yeast.

400 grams of strong flour.

10 grams of salt.

150 grams of melted butter.

150 grams of

sobrasada.

One egg.
Preparation
Heat the milk in a saucepan, but without boiling it. The aim is to temper it.

Add the yeast and stir.

In a bowl, pour the flour and make a hole in the center.

Add the rest of the ingredients.

Knead very well until a smooth and uniform dough is created.

Make a ball with this dough and let it rest.

Heat the butter to spread it quickly.

With the help of a rolling pin, roll out the dough on a clean surface so that a rectangle is formed.

Divide it into two parts and paint each piece with the melted butter.

Leave the top edge unpainted to seal it with water.

Spread the

sobrasada

over the dough.

Roll up the dough, but leave the unbuttered part for the end.

Paint the unbuttered edge with a bit of water and seal it.

Cut the dough into small slices.

Place these slices on a baking sheet lined with greaseproof paper.

Coat the spirals with a beaten egg.

Preheat the oven to 200º C and bake the bread inside for 8 to 10 minutes
Chanterelles with sobrasada
in canapés
Ingredients
300 grams of chanterelles.

150 grams of

sobrasada

.

Extra virgin olive oil.

Coarse salt.

Fresh or dry parsley.

A loaf of bread.
Elaboration
Clean the chanterelles very well with the help of a special brush.

Chop the chanterelles.

Heat olive oil in a frying pan and sauté the chanterelles over low heat.

Crumble the

sobrasada

and add it to the pan.

Cut the bread into slices and heat in the toaster, frying pan, or sandwich maker.

Mound the chanterelles with

sobrasada

on the bread.

Add a pinch of salt and sprinkle with fresh chopped or dried parsley.
Crunchy sobrasada with honey
Ingredients
150-200 grams of

sobrasada.

Filo pastry.

Three spoonfuls of honey.  

Butter.

A few drops of lemon juice.

100 milliliters of whipping cream.
Elaboration
In a bowl, put a tablespoon of honey and the peeled

sobrasada

. You must obtain a very creamy mixture.

Cut the filo pastry into rectangles of approximately 12 x 5 centimeters. They should be able to roll up on themselves.

Varnish three layers of the cut pastry with butter and stick one on the other.

Fill the rectangles with the

sobrasada

with honey and roll them up.

Bake at 190º C for 10 minutes.

When removing from the oven, place on absorbent paper to remove excess fat and butter.

Beat two tablespoons of honey with lemon and add the cream. Use the whisk for this process.

Place the mixture in a special foam siphon and add a load.

Leave in the refrigerator for two hours.

Serve the crispies offering the honey foam on the side for diners to dip.
Eggplants stuffed with sobrasada
Ingredients
Two eggplants.

150 grams of

sobrasada.

Flour.

Extra virgin olive oil.

Two eggs.

Coarse salt.
Elaboration
Wash and trim the eggplants.

Cut the vegetables into slices of the same thickness and place them in a colander with salt so that they lose their bitter taste. Leave the eggplants with salt for 10 minutes.

Rinse with plenty of water, drain and dry with kitchen paper.

Cut the

sobrasada

into thin slices.

Place a slice of

sobrasada

between two pieces of eggplant.

Dredge the eggplants with

sobrasada

in flour and beaten egg.

Add a pinch of salt.

Heat plenty of oil in a frying pan, and only when it is hot, add the eggplants with

sobrasada.

Fry on both sides until golden brown.

Remove from heat and place on absorbent paper to remove excess oil.