Sous Vide Ibérico- Ibéricos al Sous Vide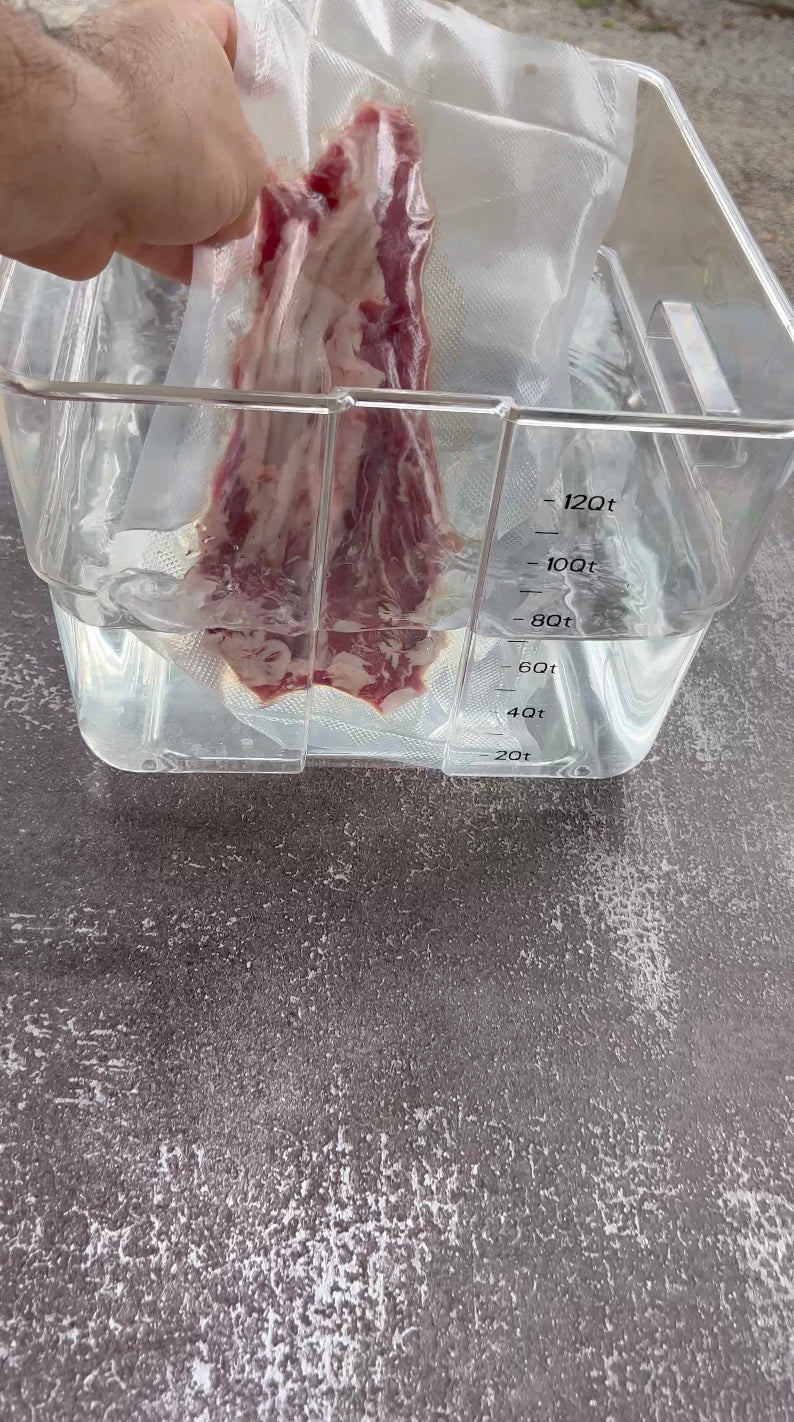 Sous vide is a technique that comes directly from France. Precisely the term sous vide means "under vacuum" and refers to a specific cooking technique for food to maintain its integrity in certain dishes. How to make sous vide? What do you need?
When is sous vide used?
This technique, which is an innovation, is ancient! The first reference to sous vide dates back to 1799, and Sir Benjamin Thompson described the method. It was in the 1970s that a French restaurant, the Roanne, discovered that the best way to prepare foie gras and maintain its original texture and appearance was through the sous vide technique.
These techniques, although pioneering, were somewhat rudimentary. Goussault is credited with researching how long foods need to be cooked and the temperature they need to look their best with sous vide. In other words: not all foods need the same temperature or time with sous vide.
Sous vide maintains the integrity, quality, and texture of the food while heating at shallow temperatures and for very long periods; they even need more than 24 hours to be ready! Is it the same as a slow cooker? No! Sous vide requires the food to be prepared in airtight plastic bags.
In addition, the airtight bag must be immersed in hot water only when the water is halfway to a boiling point, i.e., about 60°C. A few years ago, the sous vide technique was relegated to most delicatessen restaurants in the world, but today it is used by small restaurants and amateur cooks. Did you know that it is possible to purchase specific utensils for sous vide?
Beware of sous vide!
Before working with this technique, which offers exquisite results, you should know that it is essential to follow a series of recommendations. When food lacks oxygen, the toxin responsible for botulism can flourish. It is crucial to control the process very well! And that the conditions are optimal.
It is not enough, for example, to put a cut of meat in a bag and throw it into a pot of boiling water. To do this correctly, water bath machines circulate the water.
Sous vide rods
The accessories that allow sous vide cooking are known as rods and are specially designed for this technique. As we have already mentioned, it is not enough to submerge the food in a hermetically sealed bag at a specific temperature: it must have sous vide wand!
Any pot can become sous vide pot if you have the necessary utensil. Nowadays, you can find rods of different brands that allow you to cook meat, fish, and even fruits and vegetables. In addition, you also need to buy unique bags for this technique that have the advantage of being reusable.
Sous vide rods allow food to be kept at an optimal temperature, which makes cooking even and gentle. As if that weren't enough, sous vide wands control water temperature and cooking times and can be easily set (depending on your brand). They usually incorporate a LED display on which you can program the parameters you need. When cooking is finished, the wand usually beeps and stops automatically.
Learn how to prepare Iberian secreto iberico al sous vide
Ingredients
500 grams of whole Iberian secreto ibérico.

Coarse salt
Elaboration 
Cut the piece into three parts and add salt.

Place the portions in unique sous vide bag and let the meat marinate for approximately 15 minutes.

Remember that for any procedure, the meat must be at room temperature.

Heat the water and, when it is at 56º C, introduce the bag with the Iberian secret. Remember that for the sous vide procedure, it is essential to have special rods for this technique, which you can find in different brands! Never put the meat in the bag without the rods.

Leave the rods working and the meat to cook for 45 minutes.

After this time, carefully remove the bag and let it rest for 10 minutes before opening it.
To color the meat, it is advisable to heat the grill to a high temperature and sear the meat. You only need a few minutes to perform this step.
The Iberian secret is, in itself, a delicious meat that does not require excellent elaborations. In addition, it has outstanding properties that are beneficial to health; however, the sous vide method enhances these benefits; for example, the organoleptic qualities of the Iberian are multiplied, and the flavor of the meat is even more intense. And the meat is also much juicier.