Stuffed Pork Tenderloin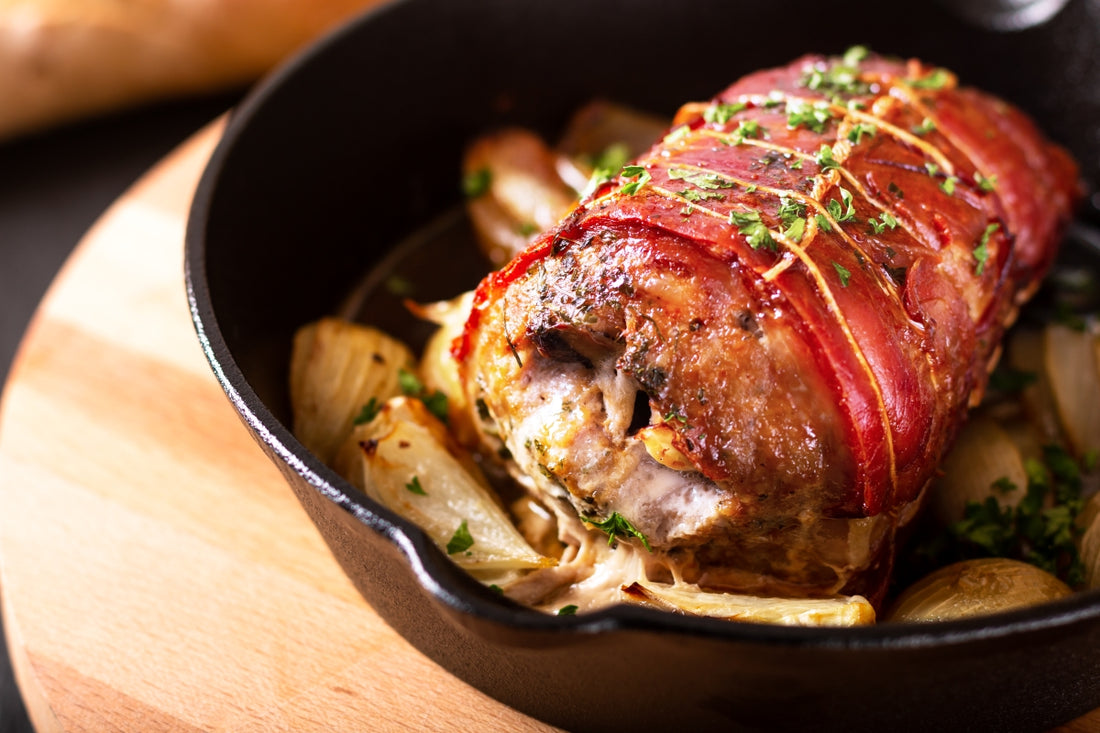 Stuffed pork tenderloin is a favorite centerpiece for Christmas and New Year's Eve dinners. And it's made all the better with high-quality Ibérico pork, which offers incredibly nuanced flavors and buttery textures. 
Recipe for Stuffed Pork Tenderloin 
This stuffed pork tenderloin gets roasted in the oven with brothy and sweet wine juices. Just make sure to check it from time to time as it roasts to make sure it stays moist. Tenderloin is a lean meat that can dry out quickly.
Ingredients for Stuffed Pork Tenderloin 
2.25 lbs. Campo Grande Ibérico Pork Tenderloin 

1 cup sweet sherry wine 

2 medium apples, peeled and diced 

4 oz. pitted prunes 

5 oz. bacon, cut into small pieces 

4 oz. walnuts, chopped 

1 Tablespoon unsalted butter

1 cup chicken stock

Extra-virgin olive oil

Coarse salt

Freshly ground black pepper

1 sprig rosemary 
Preparation for Stuffed Pork Tenderloin
Remove the tenderloin from the refrigerator a couple of hours before cooking to bring to room temperature. 

Preheat the oven to 400ºF. 

Using a sharp knife, open up the tenderloin into a flat piece. You can also ask a butcher to do this for you. 
In a frying pan, heat the butter and the apples over low heat until the apples begin to caramelize. 

Once the apples are soft, pour in the wine and chicken broth and stir to combine. Remove from heat and set aside. 

In a separate pan, fry the bacon until it is cooked but still soft. Set aside. 

Season the loin with salt and pepper on both sides. 

Spread the tenderloin out on a cutting board and layer on the bacon. Then add the prunes, walnuts, and apples, covering but leaving the ends and edges bare to help with rolling. 

Roll the loin onto itself and and tie up with kitchen twine to keep the ingredients tucked inside. 

Heat olive oil in a large cast iron pan and sear the tenderloin on all sides to brown. Then drizzle the wine and broth mixture over the meat and cook for a few minutes over low heat. 

Remove from the pan and place in an ovenproof dish (or leave in the cast iron) and cover with any remaining juices. Cover with foil and place in the oven. 

Let cook for 30 minutes and then remove the foil.

Lower the temperature to 350ºF and cook for 1 hour, keeping a close eye on the meat. If it looks like it is drying out, baste with the wine mixture and juices or add more water or wine. 

Once cooked and reaches an internal temperature of 145ºF, remove from the oven and let rest for a few minutes. 

Serve with a sprig of rosemary. ¡Buen provecho!  
Tips for Preparing Stuffed Pork Tenderloin 
The stuffing can be made with your favorite ingredients. For example, you can omit the prunes and substitute them with whatever dried fruit you like. Walnuts are perfect for this recipe, but other nuts are delicious as well. Try adding in olives or capers for a brinier bolder flavor that also cuts the sweetness. 
You can substitute the sherry wine for brandy, cognac, or sweet white wine.
In addition, when it comes to handling the meat and transferring it from the pan to the baking dish, use kitchen tongs. You want to be delicate so the juices stay locked in. 
Serve with your favorite garnish, such as mashed or baked potatoes. Or try steamed vegetables and a fresh green salad.