What is Presa Pork Cut?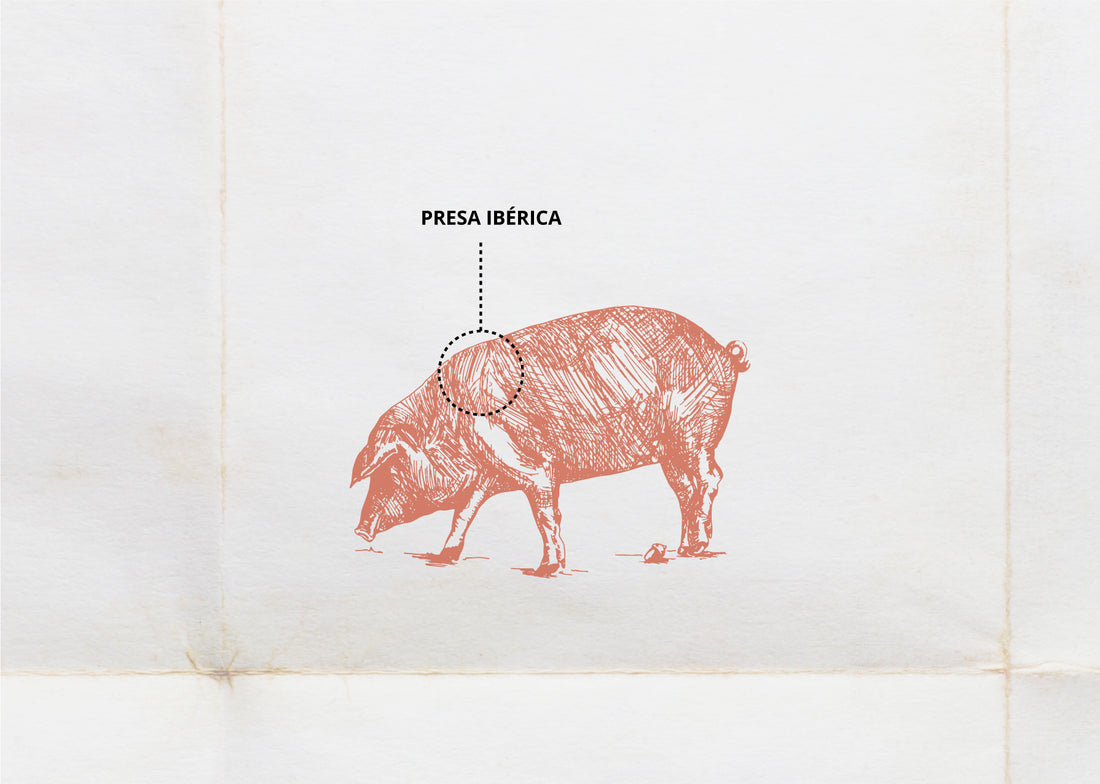 Presa pork is a cut of meat taken from between the shoulder and loin of the pig. It's an oval-shaped piece of meat that's incredibly tender and well-marbled. It's thick and flavorful, with a rich juicy texture. Learn more about Presa and how to cook it. 
Where does Presa pork come from?
Presa pork comes from the acorn-fed free-range Ibérico pigs, raised in Spain. They lead pretty luxurious lives for pigs, which is key to the incredible flavor of the meat. They're raised in large meadows and spend their days munching on grasses, grubs, and acorns. This diet is what gives the Presa its complex flavor and melt-in-your-mouth texture.
What is the difference between Presa and Ibérico?
There's actually not much of a difference. Presa pork is Ibérico, as it comes from the Ibérico pigs. Presa is the cut and Ibérico is the type of breed. 
Pork Presa is an oval muscle between the shoulders and the loin. It's one of a few very special cuts of meat from these unique pigs. Presa pork is thicker than other cuts of Ibérico, with fantastic marbling and a gorgeous texture. Presa, Pluma, and Secreto are other stand-out Iberico cuts that all are cut from around the shoulder area, and are also worth tasting. 
Though these three cuts are popular in Spain and highly sought after the world over these days, they're not always easy to find. Because Ibérico pork comes from a very specific pig raised in Spain, it's not something you'll find at the grocery store, or even a gourmet meat shop. 
How to Cook Pork Presa
Presa is a relatively easy to cut to prepare. To begin, you'll need to get your pork to room temperature, no matter the cooking method you'll be employing. This helps the pork cook evenly. 
Next, you'll need to grab your dry rub, if you'll be using any. Presa is a flavorful cut of meat, so a whole lot of seasonings or sauces aren't needed or recommended. Excessive sauce and seasonings can drown out the natural flavor of the pork. However, if you do want to add extra flair, a simple Cafe de Paris butter is a great way to start:
Cafe de Paris Butter
Using a food processor, beat butter for a few minutes until it's reached a creamy texture.

Add chopped garlic, shallots, anchovies, mustard, lemon juice, and Worcestershire sauce - plus any spices you'd like to add - and blend until combined. 

If you're making this in advance, you can store the butter as rolled-up logs on wax paper. You simply dab some of the mixture onto the paper and roll it up, twisting the ends like a roll of taffy. Then store them in the fridge until you're ready to use. 
Cooking Presa in a Skillet
Heat a tablespoon of oil in a medium-sized skillet or pan.

Fry the Presa for 4-5 minutes on each side. The Presa is a high-quality cut, so it can safely be consumed a little pink. If you like beef steak medium-rare for example, give it a try here with the Presa. 

After cooking, remove the Presa from the heat and let it rest for 2 minutes. If you're cutting it, transfer it to a cutting board. 

Optional: if you're melting butter with your Presa, you can place it directly onto the meat the second it's done cooking. You can also cook it in the butter, and baste the meat with the melted butter as it cooks. 
Grilling Presa
Set the grill to high heat.

Add rosemary sprigs to the fire if you wanting a bit of unique smoky flavor.

Grill for 4-5 minutes on each side - the internal temperature must be at least 130ºF for medium-rare.

Remove from the heat and set on a cutting board to rest for 2 minutes.

Sprinkle it with salt and pepper and serve. 
Baking Presa in the Oven
Preheat the oven to 375ºF. 

Meanwhile, trim the Presa and remove any excess fat or tissue. 

Season the meat with salt and pepper. 

First, fry the Presa in a smoking-hot skillet for 4 minutes on each side. This helps seal in the moisture for a more juicy texture.

Place in the oven and roast for about 10 minutes, flipping halfway through.

Remove from the oven once the desired doneness is reached.

Wrap in foil and let rest for 15 minutes.

Unwrap and serve with your choice of sides.
Want more insider info on Presa? Check out our Ultimate Guide: How to Cook Presa Ibérica.