What part of the pig do chops come from?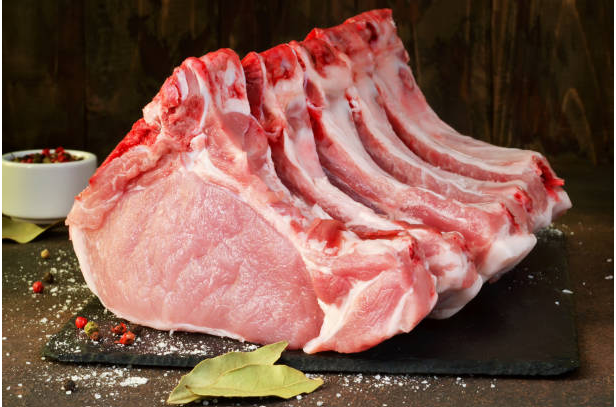 If there was one cut of pork that everyone loved, it'd be pork chops. They have an incredible juiciness when properly prepared; in addition, their flavor is very intense and can be accompanied with a large number of garnishes. From what part of the pig do chops come from? How are they best prepared?
What are pork chops?
Pork chops are a cut of pork that is extracted from the backbone of the animal. Chops are characteristic for having a bone, which corresponds to a part of the vertebra and rib of the pig. In addition, they are a fairly economical option because one chop is large enough for one person's meal.
The only problem with chops is that, like the loin, they run the risk of drying out if they are not prepared correctly. This cut requires much more cooking time than, for example, veal chops. In order for pork chops to retain their moisture, it is advisable to brine them.
Nowadays it is possible to find fresh and smoked pork chops. The latter are ready to be put directly in the pan with a drizzle of oil. Fresh chops, unlike smoked chops, need seasoning and, of course, require the longest cooking time.
One of the advantages of smoked chops is that, as they are extracted from the area close to the loin, they do not have much fat and have low cholesterol. If you buy Iberian, even better. This breed of pork has great health benefits, since its meat has properties similar to those of olive oil; in addition, it has a high protein, vitamin and mineral content. In the case of chops, low fat.
Smoked chops, on the other hand, have somewhat more fat and salt than fresh chops. These are ready-made meats, ready to put in the pan and enjoy. Be careful not to overdo it with the salt, as the recipe could be too salty.
Pork chops recipe
Ingredients
Four pork chops.

Four tablespoons of honey.

One lemon.

Wheat flour.

One teaspoon of curry.

60 grams of arugula.

Extra virgin olive oil.

Vinegar.

Coarse salt.

Freshly ground black pepper.

Fresh or dried parsley.
Elaboration
Pork chops, like all cuts, need to be at room temperature before preparation. It is essential to take out the meat from the refrigerator two hours before cooking. This prevents the meat from being cooked on the outside, but cold on the inside.

Also remove the chops from their packaging, as they need to breathe.

Clean the chops with the help of a knife. You may remove the parts where there is more fat and even remove the bone, but it is not advisable.

Mix the ingredients in a bowl: the spoonfuls of honey, lemon juice, oil and curry.

Season the chops on both sides with salt and pepper and put them in the bowl.

Let them soak for 15 minutes. In this way, the meat will be impregnated with the flavors of the mixture.

Remove the chops.

In a shallow dish, put some flour and lay both sides of the chops. They should be well coated with the flour.

Place a frying pan with oil over high heat. When the olive oil is hot, place the chops in and fry them.

In a separate pan, pour the marinade mixture of the chops and bring it to a boil. Let it reduce for three or four minutes.

Wash and dry the arugula (you can substitute with any other herb of your choice). Place the arugula in a bowl and dress with oil and vinegar.

Serve the chops and pour the honey sauce reduction on top.
A healthier way to prepare pork chops is to bake or grill them, as you won't need oil. If you decide to use either of these methods, you will not need to coat the chops in flour. Simply preheat the oven or grill to 180º C or medium heat and place the chops in a special dish or on the grill. They will be ready after four to five minutes in total. Remember to turn them over halfway through the baking.
Garnish for pork chops
Arugula is not an herb that everyone likes, but pork chops are a very versatile dish that can be served with anything. If arugula is not your guests' favorite, it is advisable to make rice or mashed potatoes; mashed potatoes are better with pork chops than french fries.
You can also prepare a fresh salad with tomato, lettuce and onion or any other side dish that takes your fancy. Grilled or steamed vegetables are also a good alternative to accompany the chops.
Don't forget to put bread on the table, as the honey and lemon sauce is perfect for soaking the bread. As another option, you can substitute the lemon juice for mustard and make a honey and mustard dressing (if you use Dijon or old mustard, even better). The taste and texture of this dish is unique!