Coconut Curry Presa Soup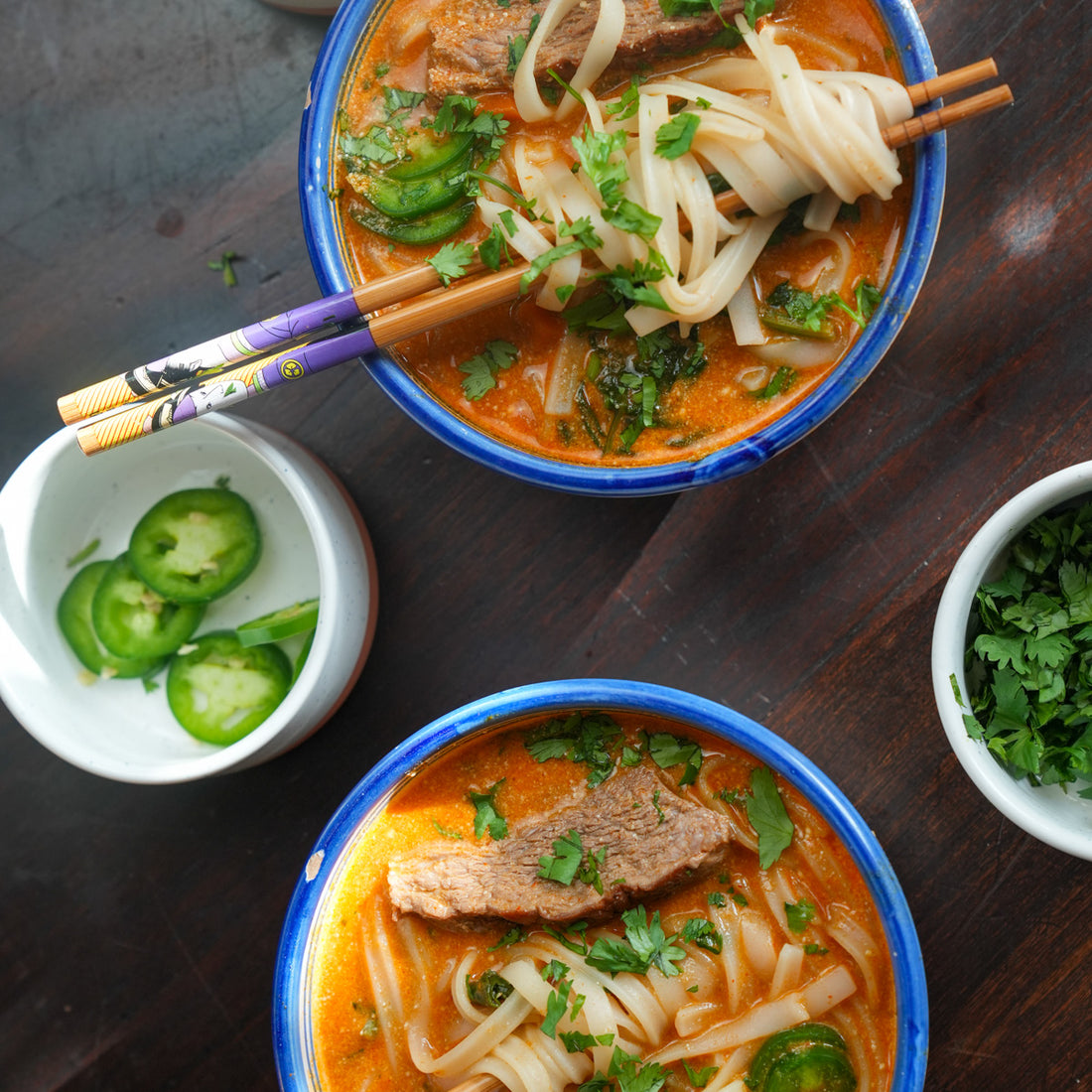 Coconut Curry Presa Soup
This Coconut Curry Soup Recipe is the perfect balance of tender pork, aromatic herbs, and the gentle heat of red curry paste.
Ingredients
1 Iberico Presa
2 tablespoons olive oil
4 oz red curry paste
4 cups chicken broth
3 tablespoons hoisin sauce
1 tablespoon honey
½ cup carrots, diced
1 can unsweetened coconut milk
2 cups spinach, washed
16 ounces rice noodles
Salt and pepper, to taste
Garnish:
Fresh cilantro leaves
Lime wedges
Sliced serrano peppers
Instructions
Heat the olive oil in a large pot over medium-high heat.
Add the pork shoulder to the pot and cook until it's browned on all sides. Remove the pork from the pot and set it aside. Let is rest for 10 minutes and slice.

 

In the same pot, add the carrots and cook for 5 minutes. Pour in the red curry paste and cook for about 1-2 minutes, stirring constantly, until fragrant.
Pour in the chicken broth, hoisin sauce, and honey. Stir well to combine and bring the mixture to a gentle simmer.
Return the cooked pork to the pot and stir to combine with the other ingredients.
Pour in the unsweetened coconut milk and stir. Let the soup simmer for another 10-15 minutes, allowing the flavors to meld together.
Meanwhile, cook the rice noodles according to the package instructions. Drain and set aside.
Just before serving, add the spinach to the pot and stir until wilted.
Season the soup with salt and pepper to taste.
To serve, place a portion of cooked rice noodles in each bowl. Ladle the curry pork soup over the noodles.
Garnish each bowl with fresh cilantro leaves, lime wedges, and sliced serrano peppers for a burst of flavor and color.