Abanico Ibérico with Potatoes & Mushroom Brandy Sauce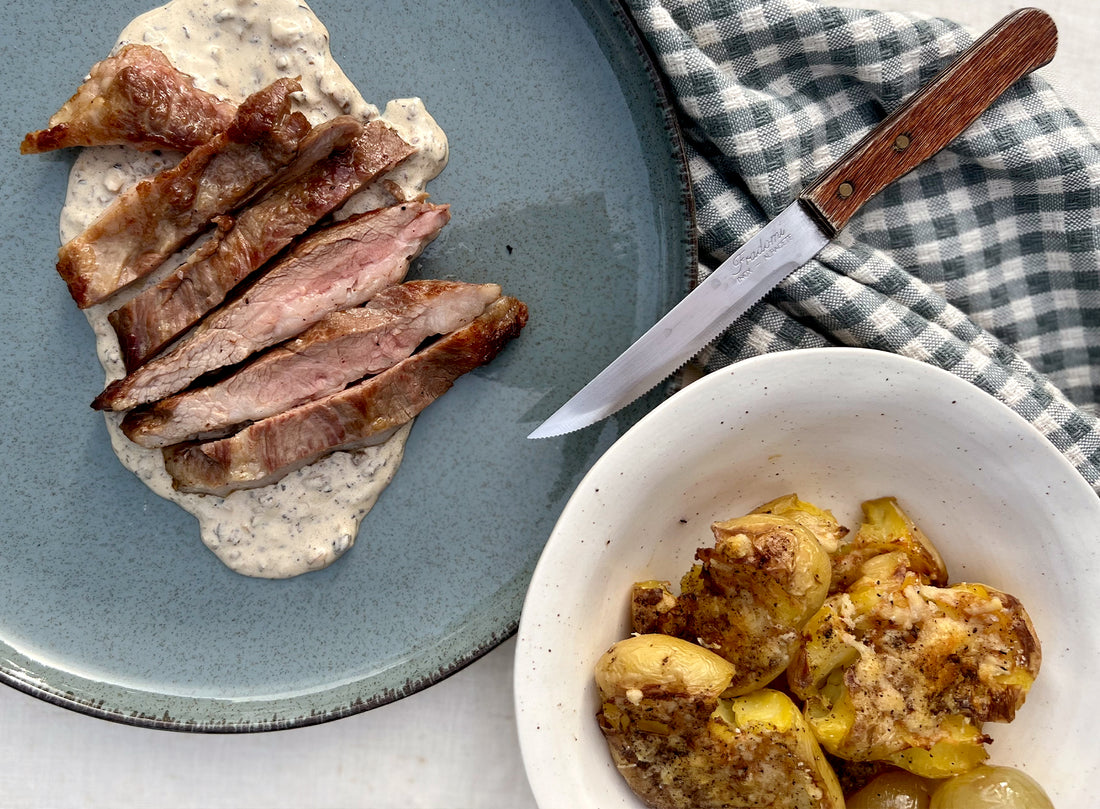 Cheesy potatoes, nutty pork, shrooms, and a herby butter sauce is the ultimate gourmet comfort food. Turn your house into a steakhouse with simple with these elegant sides. 
Serves: 2 
Ingredients:
6 small potatoes

2 mushrooms, thinly sliced 

2 shallots, diced 

Extra-virgin olive oil 

½ cup brandy

1 cup sour cream 

1 Tablespoon black peppercorns, chopped

1 oz. mozzarella or cheddar cheese

1 18-25 oz. Campo Grande Abanico 

2 Tablespoons butter

3 pearl onions, diced

4 cloves garlic  

3 sprigs rosemary 

Salt

Freshly ground pepper 
Preparation:
Boil potatoes until tender. 

While the potatoes are boiling, sauté shallots and mushrooms with a splash of olive oil until soft. Add brandy and flambé to cook off the alcohol. 

Add sour cream and peppercorns and cook for a few minutes, stirring to help the sauce come together. Set aside. 

Once the potatoes have finished cooking, slice the potatoes thinly and arrange them like shingles in the bottom of a glass baking dish. Scatter cheese over the top and season with salt and pepper. Place under the broiler for a few minutes to melt the cheese. 

While the potatoes are cooking, season the abanico with salt and pepper and sear on high heat for 2 minutes on each side, and set aside. 

In the same pan, add butter, garlic, onions, and rosemary, and cook on low for a few minutes until the butter absorbs the flavors and the onions and shallots are soft. 

Add the abanico back into the pan and cook on high heat for 2 minutes on each side, spooning the butter over the meat while it cooks. 

Remove from heat, let the abanico rest, and slice. Serve abanico with remaining buttery onions from the pan, mushroom sauce, and cheesy potatoes.

¡Buen provecho!