Crispy Baked Pork Rib Racks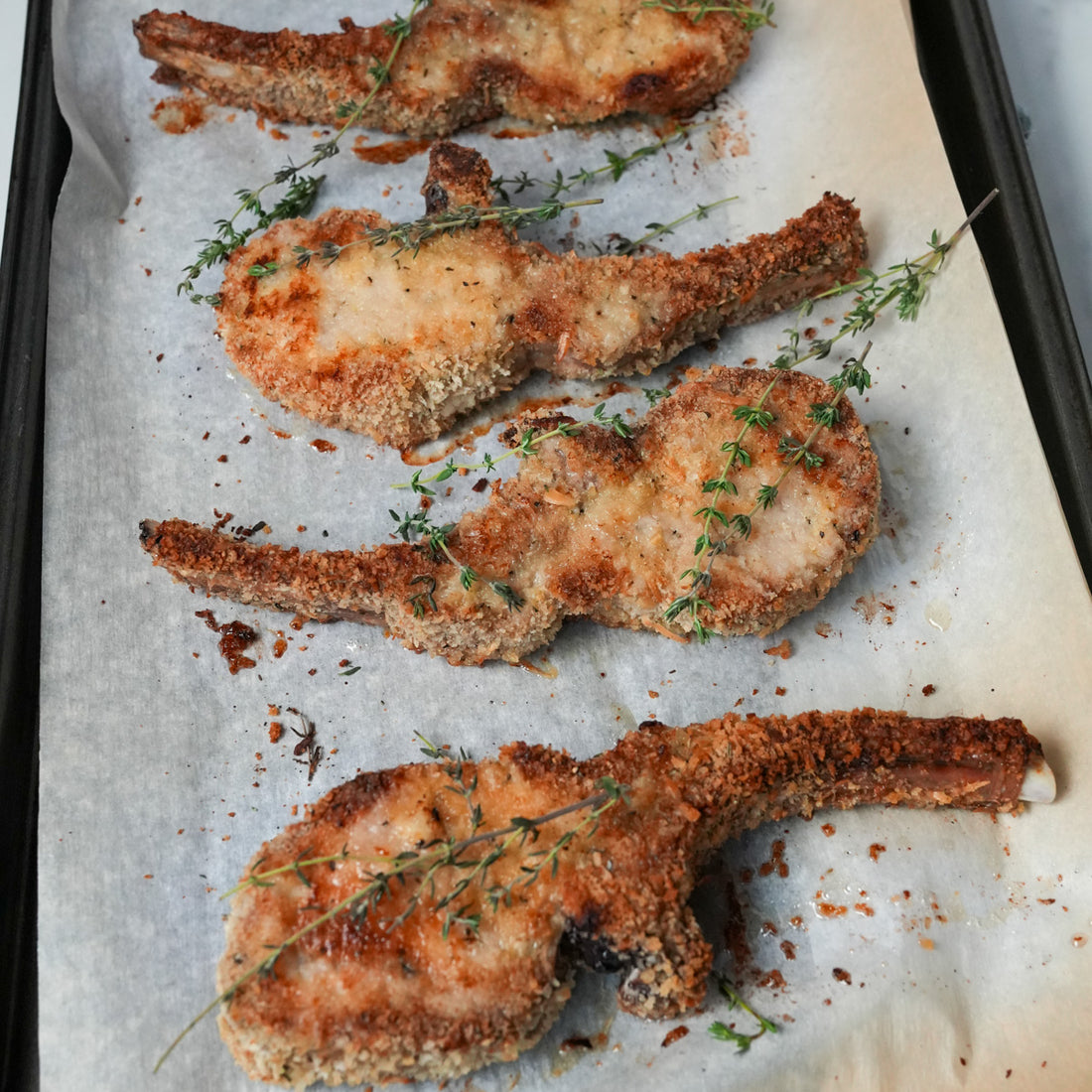 Crispy Baked Pork Rib Racks
There's something undeniably satisfying about sinking your teeth into a perfectly cooked pork chop. The juicy meat, enhanced by a flavorful coating, creates a culinary experience that leaves you craving more. If you're looking to elevate your pork chop game, we have just the recipe for you: Herb-Crusted Pork Chops. With a delightful blend of herbs and a crispy coating, these chops are a symphony of flavors that will tantalize your taste buds.
Ingredients
4

 

bone-in pork chops, about ½ inch thick pork (see notes for baking option)

⅓ cup

 

all-purpose flour, for dredging

2

 

large eggs

1 tablespoon

 

Worcestershire sauce

1 ½ cups

 

breadcrumbs

1 tablespoon

 

fresh thyme leaves
Olive oil, for frying
Preparation
Preheat your oven to 375°F (190°C) if you prefer to bake the pork chops instead of frying them. If you choose to fry them, skip this step.
In a shallow dish, spread the flour evenly. In another shallow dish, whisk together the eggs and Worcestershire sauce.
In a third shallow dish, combine the breadcrumbs and fresh thyme leaves. Mix well to distribute the thyme throughout the breadcrumbs.
Heat a large skillet over medium heat and add enough olive oil to coat the bottom of the pan.
Dredge each pork chop in the flour, shaking off any excess. Then dip it into the egg mixture, allowing any excess to drip off. Finally, coat the chop with the breadcrumb mixture, pressing lightly to adhere the crumbs to the meat. Repeat this process with all the pork chops.
Place the coated pork chops in the hot skillet and cook for about 3-4 minutes on each side until golden brown. If using thinner chops, reduce the cooking time to avoid overcooking.
If you prefer to bake the pork chops, transfer them to a baking sheet lined with parchment paper or a greased wire rack. Bake for about 20-25 minutes or until the internal temperature reaches 145°F (63°C).
Once the pork chops are cooked, remove them from the skillet or oven and let them rest for a few minutes before serving.
Serve the herb-crusted pork chops with your favorite sides, such as roasted vegetables, mashed potatoes, or a fresh salad.