Flank Steak Caesar Salad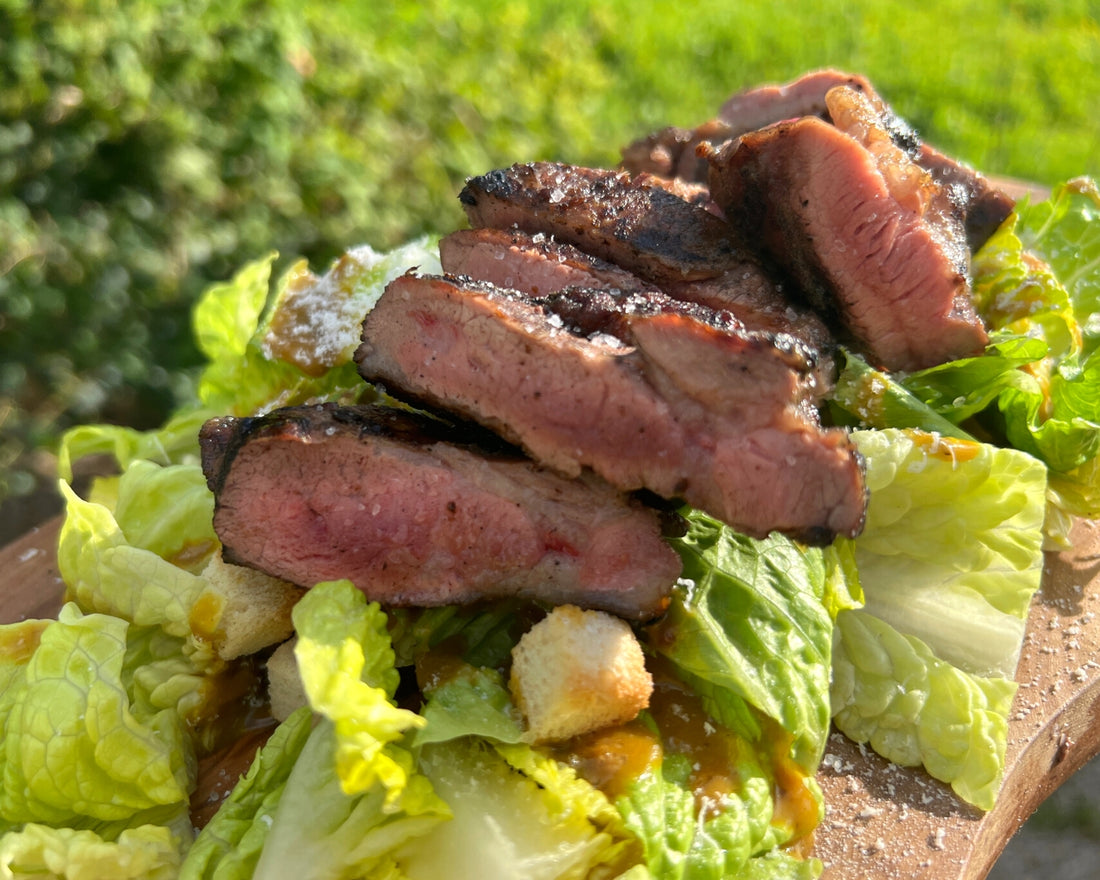 Homemade dressing is a serious must for caesar salad. But don't fear the anchovy! Spaniards love these salty little fish almost as much as they love Ibérico pork, and for good reason. Anchovies, which swim freely around the northern Spanish coast, add all sorts of umami flavor and bring out those same umami notes in the Ibérico Flank Steak.
A quick sear on the grill is ideal (we love smoky char marks) but a flash in a hot pan is a great alternative. 
Grilled Flank Steak Caesar Salad  
Serves: 2
Time: 15 min.
Salad Ingredients
1 14-24 oz. Campo Grande Flank Steak 

5 anchovy filets

1 egg yolk 

10 romaine lettuce leaves, loosely chopped  

Juice from 1 lemon

1 teaspoon Worcestershire sauce 

1 Tablespoon dijon mustard 

5 Tablespoons extra-virgin olive oil 

30g (1 oz.) parmesan cheese, shaved or grated 

Croutons

Black pepper

Salt

Flaky sea salt 
Salad Preparation
Finely chop the anchovy filets and then use the back of your chef's knife to smash them into a paste. 

In a large mixing bowl, add anchovies, egg yolk, mustard, Worcestershire, lemon, and olive oil. Mix with a wooden spoon until thoroughly combined. Season with salt and pepper and set aside. 

Fire up the grill. Season the Flank Steak with salt and pepper and cook over direct heat for 2.5 minutes on each side. Remove from heat and let the Flank Steak rest while you build the salad. 

Mix the lettuce with the dressing until all the leaves are evenly coated. 

Place dressed lettuce on serving plates and sprinkle with parmesan and croutons.  

Slice the Flank Steak into bite sized pieces and scatter over salad. Garnish with a pinch of flaky sea salt just before serving.

¡Buen provecho!