Jamón Ibérico & Camembert Tostada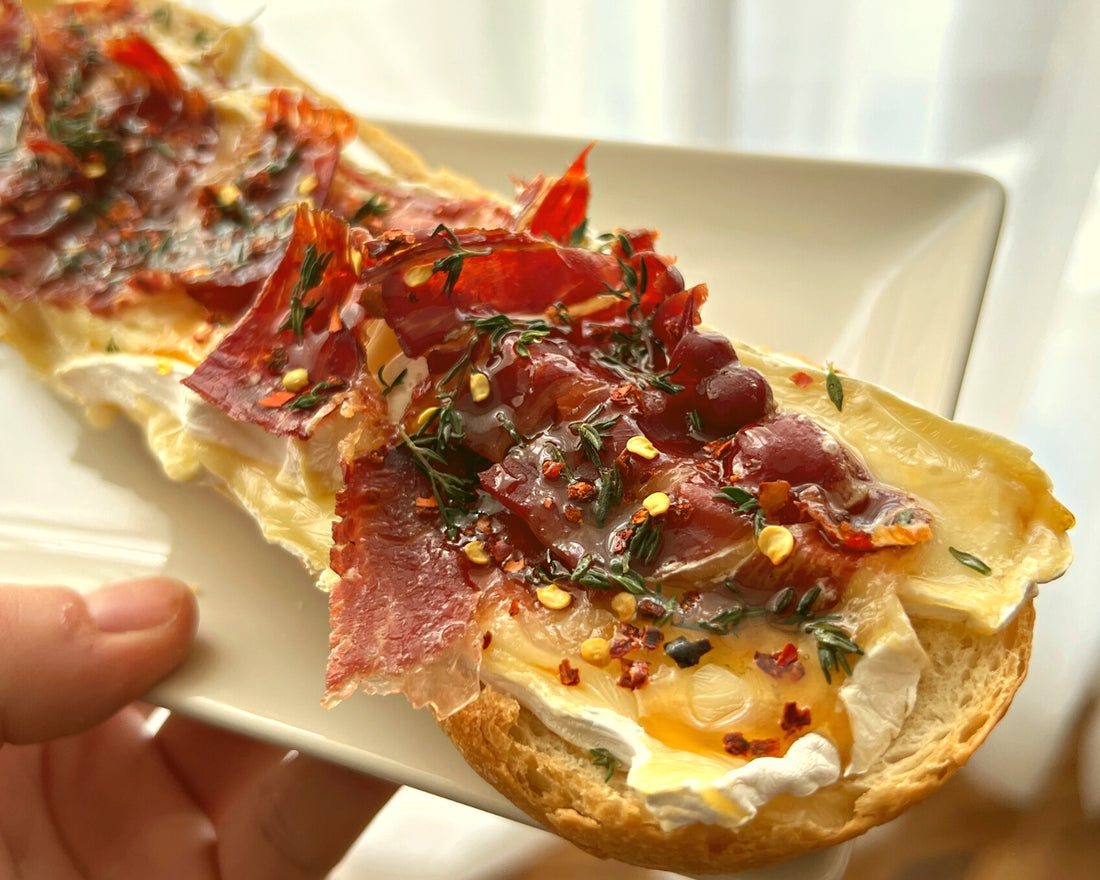 This Spanish Tostada with Jamón Ibérico and creamy Camembert cheese is a creation that promises to leave a lasting impression on your palate and your heart. This delightful tostada, or toast, brings together the robust, savory charm of Spain and the velvety elegance of France. Spanish tostadas are essentially open-faced sandwiches loaded with local ingredients like cured meats, aged cheeses, tinned fish, roasted vegetables, or a combination of them all. Go sweet and salty here with some gooey camembert, sliced Jamón, and a sweet drizzle of honey.
Recipe forJamón Ibérico & Camembert Tostada 
Serves: 2
Time: 20 min
Ingredients
25g (1 oz.) Campo Grande Jamón Ibérico, thinly sliced  

100 g (4 oz.) camembert cheese, cut into thin slices

2 large slices high-quality bread 

2 teaspoons honey 

2 pinches of fresh thyme leaves

2 pinches of dried chili flakes 
Preparation  
Preheat your oven to 400ºF (200ºC).
Prepare the Bread: Place the two large slices of high-quality bread on a small baking sheet.
Layer Camembert Cheese: Evenly layer the slices of Camembert cheese onto the bread slices.
Toast in the Oven: Toast the bread in the preheated oven until the Camembert cheese melts and begins to brown. This should take a few minutes, so keep a close eye on it to prevent burning.
Add Jamón Ibérico: Once the cheese is melted and slightly browned, remove the baking sheet from the oven. Place the thinly sliced Jamón Ibérico on top of the melted Camembert cheese. Allow the toasts to cook for a few more minutes in the oven, just long enough for the Jamón to warm and render some of its delicious fat.
Drizzle with Honey: Remove the toasts from the oven.Drizzle each toast with a teaspoon of honey, adding a sweet and savory contrast.
Sprinkle with Herbs and Spice: Finish by sprinkling a pinch of fresh thyme leaves and a pinch of dried chili flakes over each toast. These additions will add a burst of flavor and aroma to your toasts.
Serve and Enjoy: Your Campo Grande Jamón Ibérico and Camembert toasts are now ready to be enjoyed. They make a delightful appetizer or snack.