Pork Belly Burnt Ends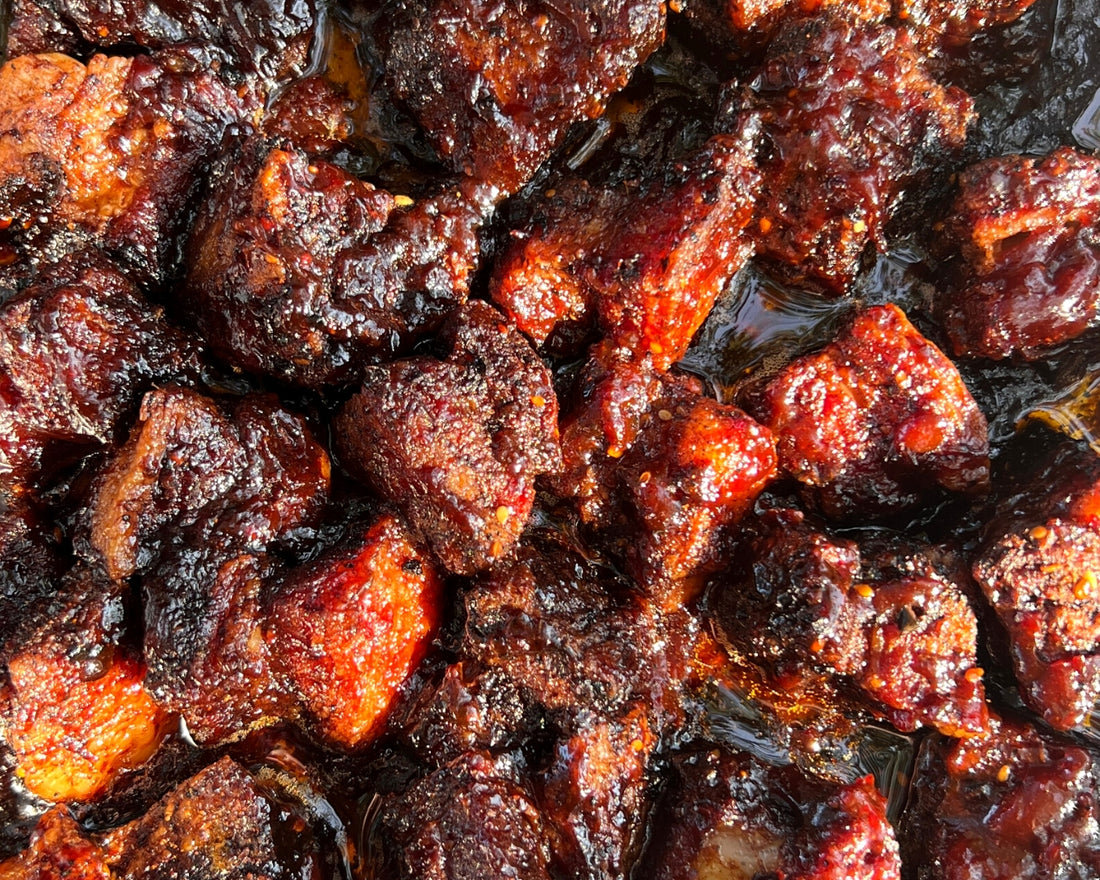 Pork belly burnt ends, inspired by traditional smoked barbecue, are not in fact burnt. They're deeply browned, caramelized, and delightfully crispy on the outside. This recipe is perfect for serving hot off the smoker, but also works well for leftovers. Just reheat and eat. You can also freeze them and thaw when you've got that smoky pork hankering. 
Recipe for Pork Belly Burnt Ends
Serves: 4
Difficulty: Easy
Course: Appetizer 
Time: 4 hr
Ingredients for Pork Belly Burnt Ends
1 56-65 oz.

Campo Grande Thick Pork Belly

 

2 Tablespoons extra-virgin olive oil 

3 Tablespoons BBQ rub or your rub of choice 

12 oz. BBQ sauce

3 Tablespoons brown sugar

4 oz. salted butter, melted 
Preparation for Pork Belly Burnt Ends 
Cut the Thick Pork Belly into 1.5-inch cubes. If you find that it's difficult to cut, throw it in the freezer for 30 minutes. The fat will harden a bit, making it easier to work with.  It may seem like the 1.5-inch cubes are large, but they will shrink into bite-size pieces when cooked. 

Season the Thick Pork Belly with oil and BBQ rub, and mix well. 

Grab a metal grate or  heat-proof cooling rack (for the oven or grill) and place the seasoned meat on top of the grates. 

Smoke the meat on the grill/smoker at a temperature of 250ºF for 2.5-3 hours, until it is nice and golden brown on all sides. 

Place the Thick Pork Belly on a baking sheet and toss with barbecue sauce, brown sugar, and butter. 

Cover the baking sheet with foil and place it back in the smoker/grill. Cook for another 1-1.5 hours. To see if the meat is properly cooked at this point, prick with a piece with a toothpick. If the toothpick enters easily, you're ready to move on to the next step.  

Remove the foil and place back in the smoker to finish cooking for 15 minutes, moving the Thick Pork Belly around the pan to ensure it mixes well with the sauce and cooks evenly. 

Remove from the smoker and serve.

¡Buen provecho!