Presa Al Pastor Tacos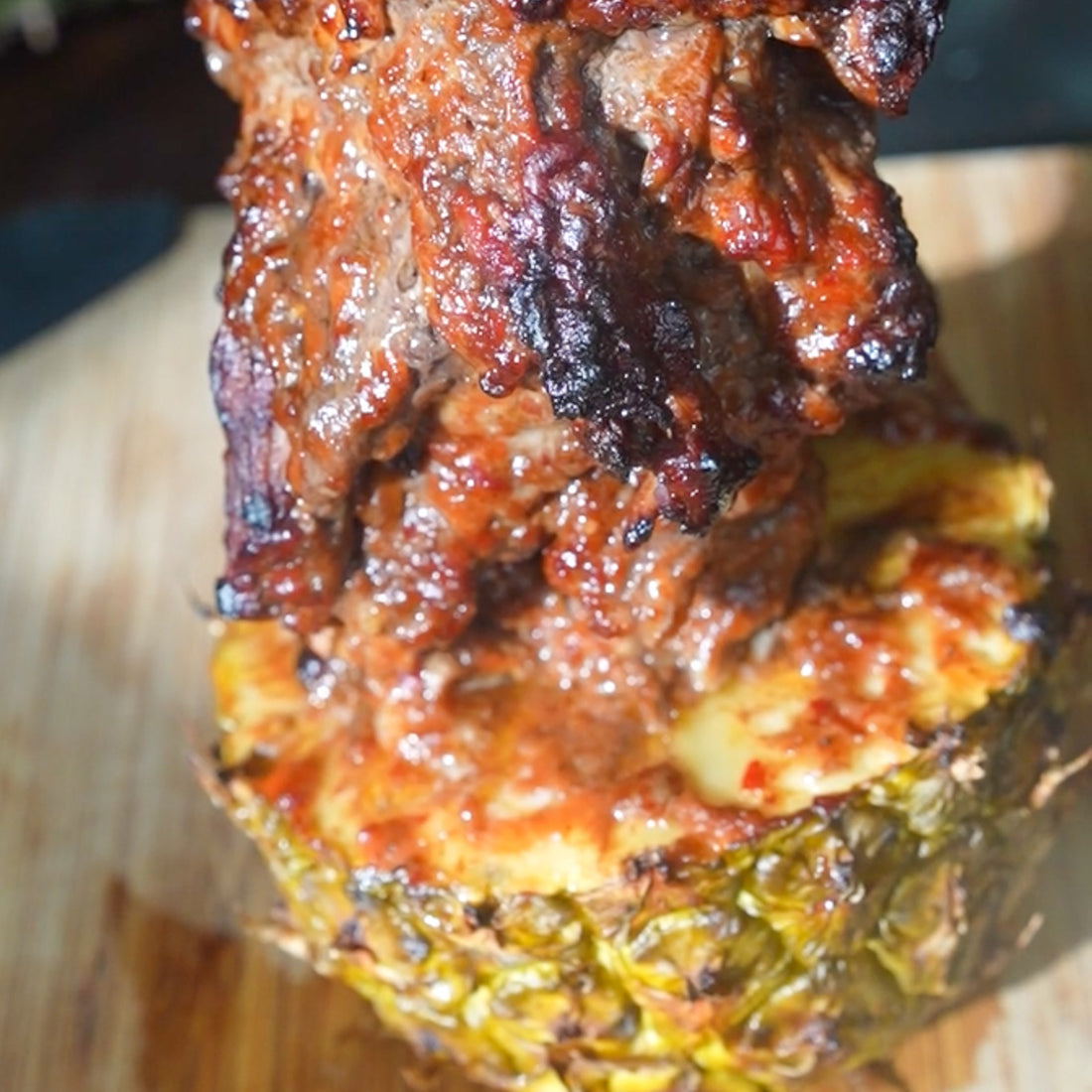 Presa Al Pastor Tacos
This Al Pastor recipe featuring the exquisite @eat.campogrande Iberico Presa and a burst of flavor from Spicewalla Al Pastor seasoning. Savor the succulent perfection of marinated Iberico pork, roasted to perfection, and paired with the rich blend of spices that transport your taste buds straight to the streets of Mexico. 
 Ingredients 
2-3 pounds Campo Grande Iberico Presa, thinly sliced (about 1/4 inch thick)
3-4 dried guajillo chilies, stemmed and seeded
1 small onion, roughly chopped
4 cloves of garlic
1 cup pineapple chunks
Juice of 2 limes
1/4 cup Spicewalla Al Pastor seasoning
Salt and pepper to taste
1 green or unripe pineapple
4 Wooden skewers, soaked in water for 30 minutes
Small corn tortillas
Chopped fresh cilantro
Chopped onion
Lime wedges
Optional: Salsa (salsa verde or your favorite hot sauce)
 Instructions
Bring water to a boil and boil the dried chilies about 7 minutes. Remove from heat.

 

Place the boiled chilies, onion, garlic, pineapple chunks, lime juice, al pastor seasoning, salt, and pepper in a blender or food processor. Blend until you have a smooth paste. Add a bit of the water from the boiled chilies to smooth out.
Place the thinly sliced pork in a large bowl or a resealable plastic bag.
Pour the marinade over the pork and make sure all pieces are well coated.
Seal the bag or cover the bowl and refrigerate for at least 2 hours, preferably overnight, to let the flavors develop.
Take the pork out and bring to room temperature.

 

Cut the pineapple about 2-3 inches from the bottom. Using the bottom half, stab four skewers into the core of that pineapple (cutside up). Make sure the skewers are very intact.

 

Take a smaller piece of pork and thread the pork into the skewers. Continue with smaller pieces and work your way in with bigger pieces. You will be creating a trompo with the pork. At the top of the skewer, add a slice or two of pineapple.

 

Preheat your oven to 350°F.

 

Place the trompo on a roasting rack in a baking sheet.
Add the trompo into the oven and bake for 1.5 hours. Turn every 30 minutes, carefully.

 

Feel free to broil for 2 minutes at the end for extra crispiness. Remove and let rest for 10 minutes.

 

Warm the corn tortillas on the grill or in a skillet. Place in a clean kitchen towel to keep warm.

 

Slice the cooked al pastor pork vertically down the trompo.

 

Assemble your tacos with a few slices of al pastor, pineapple, fresh cilantro, chopped onion, a squeeze of lime juice, and salsa.